World 1-Airship (Super Mario Bros. 3)
From the Super Mario Wiki, the Mario encyclopedia
Jump to navigation
Jump to search
World 1-

Airship is the eighth level of Super Mario Bros. 3 and the final level of World 1, Grass Land, as well as being the first airship level in the game.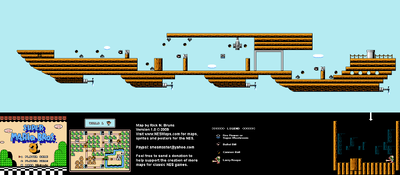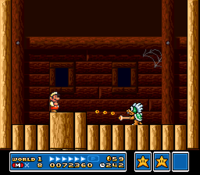 Upon entering the palace, a Toad tells the player the King's magic wand has been stolen and the King has been transformed. The game will then transition to the player character running to the anchor of an airship and climbs up.
The airship is an autoscrolling level with many Cannons and Turtle Cannons; if Mario gets crushed by the scrolling screen, he loses a life. Midway through the airship, there is a ? Block containing a power-up, as well as a rotating cannon that fires two cannonballs at once. At the end of the airship are cannons that point toward the Warp Pipe at the end, which leads to the boss fight with Larry Koopa.
Larry Koopa will start by firing a blast of magic at the player, and he will also jump slightly as he moves around. Jumping on his head will cause him to retreat into his shell and jump after the player. When he pops back out of his shell, he will immediately fire another magic blast. Jumping on his head two more times will defeat Larry Koopa, restore the King to normal, and the player will move on to Desert Land.
Enemies
[
edit
]
Level statistics
[
edit
]
Super Mario Bros. 3 / Super Mario Advance 4: Super Mario Bros. 3 levels
Grass Land
World 1-1 • World 1-2 • World 1-3 • World 1-4 • World 1- • World 1-5 • World 1-6 • World 1-
Desert Land
World 2-1 • World 2-2 • World 2- • World 2-3 • World 2- • World 2-4 • World 2-5 • World 2- • World 2-
Water Land
World 3-1 • World 3-2 • World 3-3 • World 3- 1 • World 3-4 • World 3-5 • World 3-6 • World 3-7 • World 3- 2 • World 3-8 • World 3-9 • World 3-
Giant Land
World 4-1 • World 4-2 • World 4-3 • World 4- 1 • World 4-4 • World 4-5 • World 4-6 • World 4- 2 • World 4-
Sky Land
World 5-1 • World 5-2 • World 5-3 • World 5- 1 • World 5-

Tower

• World 5-4 • World 5-5 • World 5-6 • World 5-7 • World 5-

Fortress

2 • World 5-8 • World 5-9 • World 5-
Ice Land
World 6-1 • World 6-2 • World 6-3 • World 6- 1 • World 6-4 • World 6-5 • World 6-6 • World 6-7 • World 6- 2 • World 6-8 • World 6-9 • World 6-10 • World 6- 3 • World 6-
Pipe Land
World 7-1 • World 7-2 • World 7-3 • World 7-4 • World 7-5 • World 7- 1 • World 7- 1 • World 7-6 • World 7-7 • World 7-8 • World 7-9 • World 7- 2 • World 7- 2 • World 7-
Dark Land
World 8- (Big Tanks) • World 8- • World 8- • World 8- • World 8-1 • World 8-2 • World 8- • World 8- (Super Tanks) • World 8-
World-e
★
01: Classic World 1-1 • 02: Classic World 1-2 • 03: Classic World 1-3 • 04: Classic World 1-4 • 05: Classic World 2-2
●
01: Wild Ride in the Sky • 02: Slidin' the Slopes • 03: Vegetable Volley • 04: Doors o' Plenty • 05: Bombarded by Bob-ombs • 06: Magical Note Blocks • 07: The ol' Switcheroo • 08: Piped Full of Plants • 09: Swinging Bars of Doom • 10: Para Beetle Challenge • 11: A Musical Trek • 12: Armored Airship • 13: Ice Dungeon • 14: A Sky-High Adventure • 15: Sea to Sky • 16: It's a Shoe-In • 17: Slip Slidin' Away • 18: Ice Cubed • 19: Puzzling Pipe Maze • 20: A Towering Tour • 21: Castle Dash • 22: Rich with Ropes • 23: Vexing Doors • 24: Caped Escape • 25: Ground Work • 26: An Aqueous Adventure • 27: Bowser's Last Stand • 28: Koopaling Confusion • 29: Bowser's Airship 1 • 30: Bowser's Airship 2
PR
Airship's Revenge • No Time to Dawdle • Treacherous Halls