Armored Airship
From the Super Mario Wiki, the Mario encyclopedia
Jump to navigation
Jump to search
Armored Airship is an e-Reader level for Super Mario Advance 4: Super Mario Bros. 3. The level contains four Advance Coins. Its official difficulty rating is ★★☆☆☆, but the level is often told that an actual difficulty is much higher. This card was released as part of series two in Japan and became available outside the country only when the game was released for the Wii U Virtual Console in 2016. The key art featured Lemmy Koopa.
Level synopsis
[
edit
]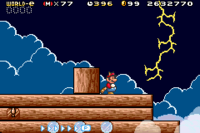 This is a simple airship level, much like those in the original game. All four Advance Coins can be collected only by moving the Bolt Lifts along the screws by repeatedly jumping on them. Rocky Wrenches appear as common enemies here, like most airship levels. At the end, the player must fight Lemmy Koopa.
Enemies
[
edit
]
Flavor text
[
edit
]
Japanese:
Romaji:
Translation:  

ぼくのじまんの くるくるナットで マリオは地面(じめん)に はいつくばるのさ!!
Boku no jiman no kurukuru natto de Mario wa jimen ni haitsukubaru no sa!!
"With my prized spinning nuts, Mario will be on his hands and knees on the ground!!"
Names in other languages
[
edit
]
Language
Name
Meaning
Japanese
ひこうせんはとまらない!
Hikōsen wa Tomaranai!
The Airship Never Stops!
External links
[
edit
]
Super Mario Bros. 3 / Super Mario Advance 4: Super Mario Bros. 3 levels
Grass Land
World 1-1 • World 1-2 • World 1-3 • World 1-4 • World 1- • World 1-5 • World 1-6 • World 1-
Desert Land
World 2-1 • World 2-2 • World 2- • World 2-3 • World 2- • World 2-4 • World 2-5 • World 2- • World 2-
Water Land
World 3-1 • World 3-2 • World 3-3 • World 3- 1 • World 3-4 • World 3-5 • World 3-6 • World 3-7 • World 3- 2 • World 3-8 • World 3-9 • World 3-
Giant Land
World 4-1 • World 4-2 • World 4-3 • World 4- 1 • World 4-4 • World 4-5 • World 4-6 • World 4- 2 • World 4-
Sky Land
World 5-1 • World 5-2 • World 5-3 • World 5- 1 • World 5-

Tower

• World 5-4 • World 5-5 • World 5-6 • World 5-7 • World 5-

Fortress

2 • World 5-8 • World 5-9 • World 5-
Ice Land
World 6-1 • World 6-2 • World 6-3 • World 6- 1 • World 6-4 • World 6-5 • World 6-6 • World 6-7 • World 6- 2 • World 6-8 • World 6-9 • World 6-10 • World 6- 3 • World 6-
Pipe Land
World 7-1 • World 7-2 • World 7-3 • World 7-4 • World 7-5 • World 7- 1 • World 7- 1 • World 7-6 • World 7-7 • World 7-8 • World 7-9 • World 7- 2 • World 7- 2 • World 7-
Dark Land
World 8- (Big Tanks) • World 8- • World 8- • World 8- • World 8-1 • World 8-2 • World 8- • World 8- (Super Tanks) • World 8-
World-e
★
01: Classic World 1-1 • 02: Classic World 1-2 • 03: Classic World 1-3 • 04: Classic World 1-4 • 05: Classic World 2-2
●
01: Wild Ride in the Sky • 02: Slidin' the Slopes • 03: Vegetable Volley • 04: Doors o' Plenty • 05: Bombarded by Bob-ombs • 06: Magical Note Blocks • 07: The ol' Switcheroo • 08: Piped Full of Plants • 09: Swinging Bars of Doom • 10: Para Beetle Challenge • 11: A Musical Trek • 12: Armored Airship • 13: Ice Dungeon • 14: A Sky-High Adventure • 15: Sea to Sky • 16: It's a Shoe-In • 17: Slip Slidin' Away • 18: Ice Cubed • 19: Puzzling Pipe Maze • 20: A Towering Tour • 21: Castle Dash • 22: Rich with Ropes • 23: Vexing Doors • 24: Caped Escape • 25: Ground Work • 26: An Aqueous Adventure • 27: Bowser's Last Stand • 28: Koopaling Confusion • 29: Bowser's Airship 1 • 30: Bowser's Airship 2
PR
Airship's Revenge • No Time to Dawdle • Treacherous Halls