Classic World 1-4
From the Super Mario Wiki, the Mario encyclopedia
Jump to navigation
Jump to search
Classic World 1-4 is an e-Reader level for Super Mario Advance 4: Super Mario Bros. 3. Its official difficulty rating is ★★☆☆☆.[1] The level contains one Advance Coin. This card was released only in Japan after the e-Reader's discontinuation outside Japan, although it was later released internationally via the Wii U Virtual Console version for the game in 2016. The key art featured Wendy O. Koopa.
Level synopsis
[
edit
]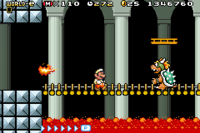 This level is a remake of World 1-4 from the original Super Mario Bros. with several differences. The player has to defeat the fake Bowser at the end of the level by either touching the axe or shooting fireballs or hammers at him. Like the original, the fake Bowser is revealed to be a Goomba when defeated by fireballs. In this version of the level, the Fire-Bars are not attached to Empty Blocks. Also, the Toad is replaced by a chest containing a Frog Suit, and the room it is in is much smaller.
New level elements
[
edit
]
Enemies
[
edit
]
Advance Coin
[
edit
]
The Advance Coin is in the top right corner of the room where Toad was in the original level. The player can simply collect it before opening the chest and ending the level, as they still have control of Mario after defeating the Fake Bowser.
Flavor text
[
edit
]
Japanese:
Romaji:
Translation:  

なにがさいごに まってるか しったら マリオは こしをぬかすに ちがいないね!
Nani ga saigo ni matteru ka shittara Mario wa koshi o nukasu ni chigai nai ne!
Mario must be paralyzed with fear should he know what's ultimately awaiting him!
Level map
[
edit
]
Names in other languages
[
edit
]
Language
Name
Meaning
Japanese
クラシックコース W1-4
Kurashikku Kōsu W1-4
Classic Course W1-4
References
[
edit
]
Super Mario Bros. 3 / Super Mario Advance 4: Super Mario Bros. 3 levels
Grass Land
World 1-1 • World 1-2 • World 1-3 • World 1-4 • World 1- • World 1-5 • World 1-6 • World 1-
Desert Land
World 2-1 • World 2-2 • World 2- • World 2-3 • World 2- • World 2-4 • World 2-5 • World 2- • World 2-
Water Land
World 3-1 • World 3-2 • World 3-3 • World 3- 1 • World 3-4 • World 3-5 • World 3-6 • World 3-7 • World 3- 2 • World 3-8 • World 3-9 • World 3-
Giant Land
World 4-1 • World 4-2 • World 4-3 • World 4- 1 • World 4-4 • World 4-5 • World 4-6 • World 4- 2 • World 4-
Sky Land
World 5-1 • World 5-2 • World 5-3 • World 5- 1 • World 5-

Tower

• World 5-4 • World 5-5 • World 5-6 • World 5-7 • World 5-

Fortress

2 • World 5-8 • World 5-9 • World 5-
Ice Land
World 6-1 • World 6-2 • World 6-3 • World 6- 1 • World 6-4 • World 6-5 • World 6-6 • World 6-7 • World 6- 2 • World 6-8 • World 6-9 • World 6-10 • World 6- 3 • World 6-
Pipe Land
World 7-1 • World 7-2 • World 7-3 • World 7-4 • World 7-5 • World 7- 1 • World 7- 1 • World 7-6 • World 7-7 • World 7-8 • World 7-9 • World 7- 2 • World 7- 2 • World 7-
Dark Land
World 8- (Big Tanks) • World 8- • World 8- • World 8- • World 8-1 • World 8-2 • World 8- • World 8- (Super Tanks) • World 8-
World-e
★
01: Classic World 1-1 • 02: Classic World 1-2 • 03: Classic World 1-3 • 04: Classic World 1-4 • 05: Classic World 2-2
●
01: Wild Ride in the Sky • 02: Slidin' the Slopes • 03: Vegetable Volley • 04: Doors o' Plenty • 05: Bombarded by Bob-ombs • 06: Magical Note Blocks • 07: The ol' Switcheroo • 08: Piped Full of Plants • 09: Swinging Bars of Doom • 10: Para Beetle Challenge • 11: A Musical Trek • 12: Armored Airship • 13: Ice Dungeon • 14: A Sky-High Adventure • 15: Sea to Sky • 16: It's a Shoe-In • 17: Slip Slidin' Away • 18: Ice Cubed • 19: Puzzling Pipe Maze • 20: A Towering Tour • 21: Castle Dash • 22: Rich with Ropes • 23: Vexing Doors • 24: Caped Escape • 25: Ground Work • 26: An Aqueous Adventure • 27: Bowser's Last Stand • 28: Koopaling Confusion • 29: Bowser's Airship 1 • 30: Bowser's Airship 2
PR
Airship's Revenge • No Time to Dawdle • Treacherous Halls