Classic World 2-2
From the Super Mario Wiki, the Mario encyclopedia
Jump to navigation
Jump to search
Classic World 2-2 is an e-Reader level for Super Mario Advance 4: Super Mario Bros. 3. This card was released in Series 2 in Japan. Its official difficulty rating is ★★☆☆☆. The level contains one Advance Coin. This card was released only in Japan due to the e-Reader's discontinuation outside Japan, although it was later released internationally via the Wii U Virtual Console version for the game in 2016. The key art featured Roy Koopa.
Level synopsis
[
edit
]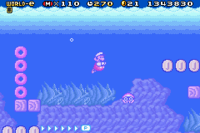 This level is a remake of World 2-2 from the original Super Mario Bros.. However, Mario now starts in the main underwater part, rather than above-ground. Spiny Cheep-Cheeps replace the original level's red and green ones, as they act differently in Super Mario Bros. 3. The currents in the pits are also absent.
New level elements
[
edit
]
None.
Enemies
[
edit
]
Advance Coin
[
edit
]
Sitting on the overhang above the widest gap in the level.
Flavor text
[
edit
]
Japanese:
Romaji:
Translation:  

うう~ん このなつかしい調べ! だからって聞きほれてるヒマ ないんちゃうか?
Uu~n ko no natsukashii shirabe! Dakara-tte kikihoreteru hima nainchauka?
Yeeeeeaaahh, this good ol' tune! Still though...are you gonna have some time to listen and enjoy it?
Level map
[
edit
]
Names in other languages
[
edit
]
Language
Name
Meaning
Japanese
クラシックコース W2-2
Kurashikku Kōsu W2-2
Classic Course W2-2
Super Mario Bros. 3 / Super Mario Advance 4: Super Mario Bros. 3 levels
Grass Land
World 1-1 • World 1-2 • World 1-3 • World 1-4 • World 1- • World 1-5 • World 1-6 • World 1-
Desert Land
World 2-1 • World 2-2 • World 2- • World 2-3 • World 2- • World 2-4 • World 2-5 • World 2- • World 2-
Water Land
World 3-1 • World 3-2 • World 3-3 • World 3- 1 • World 3-4 • World 3-5 • World 3-6 • World 3-7 • World 3- 2 • World 3-8 • World 3-9 • World 3-
Giant Land
World 4-1 • World 4-2 • World 4-3 • World 4- 1 • World 4-4 • World 4-5 • World 4-6 • World 4- 2 • World 4-
Sky Land
World 5-1 • World 5-2 • World 5-3 • World 5- 1 • World 5-

Tower

• World 5-4 • World 5-5 • World 5-6 • World 5-7 • World 5-

Fortress

2 • World 5-8 • World 5-9 • World 5-
Ice Land
World 6-1 • World 6-2 • World 6-3 • World 6- 1 • World 6-4 • World 6-5 • World 6-6 • World 6-7 • World 6- 2 • World 6-8 • World 6-9 • World 6-10 • World 6- 3 • World 6-
Pipe Land
World 7-1 • World 7-2 • World 7-3 • World 7-4 • World 7-5 • World 7- 1 • World 7- 1 • World 7-6 • World 7-7 • World 7-8 • World 7-9 • World 7- 2 • World 7- 2 • World 7-
Dark Land
World 8- (Big Tanks) • World 8- • World 8- • World 8- • World 8-1 • World 8-2 • World 8- • World 8- (Super Tanks) • World 8-
World-e
★
01: Classic World 1-1 • 02: Classic World 1-2 • 03: Classic World 1-3 • 04: Classic World 1-4 • 05: Classic World 2-2
●
01: Wild Ride in the Sky • 02: Slidin' the Slopes • 03: Vegetable Volley • 04: Doors o' Plenty • 05: Bombarded by Bob-ombs • 06: Magical Note Blocks • 07: The ol' Switcheroo • 08: Piped Full of Plants • 09: Swinging Bars of Doom • 10: Para Beetle Challenge • 11: A Musical Trek • 12: Armored Airship • 13: Ice Dungeon • 14: A Sky-High Adventure • 15: Sea to Sky • 16: It's a Shoe-In • 17: Slip Slidin' Away • 18: Ice Cubed • 19: Puzzling Pipe Maze • 20: A Towering Tour • 21: Castle Dash • 22: Rich with Ropes • 23: Vexing Doors • 24: Caped Escape • 25: Ground Work • 26: An Aqueous Adventure • 27: Bowser's Last Stand • 28: Koopaling Confusion • 29: Bowser's Airship 1 • 30: Bowser's Airship 2
PR
Airship's Revenge • No Time to Dawdle • Treacherous Halls