Koopaling Confusion
From the Super Mario Wiki, the Mario encyclopedia
Jump to navigation
Jump to search
Koopaling Confusion is an e-Reader level for Super Mario Advance 4: Super Mario Bros. 3. The level contains five Advance Coins and the Princess Peach e-Coin. This card was released in Series 2 in Japan. Its official difficulty rating is ★★★☆☆. It was originally exclusive to Japan and became available internationally only when the game was brought to the Wii U Virtual Console in 2016. The key art featured Ludwig von Koopa.
Level synopsis
[
edit
]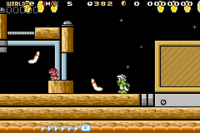 A level similar to that of the battleship level in World 8, the player has to cross over various maritime ships until the player comes to a dock. The player has to choose whether to pick the high route or the low route. The low route leads to a tiny ship at a dock with a pipe, while the high route has the player access a much larger ship from a catwalk above. The player has to fight Ludwig von Koopa at the end of the stage, with the fight depending on the path taken; the low path leads to a level playing field where he goes down after only one stomp, and the high path leads to a more typical contained area with uneven footing, where the usual three stomps are required to defeat him.
Advance Coins/e-Coin
[
edit
]
Floating above the moving lifts after the first ship.
At the beginning of the higher portion of the second ship, accessible by using the hanging crate.
In the next section of the ship, after the Hammer Brother.
Before the higher Warp Pipe in the second area.
In a small area near the Colossal Koopa Paratroopas.
Princess Peach e-Coin: Near the end of the level, by heading up the bolts to a section above and going across, the e-Coin is located near the end of this upper area.
Enemies
[
edit
]
Flavor text
[
edit
]
| | |
| --- | --- |
| • Japanese | オレのほんとうの 強(つよ)さが しりたいなら ちゃんとさがせよな! |
| • Romaji | Ore no hontō no tsuyosa ga shiritai nara chanto sagase yo na! |
| • Translation | "If you want to know my true strength, search properly!" |
Names in other languages
[
edit
]
Language
Name
Meaning
Japanese
コクッパにだまされるな!
Kokuppa ni Damasareru na!
Don't be Fooled by the Koopalings!
External links
[
edit
]
Super Mario Bros. 3 / Super Mario Advance 4: Super Mario Bros. 3 levels
Grass Land
World 1-1 • World 1-2 • World 1-3 • World 1-4 • World 1- • World 1-5 • World 1-6 • World 1-
Desert Land
World 2-1 • World 2-2 • World 2- • World 2-3 • World 2- • World 2-4 • World 2-5 • World 2- • World 2-
Water Land
World 3-1 • World 3-2 • World 3-3 • World 3- 1 • World 3-4 • World 3-5 • World 3-6 • World 3-7 • World 3- 2 • World 3-8 • World 3-9 • World 3-
Giant Land
World 4-1 • World 4-2 • World 4-3 • World 4- 1 • World 4-4 • World 4-5 • World 4-6 • World 4- 2 • World 4-
Sky Land
World 5-1 • World 5-2 • World 5-3 • World 5- 1 • World 5-

Tower

• World 5-4 • World 5-5 • World 5-6 • World 5-7 • World 5-

Fortress

2 • World 5-8 • World 5-9 • World 5-
Ice Land
World 6-1 • World 6-2 • World 6-3 • World 6- 1 • World 6-4 • World 6-5 • World 6-6 • World 6-7 • World 6- 2 • World 6-8 • World 6-9 • World 6-10 • World 6- 3 • World 6-
Pipe Land
World 7-1 • World 7-2 • World 7-3 • World 7-4 • World 7-5 • World 7- 1 • World 7- 1 • World 7-6 • World 7-7 • World 7-8 • World 7-9 • World 7- 2 • World 7- 2 • World 7-
Dark Land
World 8- (Big Tanks) • World 8- • World 8- • World 8- • World 8-1 • World 8-2 • World 8- • World 8- (Super Tanks) • World 8-
World-e
★
01: Classic World 1-1 • 02: Classic World 1-2 • 03: Classic World 1-3 • 04: Classic World 1-4 • 05: Classic World 2-2
●
01: Wild Ride in the Sky • 02: Slidin' the Slopes • 03: Vegetable Volley • 04: Doors o' Plenty • 05: Bombarded by Bob-ombs • 06: Magical Note Blocks • 07: The ol' Switcheroo • 08: Piped Full of Plants • 09: Swinging Bars of Doom • 10: Para Beetle Challenge • 11: A Musical Trek • 12: Armored Airship • 13: Ice Dungeon • 14: A Sky-High Adventure • 15: Sea to Sky • 16: It's a Shoe-In • 17: Slip Slidin' Away • 18: Ice Cubed • 19: Puzzling Pipe Maze • 20: A Towering Tour • 21: Castle Dash • 22: Rich with Ropes • 23: Vexing Doors • 24: Caped Escape • 25: Ground Work • 26: An Aqueous Adventure • 27: Bowser's Last Stand • 28: Koopaling Confusion • 29: Bowser's Airship 1 • 30: Bowser's Airship 2
PR
Airship's Revenge • No Time to Dawdle • Treacherous Halls