No Time to Dawdle
From the Super Mario Wiki, the Mario encyclopedia
Jump to navigation
Jump to search
No Time to Dawdle is an e-Reader level for Super Mario Advance 4: Super Mario Bros. 3. Its official difficulty rating is ★★★★★. It was initially released only in Japan, but it eventually became available internationally beginning with the game's Wii U Virtual Console release in 2016. Because it was not sold in a basic set of cards, players would have to bring their copy of the game to select stores, and retailers would download the stage onto their copy of the game. With this said, a physical card of the level does exist, though due to its origins, it is extremely rare. The level itself is very similar to Castle Dash. The key art depicts Mario and Luigi running.
Level synopsis
[
edit
]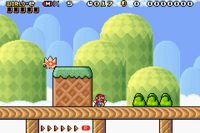 The time limit for No Time to Dawdle is a mere twenty seconds, meaning the player must run through the level dodging enemies, which include Spinies, Koopa Troopas, and Koopa Paratroopas. The level has five Advance Coins.
Enemies
[
edit
]
Names in other languages
[
edit
]
Language
Name
Meaning
Japanese
Bダッシュでかけぬけろ!
B Dasshu de Kakenukero!
Break Through With B-Dash!
On the Wii U Virtual Console version, the first time the level is selected and played, the level name is displayed as "No Time to Dawdle" without an exclamation mark, but after the level is completed, the player loses a life, or the player exits the level by pressing and selecting "Return to Map", and then the player reopens the Level Card menu to re-select the level any time after the first time, the level name will be displayed with an exclamation mark ("No Time to Dawdle!"). If the player saves and exits the game after the level name is displayed with the exclamation mark, and reopens the Level Card menu, the exclamation mark will disappear.
Despite the level only being 20 seconds long, the "Hurry Up!" music does not play when the level begins, unlike later games in a level with a time limit of 100 seconds or less.
External links
[
edit
]
Super Mario Bros. 3 / Super Mario Advance 4: Super Mario Bros. 3 levels
Grass Land
World 1-1 • World 1-2 • World 1-3 • World 1-4 • World 1- • World 1-5 • World 1-6 • World 1-
Desert Land
World 2-1 • World 2-2 • World 2- • World 2-3 • World 2- • World 2-4 • World 2-5 • World 2- • World 2-
Water Land
World 3-1 • World 3-2 • World 3-3 • World 3- 1 • World 3-4 • World 3-5 • World 3-6 • World 3-7 • World 3- 2 • World 3-8 • World 3-9 • World 3-
Giant Land
World 4-1 • World 4-2 • World 4-3 • World 4- 1 • World 4-4 • World 4-5 • World 4-6 • World 4- 2 • World 4-
Sky Land
World 5-1 • World 5-2 • World 5-3 • World 5- 1 • World 5-

Tower

• World 5-4 • World 5-5 • World 5-6 • World 5-7 • World 5-

Fortress

2 • World 5-8 • World 5-9 • World 5-
Ice Land
World 6-1 • World 6-2 • World 6-3 • World 6- 1 • World 6-4 • World 6-5 • World 6-6 • World 6-7 • World 6- 2 • World 6-8 • World 6-9 • World 6-10 • World 6- 3 • World 6-
Pipe Land
World 7-1 • World 7-2 • World 7-3 • World 7-4 • World 7-5 • World 7- 1 • World 7- 1 • World 7-6 • World 7-7 • World 7-8 • World 7-9 • World 7- 2 • World 7- 2 • World 7-
Dark Land
World 8- (Big Tanks) • World 8- • World 8- • World 8- • World 8-1 • World 8-2 • World 8- • World 8- (Super Tanks) • World 8-
World-e
★
01: Classic World 1-1 • 02: Classic World 1-2 • 03: Classic World 1-3 • 04: Classic World 1-4 • 05: Classic World 2-2
●
01: Wild Ride in the Sky • 02: Slidin' the Slopes • 03: Vegetable Volley • 04: Doors o' Plenty • 05: Bombarded by Bob-ombs • 06: Magical Note Blocks • 07: The ol' Switcheroo • 08: Piped Full of Plants • 09: Swinging Bars of Doom • 10: Para Beetle Challenge • 11: A Musical Trek • 12: Armored Airship • 13: Ice Dungeon • 14: A Sky-High Adventure • 15: Sea to Sky • 16: It's a Shoe-In • 17: Slip Slidin' Away • 18: Ice Cubed • 19: Puzzling Pipe Maze • 20: A Towering Tour • 21: Castle Dash • 22: Rich with Ropes • 23: Vexing Doors • 24: Caped Escape • 25: Ground Work • 26: An Aqueous Adventure • 27: Bowser's Last Stand • 28: Koopaling Confusion • 29: Bowser's Airship 1 • 30: Bowser's Airship 2
PR
Airship's Revenge • No Time to Dawdle • Treacherous Halls