Swinging Bars of Doom
From the Super Mario Wiki, the Mario encyclopedia
Jump to navigation
Jump to search
Swinging Bars of Doom is an e-Reader level for Super Mario Advance 4: Super Mario Bros. 3. The level contains four Advance Coins. Its difficulty rating is ★★★★☆. This card was released as part of series 1 in Japan[1] and series 2 in North America.[2] The keyart for the former depicts Morton Koopa Jr., while the latter depicts Roy Koopa.
Level synopsis
[
edit
]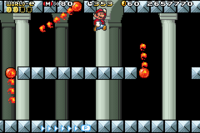 The enemies in this level include Boos, Thwomps, Thwimps, Piranha Plants, Podoboos, Lil Sparkies, and Bony Beetles. There are some spots where the player must jump over lava, but for the most part, they must simply avoid Fire-Bars.
The ending of this level, however, is what really sets it apart from other fortresses. The player must fight two Boom Booms; one gets flight powers after a hit and the other has the power to jump.
New level elements
[
edit
]
Enemies
[
edit
]
Flavor text
[
edit
]
English:
Japanese:
Romaji:
Translation:  

Run fast to get past the Thwomps, Fire-Bars, and Boos.
ちゃんと前(まえ)をみてろよ! ちょっとでも 気(き)をぬいたら すぐに 黒(くろ)こげだぞ!
Chanto mae o mitero yo! Chotto demo ki o nuitara sugu ni kurokoge da zo!
"Just you wait and see! If you lose focus for even a short time, you'll be burned to a crisp!"
Gallery
[
edit
]
Names in other languages
[
edit
]
Language
Name
Meaning
Japanese
ファイアバーをくぐりぬけろ!
Faiabā o kuguri nukero!
Strike among Fire-Bars!
References
[
edit
]
External links
[
edit
]
Super Mario Bros. 3 / Super Mario Advance 4: Super Mario Bros. 3 levels
Grass Land
World 1-1 • World 1-2 • World 1-3 • World 1-4 • World 1- • World 1-5 • World 1-6 • World 1-
Desert Land
World 2-1 • World 2-2 • World 2- • World 2-3 • World 2- • World 2-4 • World 2-5 • World 2- • World 2-
Water Land
World 3-1 • World 3-2 • World 3-3 • World 3- 1 • World 3-4 • World 3-5 • World 3-6 • World 3-7 • World 3- 2 • World 3-8 • World 3-9 • World 3-
Giant Land
World 4-1 • World 4-2 • World 4-3 • World 4- 1 • World 4-4 • World 4-5 • World 4-6 • World 4- 2 • World 4-
Sky Land
World 5-1 • World 5-2 • World 5-3 • World 5- 1 • World 5-

Tower

• World 5-4 • World 5-5 • World 5-6 • World 5-7 • World 5-

Fortress

2 • World 5-8 • World 5-9 • World 5-
Ice Land
World 6-1 • World 6-2 • World 6-3 • World 6- 1 • World 6-4 • World 6-5 • World 6-6 • World 6-7 • World 6- 2 • World 6-8 • World 6-9 • World 6-10 • World 6- 3 • World 6-
Pipe Land
World 7-1 • World 7-2 • World 7-3 • World 7-4 • World 7-5 • World 7- 1 • World 7- 1 • World 7-6 • World 7-7 • World 7-8 • World 7-9 • World 7- 2 • World 7- 2 • World 7-
Dark Land
World 8- (Big Tanks) • World 8- • World 8- • World 8- • World 8-1 • World 8-2 • World 8- • World 8- (Super Tanks) • World 8-
World-e
★
01: Classic World 1-1 • 02: Classic World 1-2 • 03: Classic World 1-3 • 04: Classic World 1-4 • 05: Classic World 2-2
●
01: Wild Ride in the Sky • 02: Slidin' the Slopes • 03: Vegetable Volley • 04: Doors o' Plenty • 05: Bombarded by Bob-ombs • 06: Magical Note Blocks • 07: The ol' Switcheroo • 08: Piped Full of Plants • 09: Swinging Bars of Doom • 10: Para Beetle Challenge • 11: A Musical Trek • 12: Armored Airship • 13: Ice Dungeon • 14: A Sky-High Adventure • 15: Sea to Sky • 16: It's a Shoe-In • 17: Slip Slidin' Away • 18: Ice Cubed • 19: Puzzling Pipe Maze • 20: A Towering Tour • 21: Castle Dash • 22: Rich with Ropes • 23: Vexing Doors • 24: Caped Escape • 25: Ground Work • 26: An Aqueous Adventure • 27: Bowser's Last Stand • 28: Koopaling Confusion • 29: Bowser's Airship 1 • 30: Bowser's Airship 2
PR
Airship's Revenge • No Time to Dawdle • Treacherous Halls