Classic World 1-1
From the Super Mario Wiki, the Mario encyclopedia
Jump to navigation
Jump to search
Classic World 1-1 is an e-Reader level for Super Mario Advance 4: Super Mario Bros. 3. The level contains one Advance Coin. Its difficulty rating is ★☆☆☆☆. This card was released as series one in North America[1]. The Japanese version depicted both Mario and Luigi marching while hat-tipping, while the English release depicted Mario jumping.
Level synopsis
[
edit
]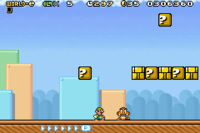 A remake of World 1-1 from the original Super Mario Bros., the player has to get to the end of the level. While the main area remains unchanged, the bonus room is one block shorter, the Brick Block ceiling is replaced by bonus room terrain, and the top center coin in the arrangement is replaced by the level's Ace Coin. A Brick Block-styled Coin Block also replaces the third Brick Block in the top row of them there.
New level elements
[
edit
]
Enemies
[
edit
]
Advance Coin
[
edit
]
Within the original level's bonus room, in the fourth pipe.
Flavor text
[
edit
]
| | |
| --- | --- |
| | See where all of Mario and Luigi's adventures began, and find the first-ever 1-Up Mushroom! |
Level map
[
edit
]
Names in other languages
[
edit
]
Language
Name
Meaning
Japanese
クラシックコース W1-1
Kurashikku Kōsu W1-1
Classic Course W1-1
French
Classic World 1-1
-
German
Classic World 1-1
-
Italian
Classic World 1-1
-
Spanish
Classic World 1-1
-
References
[
edit
]
Super Mario Bros. 3 / Super Mario Advance 4: Super Mario Bros. 3 levels
Grass Land
World 1-1 • World 1-2 • World 1-3 • World 1-4 • World 1- • World 1-5 • World 1-6 • World 1-
Desert Land
World 2-1 • World 2-2 • World 2- • World 2-3 • World 2- • World 2-4 • World 2-5 • World 2- • World 2-
Water Land
World 3-1 • World 3-2 • World 3-3 • World 3- 1 • World 3-4 • World 3-5 • World 3-6 • World 3-7 • World 3- 2 • World 3-8 • World 3-9 • World 3-
Giant Land
World 4-1 • World 4-2 • World 4-3 • World 4- 1 • World 4-4 • World 4-5 • World 4-6 • World 4- 2 • World 4-
Sky Land
World 5-1 • World 5-2 • World 5-3 • World 5- 1 • World 5-

Tower

• World 5-4 • World 5-5 • World 5-6 • World 5-7 • World 5-

Fortress

2 • World 5-8 • World 5-9 • World 5-
Ice Land
World 6-1 • World 6-2 • World 6-3 • World 6- 1 • World 6-4 • World 6-5 • World 6-6 • World 6-7 • World 6- 2 • World 6-8 • World 6-9 • World 6-10 • World 6- 3 • World 6-
Pipe Land
World 7-1 • World 7-2 • World 7-3 • World 7-4 • World 7-5 • World 7- 1 • World 7- 1 • World 7-6 • World 7-7 • World 7-8 • World 7-9 • World 7- 2 • World 7- 2 • World 7-
Dark Land
World 8- (Big Tanks) • World 8- • World 8- • World 8- • World 8-1 • World 8-2 • World 8- • World 8- (Super Tanks) • World 8-
World-e
★
01: Classic World 1-1 • 02: Classic World 1-2 • 03: Classic World 1-3 • 04: Classic World 1-4 • 05: Classic World 2-2
●
01: Wild Ride in the Sky • 02: Slidin' the Slopes • 03: Vegetable Volley • 04: Doors o' Plenty • 05: Bombarded by Bob-ombs • 06: Magical Note Blocks • 07: The ol' Switcheroo • 08: Piped Full of Plants • 09: Swinging Bars of Doom • 10: Para Beetle Challenge • 11: A Musical Trek • 12: Armored Airship • 13: Ice Dungeon • 14: A Sky-High Adventure • 15: Sea to Sky • 16: It's a Shoe-In • 17: Slip Slidin' Away • 18: Ice Cubed • 19: Puzzling Pipe Maze • 20: A Towering Tour • 21: Castle Dash • 22: Rich with Ropes • 23: Vexing Doors • 24: Caped Escape • 25: Ground Work • 26: An Aqueous Adventure • 27: Bowser's Last Stand • 28: Koopaling Confusion • 29: Bowser's Airship 1 • 30: Bowser's Airship 2
PR
Airship's Revenge • No Time to Dawdle • Treacherous Halls