World 5-Airship (Super Mario Bros. 3)
From the Super Mario Wiki, the Mario encyclopedia
Jump to navigation
Jump to search
World 5-

Airship is the thirteenth and final level of Sky Land in Super Mario Bros. 3. This level is playable upon completion of World 5-9, and its completion progresses Mario to a new world: Ice Land.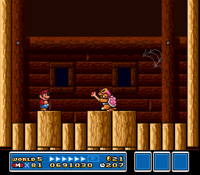 Like all airship levels, this level is autoscrolling. When Mario reaches the airship, he is faced with a Cannon and a Rocket Engine. The Rocket Engine is on a raised platform, overlooking a brown Semisolid Platform. On the platform below with the Semisolid Platform is a ? Block and two cannons below. The ? Block produces either a Super Mushroom or Fire Flower when hit. There is another Semisolid Platform at the end of this section. This platform, when jumped on, leads to a Turtle Cannon resting on a raised platform. Mario must jump over the Turtle Cannon while dodging its Bullet Bills. Once Mario clears this Turtle Cannon, he comes to an area with two cannons bolted to a Semisolid Platform. Below this platform is another cannon within a Semisolid Platform. To the right is a rotating cannon that shoots Cannonballs rather rapidly. There is another cannon within a Semisolid Platform to the right of the rotating one. Below the rotating cannon is a small ditch that Mario can stand in to bypass the rotating cannons rounds in addition to the cannon nearby. Mario must time his jump to land on the cannon to right and dodge any Cannonballs from the cannons. Once Mario is on the cannon he must jump on top of a platform above. Below is an open platform with a Turtle Cannon resting on a slightly raised platform to the right. Past this Turtle Cannon is a section with eight total cannons: four below the platform and four above situated on a large Semisolid Platform. At the end of this area is a Turtle Cannon. The screen ceases scrolling when it reaches the Turtle Cannon. To the right is the Warp Pipe that leads to the battle against Roy Koopa.
The room where the boss battle takes place has an uneven floor due to some flooring being slightly raised. Roy's method of attack is shooting his magic wand at Mario. Due to his size, the room shakes when Roy jumps towards Mario, as well. If Mario is standing while Roy lands from his jump, Mario will be temporarily paralyzed and vulnerable to Roy's attacks. Roy is defeated after his head is jumped on three times.
Enemies
[
edit
]
Level statistics
[
edit
]
Super Mario Bros. 3 / Super Mario Advance 4: Super Mario Bros. 3 levels
Grass Land
World 1-1 • World 1-2 • World 1-3 • World 1-4 • World 1- • World 1-5 • World 1-6 • World 1-
Desert Land
World 2-1 • World 2-2 • World 2- • World 2-3 • World 2- • World 2-4 • World 2-5 • World 2- • World 2-
Water Land
World 3-1 • World 3-2 • World 3-3 • World 3- 1 • World 3-4 • World 3-5 • World 3-6 • World 3-7 • World 3- 2 • World 3-8 • World 3-9 • World 3-
Giant Land
World 4-1 • World 4-2 • World 4-3 • World 4- 1 • World 4-4 • World 4-5 • World 4-6 • World 4- 2 • World 4-
Sky Land
World 5-1 • World 5-2 • World 5-3 • World 5- 1 • World 5-

Tower

• World 5-4 • World 5-5 • World 5-6 • World 5-7 • World 5-

Fortress

2 • World 5-8 • World 5-9 • World 5-
Ice Land
World 6-1 • World 6-2 • World 6-3 • World 6- 1 • World 6-4 • World 6-5 • World 6-6 • World 6-7 • World 6- 2 • World 6-8 • World 6-9 • World 6-10 • World 6- 3 • World 6-
Pipe Land
World 7-1 • World 7-2 • World 7-3 • World 7-4 • World 7-5 • World 7- 1 • World 7- 1 • World 7-6 • World 7-7 • World 7-8 • World 7-9 • World 7- 2 • World 7- 2 • World 7-
Dark Land
World 8- (Big Tanks) • World 8- • World 8- • World 8- • World 8-1 • World 8-2 • World 8- • World 8- (Super Tanks) • World 8-
World-e
★
01: Classic World 1-1 • 02: Classic World 1-2 • 03: Classic World 1-3 • 04: Classic World 1-4 • 05: Classic World 2-2
●
01: Wild Ride in the Sky • 02: Slidin' the Slopes • 03: Vegetable Volley • 04: Doors o' Plenty • 05: Bombarded by Bob-ombs • 06: Magical Note Blocks • 07: The ol' Switcheroo • 08: Piped Full of Plants • 09: Swinging Bars of Doom • 10: Para Beetle Challenge • 11: A Musical Trek • 12: Armored Airship • 13: Ice Dungeon • 14: A Sky-High Adventure • 15: Sea to Sky • 16: It's a Shoe-In • 17: Slip Slidin' Away • 18: Ice Cubed • 19: Puzzling Pipe Maze • 20: A Towering Tour • 21: Castle Dash • 22: Rich with Ropes • 23: Vexing Doors • 24: Caped Escape • 25: Ground Work • 26: An Aqueous Adventure • 27: Bowser's Last Stand • 28: Koopaling Confusion • 29: Bowser's Airship 1 • 30: Bowser's Airship 2
PR
Airship's Revenge • No Time to Dawdle • Treacherous Halls