The 'Shroom:Issue 172/Pipe Plaza
From the Super Mario Wiki, the Mario encyclopedia
Jump to navigation
Jump to search

Director's Notes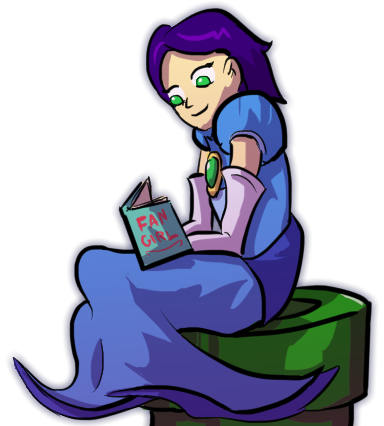 Hello and welcome to another edition of Pipe Plaza! I don't know how but it's already July! Time is an illusion!!! (in other words: summer's only halfway over and i need a sense of normalcy in my life again)
Don't forget, if you like what you see here, you can write a section of you own too and join us here in Pipe Plaza! Just head to the sign up page for everything you need to know!
I have nothing else to say here so enjoy Pipe Plaza and the rest of the month!
Section of the Month
Pipe Plaza SECTION OF THE MONTH
Place
Section
Votes
%
Writer
1st
Forum Update
5
41.67%
Hooded Pitohui
2nd
What's in a Campaign?
4
33.33%
Chester Alan Arthur
3rd
NIWA News
2
16.67%
Alex95
---
MarioWiki Sections
---
Stay up-to-date with the latest happenings from the NIWA wiki network!
[read more]
Non-Wiki Sections
---
Find out all about this month's Super Mario releases.
[read more]
---
Hey, this Fluffy ain't even fluffy! I want a refund!!
[read more]
---
Think you missed anything on the forum lately? Fear not, just read this!
[read more]
NIWA News
Hello, everyone! Welcome to NIWA News, a section where I show the going ons with the wikis in our NIWA group within the last month!
Promotions
Toa 95 has become the Editor-in-Chief of Nintendo Wiki!
Reggiamoto was promoted to the rank of Bureaucrat on the Xeno Series Wiki!
Demotions
Poll Committee Discussion

Written by: BBQ Turtle (talk)
Hello everyone! I don't think you were expecting to see me here! It's BBQ Turtle again, here to cover one last Poll Committee Discussion for the current term. Speaking of which...
The News
The big news this month is that it's the end of the term for the Eleventh Poll Committee! While this is the last Poll Committee Discussion for the term, there's still a few more polls from the current committee to run, but after that we'll be onto the Twelfth Poll Committee. By the time this issue of the 'Shroom comes out, we should know who'll be leading the Poll Committee for the next year- congratulations to the new chair and vice-chair, I'm sure you'll do a great job at leading the committee! This also means that applications for new committee members will likely be opening up soon, so keep your eyes open for any announcements from the new chairperson about how and when to apply. If you think you'd be a good fit for the poll committee, I'm sure they'd love to hear from you!
Archives
With the Switch past the fourth year of its life, what next step do you hope to see Nintendo take with their console line? (Hooded Pitohui (talk) and Lakituthequick (talk), June 6th, 2021)
With the Switch past the fourth year of its life, what next step do you hope to see Nintendo take with their console line?
There's no need for a new console; Nintendo should focus on supporting the Nintendo Switch with new game releases and expanded online services. 37.47% (704 votes)
I would like to see a new version of the Switch that improves its power and graphics, allowing it to run more (graphically) intensive games. 34.54% (649 votes)
I would like to see a new version of the Switch that improves its battery life and makes quality of life adjustments to make it even more portable. 11.23% (211 votes)
Nintendo should release a new console which builds on the Switch, but has its own brand and identity. 10.16% (191 votes)
Nintendo should release a console wholly unlike the Switch, with a new focus and core concept. 5.00% (94 votes)
The Nintendo Switch Lite provides the best template for Nintendo to follow, and their future releases should be dedicated handhelds. 1.60% (30 votes)
Total Votes: 1,879
Recently, Mario spin-off titles have added generic members of species to their rosters, such as Spike and Chain Chomp. How do you feel about this? (Hooded Pitohui (talk) and Luigi 64DD (talk), June 20th, 2021)
Recently, Mario spin-off titles have added generic members of species to their rosters, such as Spike and Chain Chomp. How do you feel about this?
I enjoy seeing these representatives of these species on rosters and hope that more species are used as playable characters in spin-off titles. 56.20% (897 votes)
I don't mind these kinds of additions, but I'd rather see them limited to games with larger rosters like Mario Kart and the baseball titles. 17.79% (284 votes)
I dislike the practice of adding species representatives to spin-off rosters and would prefer that established individual characters (e.g., E. Gadd, Cappy) are added instead. 12.09% (193 votes)
While I dislike the addition of generic species representatives, I wouldn't mind these additions if they were fleshed out as distinct characters. 7.08% (113 votes)
I've enjoyed the various species representatives added to the rosters of spin-off games, but I don't think there should be more. 6.83% (109 votes)
Total Votes: 1,596
Analysis
With the Switch past the fourth year of its life, what next step do you hope to see Nintendo take with their console line?
Well, that poll certainly seemed to go up with the right timing! Given we've since had the announcement of the Nintendo Switch OLED Model (or whatever weird name it's called), I imagine people's thoughts on this poll might be a bit different now. Still, the top two results were quite close in votes with only about 3% between them, with people who wanted the current models of the Switch to receive more support coming out on top. It seems like a lot of people are happy with Switch's current hardware, and I imagine a lot of people would worry about having to upgrade if a new model with exclusive games was released, which I imagine has also caused people to vote for this option. The second and third place options both touch on features added to the new model, while also including things that weren't added, so it's hard to say if the voters for these options would be satisfied by the changes made in the OLED model. It does suggest that there might still be some room for improvement on the Switch's hardware if a future revision was made, as quite a few voters were interested in seeing these kinds of additions. The other three options on the poll all looked at releasing a new console altogether, though these options had substantially fewer voters, suggesting that not a lot of people are in a rush to see a new console from Nintendo. Most of the voters preferred the idea of a new console that built on the Switch but was still something new entirely (I think most people would like to avoid another Wii U situation), followed by voters who'd like to see something new altogether. The option that pulled in the fewest voters were people who wanted to see a new handheld along the lines of the Switch Lite. Given Nintendo's had a fairly solid string of handheld consoles, it makes sense that people wouldn't be clamouring for a new one, and would likely prefer to see a dedicated home console instead, given the Wii U's mixed reception, if Nintendo were to step away from a hybrid for their next console.
Recently, Mario spin-off titles have added generic members of species to their rosters, such as Spike and Chain Chomp. How do you feel about this?
Well, it seems like most of the voters for this poll are on board with this idea and want to see more enemies join playable rosters- over 50% of voters in the poll went for this option! Recent games have expanded the playable enemy list a lot, but there's still more that haven't made the cut yet, and I don't think people would be disappointed to see more weird picks added. It'll be interesting to see if the trend keeps up with the new content being added to Mario Kart Tour and Mario Golf: Super Rush and how people react to those choices. The second place pick only got about a third of the voters the top option secured, that being for people who like seeing the enemies but prefer seeing them in games with larger rosters. I imagine this is mainly people who don't want to see mainstay characters replaced in favour of generic enemies, so putting them in large roster games pleases just about everyone. The next two options didn't pick up a large amount of votes, opting for established characters or non-generic species members rather than regular enemies in rosters. The option that got the fewest votes were those who liked the enemy additions but didn't really want to see more. It can be disappointing when characters are removed from one game to the next, so I think some of these voters might just want to see some of the enemies currently introduced return for future games.
Conclusion
And that just about wraps up the last Poll Committee Discussion for the Eleventh Poll Committee! A big thank you to all of my fellow committee members for doing such a good job and keeping up a steady stream of high-quality polls over the last year or so. And on behalf of the committee for this term, I'd like to say thank you to everyone for voting in and discussing our polls, and wish the next committee good luck for their term. Don't forget to come back for more Poll Committee Discussion from them in the months in to come- and to apply if you'd like to have a go writing this section sometime in the next year!
Anniversary Announcements
Written by: Lakituthequick (talk)
"On bended knee is no way to be free."
Welcome back to Anniversary Announcements! I hope you're all doing well. What a week, huh?
The Fire Bros
The polls closed earlier this week! Most people have already received their results, with the rest following as soon as possible.
Speaking of which, presentation sign-ups also opened, and all spots have been filled within a few days! Big thanks to everyone for their interest.
The ceremony takes place on 13 August, we hope to see you there!
Tournaments
Let's have a look at the latest tournament developments.
Mario Awards Scribble Deathmatch
Three rounds of scribbling have been played with the fourth going on as of this publication. So far, only twice has one player not been able to submit, resulting in a total of 94 scribbles to have been revealed so far and voted for. As this is a Swiss tournament, people are paired with people with similar win-loss ratios at random. After round 4, three more rounds remain!
Two races, on Mario Kart Stadium and Excitebike Arena, have been played, with the third one on Mute City currently ongoing.
Because this game is hosted late in the season, there is no news to announce.
The Minecraft games are hosted on the MarioWiki server in a dedicated world, and includes classics such as Spleef and Capture the Flag, but also recreations of games such as Shine Runners and Apples to Apples, and originals such as Murderer and Payload.
The game is currently ongoing, with three completed rounds. Because of the Round Robin format however, players can face anyone from future rounds at any time before the round formally starts. Roserade is on vacation right now, but players can still submit their results as they play.
Super Mario Hint Hunt
The first round of hints has been played and concluded, with an intermission going on now, and the second round starting on 17 July. Despite the "rounds" structure, it is not required to have previously played in order to submit guesses for the next round, nor to sign up at all. Players can simply submit their guesses to TPG before the deadline for them to be counted.
Both 1-on-1 and 2-on-2 tournaments, using the same game rules across the board. Singles uses the Swiss format, while doubles use Round Robin because of the smaller number of teams. Round 2 is currently ongoing.
A puzzle game not unlike Panel de Pon, but unlike that tournament, this one is in Swiss format. The game is the NES version, played via Nintendo Switch Online. Rounds last five days, with the first currently ongoing.
Currently still gauging interest is a retro game tournament by fantanoice, looking for interest in such games as Diddy Kong Racing, or online with games such as Super Smash Bros. Melee, Fortune Street, or Mario Kart Wii CTGP.
The Killing Game planned by Lakituthequick and Lord Bowser has been cancelled shortly after its announcement because of personal circumstances of both hosts.
A Mario Golf: Super Rush tournament was also posted by Ninelevendo, but didn't receive enough sign-ups to proceed.
That concludes this month's edition! Don't forget to work on your presentations, and have a good month. Bye!
All information above was correct as of 17 July 2021.
Mario Calendar
Hello, y'all! Happy July, happy summer, and happy next issue of Mario Calendar! Okay, that one might not be quite as important, but I would argue that it's still very important. Anyways, let's jump into July's Mario Calendar!
Region Abbreviations
| Abb. | Region |
| --- | --- |
| ALL | All Regions (JP/NA/EU/AU) |
| JP | Japan |
| NA | North America |
| EU | Europe |
| AU | Oceania/Australia |
| SK | South Korea |
| CHN | China |
| UK | United Kingdom |
Console Abbreviations
| Abb. | Console |
| --- | --- |
| NES | Nintendo Entertainment System |
| Famicom | Family Computer Disk System |
| SNES | Super Nintendo Entertainment System |
| N64 | Nintendo 64 |
| GC | Nintendo GameCube |
| GB | Game Boy |
| GBC | Game Boy Color |
| GBA | Game Boy Advance |
| DS | Nintendo DS |
| 3DS | Nintendo 3DS |
| Switch | Nintendo Switch |
| Wii VC | Nintendo Wii Virtual Console |
| 3DS VC | Nintendo 3DS Virtual Console |
| Wii U VC | Nintendo Wii U Virtual Console |
| VB | Virtual Boy |
| G&W | Game and Watch |
| 64DD | Nintendo 64 Disk Drive |
| MS-DOS | Microsoft Disk Operating System |
| CD-i | Philips CD-i |
| IQ | iQue Player |
| NVS | Nvidia Shield |
| ACPC | Amstrad CPC |
| ZX | ZX Spectrum |
| Coleco | Colecovision |
| TI-99 | Texas Instruments TI-99/4A |
This month honestly wasn't the most eventful month in the world of Mario, but it made an incredibly important contribution by… well, creating Mario! Donkey Kong came to arcade machines for the first time this month in 1981, and that was what led to all of this being possible. And of course, Super Mario Sunshine also came out this month, which is just a very solid game. Hope you've all had a great July, and I'll see you in August!
What's in a Campaign?
By: Chester Alan Arthur (talk)
Welcome back, 'Shroom readers, to another informative edition of What's in a Campaign? hosted by me, Shoey! Over the last two months, we've looked at veterans improving on their robots for new campaigns. Well, this month, we're going to do something a little different; for this month, we're going to be looking at the terrifying double-headed spinning axe of Fluffy.
Created by three students (Peter Holroyd, Peter Johnson, Richard Johnson) from the University of London, Fluffy was the first of many attempts to claim the mantle of "the next Hypno Disc".
Weighing 96kg, powered by two 24V electric motors, and with a top speed of eight miles per hour (which was pretty good for series five), Fluffy was a low-to-the-ground invertible robot with two rubber wheels. Sporting only 2cm of ground clearance and making good use of the 100kg weight limit, Fluffy sported 16mm polycarbonate armor, making it fairly durable. But the main feature of Fluffy is its 20kg double-headed spinning axe that it used as its weapon. A pioneer of the bar spinner that so dominates the modern robot meta, this double-headed spinning axe, as they called it, was a twin bar powered by a petrol motor that spun at between 1500-2000 rpm (for comparison's sake, in series 4, Hypno Disc's disc could only spin at 750 rpm).
Proving its destructive capabilities immediately in its series five qualifier, Fluffy came up against future two-time heat finalist, the axe bot Kat 3, and, according to reports, did so much damage to Kat 3 that Kat 3 almost had to pull out of series five. As always, all images are sourced from the fantastic Robot Wars Wiki, and if you'd like to watch along you can catch these fights on the video below. I'll make sure to leave a timestamp for when each fight starts.
With a victory over Kat 3 in the qualifiers, Fluffy automatically qualifies for series five and is placed in the final heat: Heat L. Now, series five is different from series four because, whereas series four's first round was three-way melee with two robots going through, series five (for better or for worse - and, in my opinion, worse) went back to the Series 3 setup with the first round being four separate 1v1 matches. So in Fluffy's first fight (1:00) on the big stage, they are matched up against a series veteran, the invertible tracked bot 101, who is the 23rd seed (out of 24, which is pretty low considering 101 was a former top eight finisher, a heat finalist in the last wars, and one half of the reigning tag team terror champions.) Unfortunately for 101, it, judging by this fight, looks like the producers were right to give them such a low seed. Within two attack, Fluffy's double-headed spinning axe snaps 101's right-side track in half, reducing 101 to only moving in circles.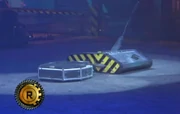 Weirdly enough, despite being reduced to only spinning in circles, 101 is not counted out and the fight goes to a judge's decision (which is crazy because the television edit for this fight is only one minute and twenty one seconds and a full fight that goes to a judge's decision are five minutes long!). Obviously, Fluffy is given the victory via unanimous decision and moves on to the second round.
In the second round (5:08), Fluffy comes up against a veteran team with a new robot: team Killerhurtz and their new robot Terrorhurts. Because Terrorhurtz sports a powerful overhead axe, the Fluffy team put an extra layer of polycarbonate on top of their robot to help protect it from the axe. One thing that's interesting about series five, and this isn't exactly related to the fight itself, is that, as opposed to the previous series and all future series, series five only gives televised interviews to teams that make the second round. I think that is a bummer because it takes away a lot of the personality from the show. Anyways, the fight starts and the front plow of Terrorhurtz immediately gets under Fluffy. Terrorhurtz delivers some powerful axe blows, but, thanks to the extra layer of armor, Fluffy manages to get away undamaged. The two robots then give chase to each other, with Terrorhurtz managing to land a few more axe blows - but, again, to no effect. Then Fluffy manages to get its double-headed spinning axe into Terrorhurtz and rips off one of the Terrorhurtz's side panels, causing CO2 to emit from the axe bot and severely limiting Terrorhurtz's mobility. Wasting no time, Fluffy charges straight in and lands another blow on the exposed side of Terrorhutz, completely immobilizing it and causing Terrohurtz to be counted out while sending Fluffy through to the heat final.
In the heat final, Fluffy comes up against the number two seed and reigning runner-up: Pussycat. Last time in Robot Wars, Pussycat managed a stunning upset over last month's featured robot Hypno Disc before falling to Chaos 2. Now, Fluffy comes face to face with the robot who defeated Hypno Disc. With a place in the series semi-finals on the line, can Fluffy do what Hypno Disc couldn't and defeat Pussycat and cement itself as the new top spinner? The fighting (9:16) begins sort of tentatively, with both robots making some contact with each other but doing no real damage. But then it happens. Pussycat goes in for an attack. Fluffy quickly spins around to meet it, both of their blades meet, and the patented custom-made cutting disc which had caused so much damage to robots it had met flies off, leaving Pussycat weaponless.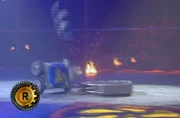 From here, it looks like it'll be a stunning upset victory for Fluffy after all. How can it lose to a weaponless robot? Unfortunately, in the first of what will be many near victories, Fluffy, so close to ultimate victory, just stops moving, and Fluffy, who seconds ago looked like it was on the apex of one of the greatest upsets in Robot Wars history, is counted out, allowing Pussycat to just eek into the series' semi-finals.
For its performance of making the heat final and almost defeating the number two seed, Fluffy was awarded the "most promising newcomer" award, beating out the crab-based control bot Crushtacean and fellow spinner S3 (which is an interesting decision considering S3 not only made the series semi-finals but also finished in the top eight of series five). But, then again, S3 isn't even really a newcomer, but instead a new robot from a veteran team. But that's a story for another issue! Unfortunately for Fluffy, this would be its peak main competition performance. In Series six, it falls to Stinger in the second round, and, in Series seven, it falls in the first round. It does a little better inside competitions, falling in the first round of Robot War's Extreme University Challenge but making it to the final of Series six's UK vs Germany special, where it defeats two impressive spinnersL the Corkscrew (a personal favorite of mine) and 259. Unfortunately again, though, even this is something of a black spot for Fluffy, because despite being out-fought by German (actually Dutch) robot Das Gepäck in the final, for some reason the judges declared it a draw, a decision they'll never make again. They ended up giving the trophy they made for the event to Das Gepäck and told Fluffy they'd make another trophy for them, but from what I understand they never ended up doing it. The problem with Fluffy is that they never managed to reliably work out what happened in the heat final against Pussycat. It ended up happening a lot throughout its wars. In series seven, one of its motors ends up burning out against Stinger. In the second round of series six, Fluffy's spinning blade just stopped working and it was bashed to death by Stinger. Finally, in the final of the UK vs Germany, special in a fight where it was heavily favored to win, its blade just stops spinning again and Das Gepäck spends the bulk of the fight bullying it. It's sad, because Fluffy enters Robot Wars with so much promise, but never manages to capture the success of its first series.
Forum Update
Written by: Hooded Pitohui (talk)
Hello, readers of The 'Shroom! Welcome to July's edition of Forum Update, a section which, this month, covers everything that happened on the forum from June 19th to July 13th. Thanks go out to MrConcreteDonkey (talk) for the formatting of the section!
News
Well, I can't say that there's no news in the community, but most of the news I could discuss here are better covered elsewhere in the paper. Check out Lakituthequick's Anniversary Announcements for updates on ongoing Awards tournaments and events, which have, and look at the Poll Chairperson Address to find out the results of the Poll Chairperson Election (with the election ending, the debate thread for the election has closed). The 'Shroomfest thread closed on July 10th, and you can find the results of that in this issue's 'Shroomfest Highlights.
There's plenty of activity on the forums, as you can see, but there's no other forum-specific, forum-wide news to report this month. That said, there definitely was one interesting event on the forum this past month that ought to be mentioned...
On June 21st, the Super Mario Boards' cereal market went through an enormous and rapid boom-and-bust over the course of few days. Or, more accurately, Mindless Junk saw a brief but notable proliferation of cereal-themed threads, with numerous users joining in on the joke and making their own threads or contributing to threads made by others. From the madness of the day, we saw Rule 12 Violation Cereal, New Super Ultra Amogus Mario Bros. U Deluxe All-Stars Battle Royale Return to Dream Land For Nintendo 3DS 2: Diddy Kong's Quest & Knuckles Cereal!, Shoey Time Cereal, the revival of Donkey Kong Cereal, MightyMario Time Cereal, Ninelevend-O's Cereal, Paper Mario Cereal, icky paint-like goop, Mushroom City Car Wash Cereal, Toadettefan's Cute and Cool Charms, and the horrifying Ernest Cline Cereal. Of course, some saw the chance to cash-in by promoting other breakfast foods, like the Toastie and muesli. And with the sudden growth of the market, there were calls for regulation of the industry, attempts to create independent regulatory bodies, attempts to form self-regulating industry associations, efforts to promote the industry, and even a few Big Changes. Needless to say, we had our fill of cereal!
Bans
There have been no notable bans in the past month. Let's keep that streak up!
Statistics
Thread of the Month
The Toastie thread = Of all the cereal-inspired threads this month, I have to give Revin's introduction of the humble slice of toast the nod for its creative spin on the many uses of warm bread.
Quotes
Mafia
Interactive 'Shroom Threads
---
That's it for the news from the forum this month, but I do want to tell you all to message me if you see something you think I should highlight in this section or have ideas on how I could work more features into this section. If there's something more you want to see here, shoot me a message, and I'll see what I can do!
All information above was correct as of 14:16 EDT on 13 July 2021.