The 'Shroom:Issue 172/The 'Shroom Spotlight
From the Super Mario Wiki, the Mario encyclopedia
Jump to navigation
Jump to search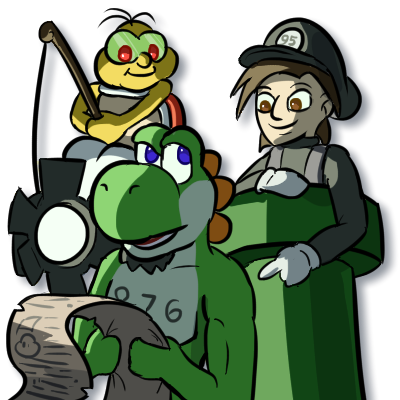 Hello readers of The 'Shroom, and welcome to Spotlight. Spotlight is a community project which aims to fix up the articles on the wiki which have issues. These issues can range from poor writing, to a lack of images, to even just needing a credible source.
Welcome to this July edition of Spotlight, everyone's favourite project to improve six wiki articles on a monthly basis. And if it's not your favourite, then please make it your favourite, it would make my day. July is the month of full summer, though as I write this all I see is rain outside my window, so at least we shouldn't be on track for a hosepipe ban! Have a great July, and let's fix some focuses!
Most of our focuses were completed last month! Maybi was created by Yoshi the SSM (talk), Octoomba's Dr. Mario World info was expanded on by Winstein (talk), and File:NoCashDash.jpg was improved by Mario jc (talk). Count Bleck was improved by the 0blivion (talk) and RHG1951 (talk), but it could still use some help, and the German name for Funky's Store was found by RHG1951 (talk), but the info about the ammunition limitation still needs found. Purloined Parts was not touched at all. Thank you to our editors for helping out!
And now onto this month's focuses:
| Article | Category | Focuses |
| --- | --- | --- |
| Mobile | Wanted article | A mobile is a spinning toy that is usually placed above a child's crib, often decorated with stuff like vehicles, stars, etc. Such an item appears in the Yoshi's Woolly World series, so does it have enough significance to have its own article? |
| Goonie | Stub article | At least one of us on this team loves the Yoshi series, and yes it is 876, so it'd be great if this mainstay Yoshi enemy could lose its section stub for Yoshi's Crafted World. What levels does this gull appear in, can they be jumped on like in earlier entries for transport, do they have any appearance differences from previous entries? |
| Water Geyser | Rewrite and expansion required | These obstacles appear all throughout the Mario series, particularly in the Mario Kart series, but we have no mention of their Mario Kart Tour appearance, so let's make sure we fix that up! We could also give the article a sense of organisation with a Mario Kart and Super Mario series sections. |
| Spiky Tyre Trail | Citation needed | Just need a page number for the third citation, which has the level's name come from the 3DS Virtual Console release of Donkey Kong Land. |
| Masayoshi Ishi | Articles that need more images | We don't have too many images of the music composers, outside of the more recognizable ones. Masayoshi Ishi is one such example of a faceless name. |
| File:SMRPG Magmus art.jpg | Image quality requested | I'm aware that Super Mario RPG images from the guidebook are hard to come by, but surely we can do better than an eBay screenshot? |
Now just before I leave you, we'd like to tell you about unimplemented proposals. There are currently fifteen that need to be implemented, some of which date back to 2018, so think of this as a continuous Spotlight goal until they're all completed. Additionally, there are many unresolved discussions that we would love to see come to some sort of conclusion. Some might have already concluded and just need the template removed, others have been waiting for a response for years.
Thanks for tuning in to the newest edition of The 'Shroom Spotlight! Be sure to turn up next month, where we'll be reviewing the progress on the above focuses. If you have any questions or suggestions about this month's set of the article focuses, then please get in touch through the dedicated topic if you have a forum account. If not, then please contact us on Yoshi876's talk page or Alex95's talk page, but you are far more likely to get a quick response if you go through the forums. You are also welcome to make suggestions on what you think we could focus on in our next edition! Thank you, and good luck!