The 'Shroom:Issue 112/Pipe Plaza
From the Super Mario Wiki, the Mario encyclopedia
Jump to navigation
Jump to search

Director's Notes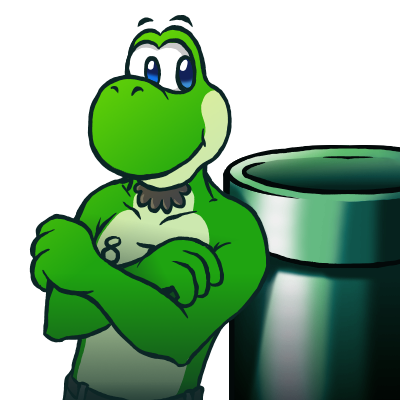 Welcome 'Shroom readers to this July edition of Pipe Plaza.
Section of the Month
Pipe Plaza SECTION OF THE MONTH
Place
Section
Votes
%
Writer
1st
Retro Feature
6
46.15%
Yoshi876
2nd
Anniversary Announcements
4
30.77%
Lakituthequick
3rd
Poll Committee Discussion
1
7.69%
Nysic
3rd
Tip of the Month
1
7.69%
FunkyK38
3rd
Forum Report
1
7.69%
MrConcreteDonkey
---
Monthly Report
Written by: Paper Yoshi (talk)

Hello, readers, and welcome to July's Monthly Report!! Nothing new around these parts, so let's see how July's wiki stats compare to the ones from late June!
(Credit goes to Stooben Rooben (talk), Super Mario Bros. (talk), and Viper26 (talk) for the table coding (I based this on Stooben's coding, which was later modified by SMB, myself, and Viper26 when each one of us wrote this section)
July Statistics
Statistic
As of 14 July 2016 (09:10)*
Content Pages
17,168
All Pages
139,762
Files
71,786
Edits
1,877,448
Edits per Page
13.43
Registered Users
21,799
Active Users
336
Bots
2
'Shroom Writers
35
Autopatrolled
38
Patrollers
4
Administrators
11
Bureaucrats
3
Proprietor
1
June — July Statistics
Statistic
As of 23 June 2016 (12:00)*
As of 14 July 2016 (09:10)*
Percentage Change
Content Pages
17,124
17,168
+0.257%
All Pages
138,648
139,762
+0.803%
Files
70,888
71,786
+1.267%
Edits
1,867,113
1,877,448
+0.553%
Edits per Page
13.47
13.43
-0.297%
Registered Users
21,690
21,799
+0.502%
Active Users
313
336
+7.348%
Bots
2
2
0%
'Shroom Writers
37
35
-5.405%
Autopatrolled
39
38
-2.564%
Patrollers
4
4
0%
Administrators
10
11
+10%
Bureaucrats
3
3
0%
Proprietor
1
1
0%
*All times EST.
Featured
Hello 'Shroom readers and welcome back to another edition of Featured, the only place this side of the Mario Wiki where you'll get news about the Mario Wiki Featured Articles.
Featured Articles
One new article has been featured in the past month.
Re-Featured Articles
No new articles have become re-featured.
FA Nominations
There is one ongoing Featured Article Nominations.
Rocket Start was nominated on 31 May 2016. The current opposes on it deal with its organization and length.
Donkey Kong Barrel Blast was nominated on 9 July 2016. The current oppose on it deals with its tense and lack of a development section.
Failed FA Nominations
No new articles have failed the featuring process.
Unfeatured Articles
No new articles have been unfeatured in the past month.
Unfeaturing Nominations
There are no ongoing Unfeature nominations.
Failed Unfeaturing Nominations
No new articles have failed the unfeaturing process in the past month.
---
Thanks for reading see you next month, for more Featured Articles news.
Tip of the Month
When scaling images for articles, you should usually aim for a pixel size of a thumbnail. Anything that's over 200 pixels will overwhelm the text. You can easily adjust your image to be a thumbnail using this coding:
[[File:Mario.png|thumb|Image caption]]
Be sure to add the 'thumb' where you would normally put a pixel size. You can also adjust your thumbnail pixel size from here.
Forum Report
Written by: MrConcreteDonkey (talk)
Hey guys its MCD here lets look at the forum
News
Ban Log
PrinceLarryKoopa88 was banned for a month, for flaming, thread derailing and dragging up old drama. His ban ends on July 31st.
TabuuAndPeach was permanently banned, for making spammy posts despite being told to stop (and an earlier ban for the same thing).
Statistics
June seemed to bring some kind of surge in activity - 236 topics were created, and 12128 posts were made (the most so far this year). 16 new members joined and 207 was the most online.
| | | |
| --- | --- | --- |
| TOP POSTERS | TOP TOPIC STARTERS | MOST TIME ONLINE |
(Bold means new entry and Italics mean inactive for at least the past month.)
Thread of the Month
Thread of the Month goes to the thread originally known as if this thread reaches 2500 posts by nicos birthday (july 22nd)..., created by TheFreshPrince. Since then it has undergone quite a few name changes - from "The Melancholy of Nico Yazawa" to the fairly ominous "Death Nico".
As of July 15th, since the thread's creation on June 10th, it has amassed 2941 posts, which makes it at least partially responsible for the surge in activity I was talking about. The thread is also far more interesting than your average Mindless Junk spam thread - there is talk of a mystery hidden within the thread, all set to reach an impasse on July 22nd.
The runner-up award went to Crap, I don't wanna do this, let's procrastinate by Mr. Edo.
Quotes
"BE GOOD, BE SAFE, BE HEALTHY, BE HIP, BE MEME" - Packy
"i'm sitting cowering in the corner rn, just waiting for the impending nuclear war to ensue" - Neptune, on Brexit
"if rowlet turns into friggin' green arrow then i will be switching teams" - MST3K
Mafia
The only game currently ongoing is still BMB's Steven Universe Mafia.
---
Thanks for reading.
Community Report
Hi readers and welcome to the Community Report section. It shows our the latest goings-ons around the Super Mario Wiki – the promotions, the demotions, the recently passed and ongoing proposals.
(credit to YoshiKong (talk) for previously developing this coded table system and to Crocodile Dippy (talk) for the alterations made)
PROMOTIONS/DEMOTIONS
RECENTLY PASSED PROPOSALS:
Proposer
Summary
Outcome
Deadline
Driftmaster130 (talk)
Enforce a timestamp with user signatures.


Proposal to enforce the usage of a timestamp with user signatures. The proposer argues that enforcing users to either set up their custom signatures to display the timestamp or just have them use the plain default signature which already includes a timestamp will be more easier to know when a comment on a conversations was made without having to look at the talk page edit history.

11-1 (read more)
June 20, 2016, 23:59
Henry Tucayo Clay (talk)
Move Mario Party 3 Duel Maps back to their old capitalization.


Proposal to move Mario Party 3's duel boards names to the general capitalization (GATE GUY to Gate Guy). The proposer argues that the all-caps names are merely stylizations and do not reflect the actual name of the subject.

11-2 (read more)
June 21, 2016, 23:59
Fawful's Minion (talk)
Merge M&L and PM Wiggler articles with Wiggler.


Proposal to merge the Wiggler from Mario & Luigi: Dream Team, Mario & Luigi: Paper Jam and Paper Mario: Sticker Star with the main Wiggler article. The proposer argues that they all have the same name and there is no real reason to keep these split even if they have different roles from other Wigglers.

CANCELLED BY PROPOSER (read more)
June 29, 2016, 23:59
Time Turner (talk)
Create a page for Minecraft: Wii U Edition as a guest appearance.


Proposal to create a page for Minecraft: Wii U Edition as a guest appearance. The proposer argues that this game includes a Super Mario Mash-Up Pack, which includes a bunch of Mario-themed skins for the player, nearly every item, block, and entities have been retextured to fit the Mario theme, music straight from Super Mario 64 and an entirely new world that features a bunch of Mario designs and settings.

14-1 (read more)
July 6, 2016, 23:59
LudwigVon (talk)
Merge M&L (Dream Team and Paper Jam) and PM (Sticker Star) Wigglers with Wiggler.


Proposal to merge Wiggler from Mario & Luigi: Dream Team, Mario & Luigi: Paper Jam and Paper Mario: Sticker Star with the main Wiggler article. The proposer argues all these Wiggler don't have a different characteristics from the species in general, that generic enemies who appears as bosses in Mario Party 9 and Mario Party 10 don't get articles, even if most of thess enemies are known as a mega form in Mario Party 10 and that the Super Mario Wiki probably don't have a good indicator of what make a character, a character worthy for a article when it comes to generic enemy that appears as boss or playable character.

8-0 (read more)
July 8, 2016, 23:59
RECENT TALK PAGE PROPOSALS:
Proposer
Summary
Outcome
Deadline
Fawful's Minion (talk)
Split Category from Mario characters and real people.


Proposal to split the deceased category to make one for real people and one for characters. The proposer argues that it is weird to have characters and real people share the same category.

17-0 (read more)
June 22, 2016, 23:59
ONGOING PROPOSALS:
Proposer
Summary
Link
Deadline
7feetunder (talk)
Split Donkey Kong Jungle Beat levels from their kingdoms.


Proposal to split the levels of Donkey Kong Jungle Beat from their kingdoms. The proposer argues that we don't have any articles for the levels of this game and this contradicts the wiki, where even small worlds like in Wario World have their levels split off.

8-0 (read more)
July 14, 2016, 23:59
ONGOING TALK PAGE PROPOSALS:
NOTE:All stats and figures included in this section were correct as of July 13th.
That's all for this issue of the Community Report. Thanks readers to take the time to read this section and remember to participate to ongoing proposals.
Retro Feature
Marioguy1
First article:
Featured, Issue XXXIII
Last article:
Fading into Obscurity, Issue LXVI
Sections Written:
Main Team: 42
Pipe Plaza: 50
Positions held:
Contributor; Pipe Plaza Director; 'Shroom Spotlight Manager
Hello, readers! I'm your Spotlight manager and Pipe Plaza Director, Yoshi876. Welcome to Retro Feature, a section in which I delve deep into the archives to bring you the best blasts from the past. This time I bring a section from one of my predecessors: Marioguy1.
For those of you who remember Issue 102 then you know all about the history of Marioguy1. However, what you don't know is some of the history on the section of his that I have chosen. This section is actually still present within The 'Shroom, just with a different writer: me!
Featured is a section that details all about the Featured Articles, including nominations, which ones have been featured and even unfeatured. However, when Marioguy1 was writing it some of them included the Featured Images, until this part of the wiki was phased out. The general writing style for the article was just mentioning what had been featured, unfeatured and whatnot. When Paper Yoshi took over, he organised it all into sub-headings, but this was the only major change. When I took over, I kept with Paper Yoshi's template, before eventually adding in reasons for why articles were being unfeatured or failing the feature process.
Anyway, you're not here to hear about the history of Featured, you want to see how it's changed. So without further ado, here's Marioguy1's Featured from Issue XXXIV.
Featured (MG1)
This is MG1 with featured again and we have had a few passed things this month. In the featured articles department we have four new featured articles and one less!
The ones that were featured were:
And the one that was:
Featured Image passes/fails were:
Passed

Image:NSMBwii koopalings.jpg

Failed
On the main page this month we have had:
And in the way of images:
Anyhow, see you next month!
The 'Shroom Report
HI, everyone, I'm your resourceful Statistics Manager, Tucayo, here with another issue of The 'Shroom Report! I can't help but notice this section is not performing well in SOTM polls, so I would like to know what you as readers want from this section; if you have any suggestions, please drop a line on my talk page and I will gladly take all comments into account. As a reminder, in the Milestones section, writers will get mentioned every 10 sub-team sections and every 50 all-time sections, teams will get mentioned every 100 sections, and The 'Shroom will get mentioned every 500 sections. All information is based off our Historical Sheets. This section will cover Issue 111.
Tables are based off the End-of-the-Year Awards tables, so credit goes out to Crocodile Dippy (talk).
'Shroom Trivia
Since Issue VII (7) in August, 2007 and up to Issue 111 in June, 2016, there were only two issues not to have featured either Crocodile Dippy, Stooben Rooben, or Super Mario Bros. in any capacity (LXXXIII and LXXXIV). Issue 112 will be only the tenth issue in our 113-issue history to not have any of them as either writers or staff.
Anniversary Announcements
Written by: Lakituthequick (talk)

"Two players are being dropped for being irresponsible twats."
Hello, welcome to Anniversary Announcements. I was going to make an obscure reference in the intro, but I couldn't think of one, so let's go straight into it.
On 17 July, the polls have closed! The results have been tallied and have been sent to the presenters that signed up for the respective presentations. There are, however, some awards that don't have a presenter yet, so if you feel up to it, sign up for one here!
Next on the list are tournaments. A number of them has started or have concluded the first part(s) now.
In below table you can find an overview of all current and planned tournaments, along with links to their respective threads.
There is also a topic on Pokkén Tournament here, to gauge interest, but this is not a confirmed tournament yet.
Let's go over each tournament to see how they roll.
Art Contest
Host: Hypnotoad
Date: Submissions 1 June to 11 July, voting 16 July to 13 August
Forum Topic
The submission period has closed and the voting for the best work of art has begun. You can view and vote on the artwork in the forum thread, or in this issue's special section.
Awards Mafia VI
Hosts: Stooben Rooben and Superchao
Date: TBA
Forum Topic
The sign-ups have closed, but you can still sign up as a replacement. If someone drops out for any reason, you can then replace them in the game.
Guess the Results
Hosts: Awards and Staff
Date: until 12 August
Forum Topic
Here you can guess the results of the awards, and earn tokens in the process.
Mario Kart 7
Host: Stargazing
Date: July
Forum Topic
Sign-ups for this game have also closed, and the first round's groups have been posted, and mostly happen this weekend.
Mario Kart 8
Host: Lakituthequick
Date: 18 July to 31 July
Forum Topic
Sign-ups closed and the first round has almost been played.
Minecraft
Hosts: Uniju and Toadbert101
Date: TBD
Forum Topic
There is no news for this tournament.
Description: A set of (mini)games on a Minecraft map, including classics like Capture the Flag, Spleef and building contests, as well as fishing and racing competitions, and others.
Pokémon
Hosts: Crocodile Dippy and Palkia47
Date: 1 July to 31 July
Forum Topic
The first bracket was posted and played in the past week, with the second one going now.
Splatoon
Host: The Pyro Guy
Date: TBA
Forum Topic
Sign-ups have closed.
Super Smash Bros. for Wii U
Host: Groden
Date: 1 July to early August
Forum Topic
The first round has been played, with Timmy having the most points at the moment.
Yu-Gi-Oh
Host: DragonFreak
Date: 24 June to 31 July
Forum Topic
The game has started, with DragonFreak and Yoshin currently in the lead.
Now for a quick word from our sponsor about prizes. For every tournament, you can earn tokens, which you can then later exchange for prizes. These don't come out of Yoshi Eggs, so if you are interested in donating such prizes, please contact Hypnotoad, Mr. Edo or Twentytwofiftyseven on the Boards. Recommended items include all sorts of gift cards and Steam items. We are grateful for any donations!
Keep in mind that certain items impose a region lock, but you can buy most items for another region. Past years have pointed out that there are mostly North America gift cards, but European cards are welcomed as well!
Also, if you don't want to exchange your tokens for prizes, because none of prizes interest you, you have an excess of them or for any other reason, you may also donate your tokens to a special pool, which will then be converted to a monetary value and donated to the Tommy Thompson Park Bird Research Station, where late bureaucrat and friend Walkazo volunteered to study and protect birds.
You can also directly donate to Hypnotoad via PayPal to help fund this. Please contact him for information on this.
And with that, we have reached the end of this month's Anniversary Announcements. Thanks for staying with us this long, and tune in again next month. Good night!
All information above was correct as of 21 July 2016.