The 'Shroom
:
Issue 102/Pipe Plaza
From the Super Mario Wiki, the Mario encyclopedia
Jump to navigation
Jump to search

Director's Notes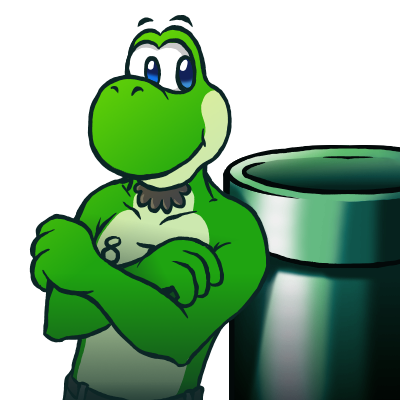 Hello 'Shroom readers! Welcome to Issue 102.
We have sad news in this mini update section: two pieces of it. First off, as the Awards are over, we won't have much need for Anniversary Announcements so they have gone for a bit. And finally, Lumastar has been fired from the New Articles position for not submitting three times in a row. So hopefully, one of you readers may do it instead.
Section of the Month
Pipe Plaza SECTION OF THE MONTH
Place
Section
Votes
%
Writer
1st
Upcoming Games
6
46%
Paper Yoshi
2nd
Retro Feature
3
23%
Yoshi876
3rd
Anniversary Announcements
2
15%
Lakituthequick
3rd
Tip of the Month
2
15%
FunkyK38
---
MarioWiki Sections
---
A look over the wiki's stats of the past month.
[read more]
Monthly Report
Hello 'Shroom readers from all around the world, and welcome to this month's marvelous Monthly Report section. I have a concern, and that's dealing with Spambots on the forum. They get on my nerves with their random posts, to the point that I think they could possibly get a ban. Yes, I do report posts from Spambots. Enough ranting. I will be using more specific times for when I get the statistics instead of rounding the times to 5 or 0. Now let's go to the fun part, the part you all like, or maybe don't like (I still don't have a SOTM award yet.), the Tables of Time with the Statistics of Time.
Credit goes to Stooben Rooben (talk), Super Mario Bros. (talk), and Paper Yoshi (talk) for the table coding (I based this on Stooben's coding, which was later modified by SMB, and Paper Yoshi when they wrote this section.).
September Statistics
Statistic
As of 6 September 2015 (13:56)*
Content Pages
16,216
All Pages
131,506
Files
66,096
Edits
1,746,404
Edits per Page
13.28
Registered Users
20,255
Active Users
361
Bots
2
Autopatrolled
39
Patrollers
3
Administrators
10
Bureaucrats
3
Proprietor
1
August — September Statistics
Statistic
As of 7 August 2015 (10:15)*
As of 6 September 2015 (13:56)*
Percentage Change
Content Pages
16,183
16,216
+0.204%
All Pages
130,016
131,506
+1.146%
Files
64,763
66,096
+2.058%
Edits
1,735,795
1,746,404
+0.611%
Edits per Page
13.35
13.28
-0.524%
Registered Users
20,082
20,255
+0.861%
Active Users
389
361
-7.198%
Bots
2
2
0%
Autopatrolled
39
39
0%
Patrollers
3
3
0%
Administrators
10
10
0%
Bureaucrats
3
3
0%
Proprietor
1
1
0%
*All times EST.
Featured
Hello 'Shroom readers, and welcome to another edition of Featured. Unfortunately there's not a lot to really report here, but I'll still give it to you anyhow.
Featured Articles
No new articles have been featured in the past month.
Re-Featured Articles
No new articles have become re-featured.
FA Nominations
There is one ongoing Featured Article Nomination.
Failed FA Nominations
No new articles have failed the featuring process.
Unfeatured Articles
Two new articles have been unfeatured in the past month.
Unfeaturing Nominations
There are no ongoing Unfeature nominations.
Failed Unfeaturing Nominations
No new articles have failed the unfeaturing process in the past month.
---
Thanks for reading see you next month, for more Featured Articles news.
Tip of the Month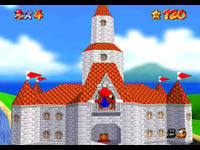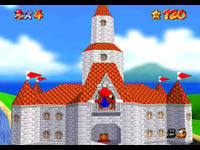 We should all know how to put an image in an article, but what about adding a caption? Striking a good ratio of caption info to image is important, otherwise the whole thing will look unbalanced and sloppy. For the sake of the simplicity of this tutorial, I won't put links to pages in my captions, but you should link to other pages if needed in your actual captions.
Let's look at the two captions I've provided for the same image of Peach's Castle from Super Mario 64. The caption on the left is not enough, obviously. Depending on what your subject is, you need to give enough information to give the reader a basic understanding for where it fits into the article. Usually, that means describing what your subject is and what game it's from, if the item in question is on a page like Peach's Castle where you'll have many different versions of the same item.
The caption on the right is too much. Notice how it describes not only Peach's Castle, but it also references Wing Mario, and the scores and stats and whatnot. That's way too much information, and it'll confuse your readers about what they're supposed to be reading about. All you really need to talk about is what the page is about, in this case, Peach's Castle.
Forum Update
Written by: MrConcreteDonkey (talk)
Welcome to the Forum Update, which provides information you probably know already if you're a Super Mario Boards user and information you probably don't care about if you aren't. So, let's see what happened in August:
Main Story
The main thing that happened on the forum over the past month was definitely the Mario Awards, though they're usually talked about in other sections. If you missed the ceremony, you can see the threads for each of the awards categories here:
Even if you don't care about the results, the presentations are really worth looking at. A lot of work went into them.
Stats
135 new topics were made in August.
11307 posts were made.
17 new members joined.
The most online at once was 190.
| | | |
| --- | --- | --- |
| TOP POSTERS | TOP TOPIC STARTERS | MOST TIME ONLINE |
Thread of the Month
August's esteemed Thread of the Month award was a hard one to give because there were so few good threads so many to choose from. The Awards threads were disqualified because they're too good for this.
After many hours of deliberation, the team of lawyers I hired to do this part for me decided that Magikrazy's (Magikrazy (talk)) Petition to ban questions thread received the all-important(?) Thread of the Month award, as it made a brave stand against the ongoing phenomenon of Ask Threads. Magikrazy's first post included an impassioned plea to end it for good - though it seems to have fallen on deaf ears. This also inspired a number of copycat threads, throwing us back to the good old days of Fad Lists and whatnot.
Ironically enough, π's Incredibly Original Ask Thread: Serve Me Some π And Questions Edition tbh by Pi (RandomYoshi (talk)) was this month's runner-up (despite being created at the end of July). Nabber's (Nabber (talk)) the sonic the hedgehog twitter account was an interesting thread as well.
Quotes
"make sure packy keeps his hands off my company" - Ultron's (Neptune99 (talk)) final wish upon retiring from the Super Mario Boards (again).
"Rosalina is a space dolphin. You know it's true, just look at her up special and then look at real life dolphins doing that, but with water." - Lyn (Icemario (talk)) is insane.
"Hang on...
>the GameCube was codenamed 'The Dolphin'
>the Wii is the successor to the GameCube
>Super Mario Galaxy is set in space
>Rosalina was introduced in Super Mario Galaxy
Space dolphin CONFIRMED." - Pi (RandomYoshi (talk)) is also insane.
"I thought I was the one who's insane around here." - Mario Party Δ (Bazooka Mario (talk)) thought wrong!
"if youre drinking milk regularly than youre probably a big enough masochist to enjoy the coming diabetes and kidney stones" - Important health advice from Uniju (Uniju :D (talk)).
Mafia
For what I think is the first time ever, no Mafia games are currently ongoing. In terms of games that finished:
---
And that's all for August! See you in October, when we discuss September!
Birthday Wishes
Written by: Crocodile Dippy (talk)
| Date | User | Contributions |
| --- | --- | --- |
| September 8th, 2015 | Marioguy1 (talk) | Former MarioWiki Administrator; Former 'Shroom Pipe Plaza Director and Activities Manager; Former Userpedia Bureaucrat; Former Poll Committee Member; Former #mwchat Operator |
| September 9th, 2015 | SonicMario (talk) | Prominent Forum Contributor, Creator of User Soup |
| September 10th, 2015 | Puddin (talk) | Former Userpedia Administrator |
| September 12th, 2015 | Baby Mario Bloops (talk) | Prominent Forum Contributor, Current Mafia Hosts Guild Member |
| September 13th, 2015 | Xzelion (talk) | Former MarioWiki Bureaucrat; Former 'Shroom Editor-in-Chief, Fake News Director, and 'Shroom Spotlight Manager; Former Userpedia Bureaucrat |
| September 15th, 2015 | Vocal Beat (talk) | Prominent Forum Contributor |
| September 28th, 2015 | Lumastar (talk) | Prominent Forum Contributor, Current Poll Committee Member |
Retro Feature
Marioguy1
First article:
Featured, Issue XXXIII
Last article:
Fading into Obscurity, Issue LXVI
Sections Written:
Main Team: 42
Pipe Plaza: 50

Positions held:
Contributor; Pipe Plaza Director; 'Shroom Spotlight Director
Hello, readers! I'm your Spotlight manager and Pipe Plaza Director, Yoshi876. Welcome to Retro Feature, a section in which I delve deep into the archives to bring you the best blasts from the past. This time I bring you a section from Marioguy1 (talk)!

Marioguy1 joined the MarioWiki on 10th June 2009 and made his 'Shroom debut during Issue XXXIII, writing Featured, a section that he would go on to write a further 16 times. He would go onto write several other sections in Pipe Plaza: NIWA News (three times), Links (one time), Tip of the Month (one time), as well as co-director and director notes of Pipe Plaza. Yes, Marioguy1 was one of my predecessors in directing Pipe Plaza. He was my predecessor in two other things! He submitted a 'Shroom Spotlight, although this unfortunately flopped, and he also contributed eleven Character Reviews. He also did other sections like Fading into Obscurity, Activity Announcements, Mafia Game, Promo Character Panel and various special sections that were contributed throughout The 'Shroom's history. He also rose to fame on the wiki as he rose to the rank of Administrator whilst here.
However, you're not here to learn about the history of Marioguy1, you're here to a view a classic section from issues gone by, so without further ado here is Marioguy1's Fading into Obscurity from Issue XLIV.

Why, hello there everyone! If you're reading this, chances are you want to see Fading into Obscurity! Well then, that's what you'll get! This month I decided, due to a request from my new friend AxemGreen33 (talk), to review a mushroom with a special place in all our hearts. Remember, sending me requests is always possible if you want to see your favourite character, I am available on the forums by PM as "Constellation", on chat as "MG1" and on the wiki here. So, this month I'll be reviewing the not-so-tadpole, Mallow!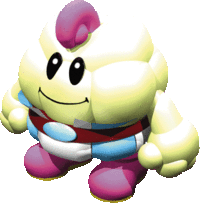 Mallow is a very old character from the very first Mario RPG, in 1996 (14 years ago), Super Mario RPG: Legend of the Seven Stars and since then he has never appeared again. I won't focus too much on this but Geno also faded away, with a cameo in Mario & Luigi: Superstar Saga. Anyways, Mallow, in SMRPG, is Mario's very first partner and the very first partner in any Mario game. He has powerful magic attacks and is apparently a...no I'm not kidding...tadpole from Tadpole Pond. After being saved by Mario after Croco steals his Frog Coin, he joins up.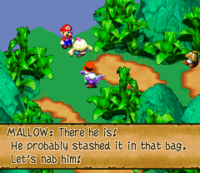 Mallow has powerful elemental attacks with varying effects, from doing damage to healing. Throughout the game he can be equipped with new pants to raise his power. As he travels through the world, Mario gets more partners and more stars until they reach Nimbus Land, where Mallow comes back into effect. Apparently, Mallow is the prince of Nimbus Land and it is being taken over by Valentina and her overweight Dodo. Eventually Mallow saves the land, is reunited with his parents and then travels with Mario to go fight final-boss-guy. Then he decides to relax in Nimbus Land, and out of any further Mario games. Personally Mallow was my favourite partner in SMRPG (don't hate on me for this, it's not his attacks, I just like his humour) and I'm sad to say that he has faded into obscurity.
Banjo 'n' Gutseh's Late-Night Actually Legit Interviews
Written by: Banjo (Talk) and Gutseh (Talk)
Welcome to the 'Shroom debut of Banjo 'N' Gutseh's Late-Night Actually Legit Interviews! We'd of course like to thank The 'Shroom for picking us up, and to celebrate our debut, we've conducted a (sort of...?) surprise interview with a recently returned user, Pi! In this episode, we talk about his return, the future of internet culture, and the possibility that Sweden, this website, and probably everything, is a meme. Enjoy the irc goodness below!
<banjonator1> Hello! And welcome to our first ~published~ interview on the Banjo and Gutseh's something something Interviews!
<Chiaki_Nanami> :o
<Chiaki_Nanami> !!!
<banjonator1> In a super special, super EXCLUSIVE interview, we have recently "not ded" veteran, Pi.
<GutsehMan> hi i exist too
<Chiaki_Nanami> I'm still a thing, don't forget about that.
<banjonator1> It's called initiative guts. You have to take it. THis is why youre not the first name in the title.
<GutsehMan> :(
<Chiaki_Nanami> Relatively good banter, would rate it 7/10.
<banjonator1> I'd like to thank the Shroom again for allowing us to be published, and Pi for being with us.
<banjonator1> Also, since this is actually gonna be published, I'll be sitting in my room editing this late at night instead of doing schoolwork.
<banjonator1> Like any good academic.
<GutsehMan> so wait are we officially a late night program
<Chiaki_Nanami> It's pretty late for me.
<Chiaki_Nanami> 01:01 am
<banjonator1> I keep forgetting you're our resident citizen of that Sweden thing
<banjonator1> Anyway, i guess we should drop some actual questions now...?
<Chiaki_Nanami> Yeah, that Sweden thing that's part of northern Europe. That thing.
<Chiaki_Nanami> I'm ready.
<banjonator1> You left because you had schoolwork right? Way back in the dark times of like, 2013.
<Chiaki_Nanami> Yes, the dark times of 2013 were not kind to me.
<banjonator1> How can you be sure that you can be active now, considering you're still in school?
<banjonator1> Is the work easier?
<Chiaki_Nanami> Before I left, I had this illusion that I had to be online every second to stay relevant.
<Chiaki_Nanami> Now that I've come to the realisation that thinking like that is stupid, I know how I'll manage this time around.
<banjonator1> oh wow i can associate with that in ways that should not be normal
<Chiaki_Nanami> It's very relatable, yes.
<GutsehMan> pi i have a question
<GutsehMan> ...why 'pi'?
<banjonator1> And as an extension to that, how many digits of pi can you recall off the top of your head?
<Chiaki_Nanami> Maths is amazing, π is a great mathematical constant, it's a very short name so it's easy to remember, and it's a somewhat creative username.
<Chiaki_Nanami> I was able to recall about 30, now I can only recall 3.141592.
<banjonator1> Also the novelty that comes with an endless number of pi/pie puns has to be nice.
<Chiaki_Nanami> I honestly wasn't expecting any of those, but once I saw the potential for them, I used them like crazy.
<GutsehMan> speaking of users that might enjoy puns a lot
<GutsehMan> continuing on the idea of you leaving in 2013
<GutsehMan> it seems like right after you left, we got a big influx of board users
<Chiaki_Nanami> Oh, really?
<banjonator1> I don't want to answer for Pi but
<banjonator1> You could also say
<banjonator1> "on the subject of users that enjoy memes a lot"
<banjonator1> because as soon as you left we got the fuckign meme team up in here
<Chiaki_Nanami> What was the, as you call it, 'fuckign meme team'?
<Chiaki_Nanami> Yes, I'm asking questions now — you can't stop me.
<banjonator1> :salt:
<banjonator1> :salt:
<banjonator1> :salt:
<Chiaki_Nanami> Oh, that.
<banjonator1> :salt:
<banjonator1> Not to mention you had been dosed with a certain amount of meme affect upon your return as well
<Chiaki_Nanami> Constantly
<banjonator1> I miss green courier font harry potter fan pi
<banjonator1> actually thats a lie i don't
<Chiaki_Nanami> I didn't understand what the hell was going on, so I infiltrated their circle.
<GutsehMan> good plan tbh
<Chiaki_Nanami> Hi I am RandomYoshi I talk about Harry Potter and abuse semicolons I can use my brain yes.
<banjonator1> unless i'm mistaken a certain vietnamese puppet show website's video game board had a lot to do with that
<banjonator1> but lets not fuck that dead horse
<Chiaki_Nanami> Fucking dead horses sounds very disgusting, I agree.
<banjonator1> Anyway, let's move on.
<banjonator1> The beauty of irc interviews is that normally, I can sit here for fifteen minutes thinking of something to say, and the audience would be none the wiser.
<banjonator1> Unfortunately, it's late out in the Sweden thing.
<GutsehMan> but banjo you just ruined that illusion
<banjonator1> So I won't keep you.
<Chiaki_Nanami> Is it a meme that I'm from Sweden?
<banjonator1> What is the most blatant change you noticed upon your return to the community?
<banjonator1> If any at all.
<Chiaki_Nanami> um
<Chiaki_Nanami> One thing that was blatantly obvious was the new circlejerk of friends.
<Chiaki_Nanami> I'm talking about this supposed '2013 squad'.
<Chiaki_Nanami> It was very obvious that this new set of users had banded together and was super tight with each other.
<banjonator1> I think as a whole they're pretty good people, but I just don't have what it takes to be part of the meme team.
<Chiaki_Nanami> This made me question a lot of things about the old circlejerk group.
<GutsehMan> i feel like i might be partially responsible for the 'meme team'
<banjonator1> THe old circlejerk group being...?
<Chiaki_Nanami> The times when Smasher's ask thread was heavily populated.
<banjonator1> And "Draw Smasher".
<Chiaki_Nanami> idk just
<Chiaki_Nanami> Yes, that too.
<banjonator1> I love the community's Smasher fetish.
<Chiaki_Nanami> Basically, everyone who majorly contributed to that thread, and the general posters of Smasher's ask thread.
<banjonator1> But I guess I see what you mean, yeah.
<banjonator1> I can't say I was a big contributer to the community at that time, but I see what you mean.
<Chiaki_Nanami> I was confused about this at first, but upon later reflections I made, I realised that this direction of the community is something normal, considering the very dynamic qualities the Super Mario Wiki community as a whole enjoys.
<banjonator1> I asked shoey this as well, and I think it's a good question/segway
<banjonator1> How do you see the community's future?
<banjonator1> Do you think we have any real staying power?
<Chiaki_Nanami> Just look at the "good old days" of 2007, 2008 and 2009.
<Chiaki_Nanami> This will repeat again and again and again.
<Chiaki_Nanami> I can't even list any potential 'old' members that will last for three more years.
<Chiaki_Nanami> It's very unpredictable, and I figure if you're in a position of power, you'll be very sick of dealing with 12-year-olds pretty quickly.
<banjonator1> I think...
<banjonator1>> I think you just described the wiki's life cycle as a meme.
<Chiaki_Nanami> It's one big meme.
<Chiaki_Nanami> NIWA is one big meme.
<Chiaki_Nanami> The Super Mario Wiki is one big meme.
<Chiaki_Nanami> #mwchat is one big meme.
<Chiaki_Nanami> The Super Mario Boards is one big meme.
<banjonator1> Well, that's one existential revelation down.
<banjonator1> Gutseh, you got anything to add?
<GutsehMan> I mean...
<GutsehMan> I got a question, but it's not really around the MarioWiki, but more of the internet as a whole.
<Chiaki_Nanami> Go ahead.
<GutsehMan> it feels like there's been a super duper shift in the internet as of late
<GutsehMan> with social media becoming the norm
<GutsehMan> and the entire world seemingly being infected by it
<GutsehMan> how is it that we can so easily adjust to an environment without any sort of...
<GutsehMan> consequential reactions in the mainstream
<banjonator1> gutseh are you on speed
<GutsehMan> i say that nicely banjo
<Chiaki_Nanami> Adaptation is key. It has always been key to survival.
<Chiaki_Nanami> I must say that I deplore those who use Twitter as a platform for discussion, since its 140 character limit does nothing to aid converstations.
<Chiaki_Nanami> Microblogging is stupid in general.
<Chiaki_Nanami> The reason I have a Twitter account is so I can get news, nothing else.
<banjonator1> Well, I'm probably going to drop one last question so as to not keep you up too late.
<Chiaki_Nanami> If you wish to have a conversation, take that to Facebook, or God forbid an actual message board, instead.
<banjonator1> I take that back, two questions
<banjonator1> A) What did the hell did the Wizards do wrong ;_;
<banjonator1> B) Which is the better bird, Kazooie or Pidgey?
<Chiaki_Nanami> A) I still mostly blame myself here. I know I can play the anti-Town alignment pretty well, but I somehow didn't even activate all of my skills.
<Chiaki_Nanami> B) Kazooie, definitely.
<banjonator1> Ok, Gutseh, if you have anything to close with?
<banjonator1> If not that's ok too.
<GutsehMan> thoughts on milk?
<Chiaki_Nanami> Milk is literally the best consumable liquid on the planet there is to obtain. Milk aids your body by strengthening your bones, it's delicious, and all the haters are simply wrong.
<Chiaki_Nanami> tl;dr: milk tbh
<banjonator1> Excellent closing words.
<banjonator1> Sleep tight, Pi!
<Chiaki_Nanami> Sleeep?
<Chiaki_Nanami> I have to get up for work in 23 minutes.
<banjonator1> its 1:01 am, isnt it?
<Chiaki_Nanami> I figured I'd stay up all night as opposed to sleeping.
<GutsehMan> banjo do you know how time works
<banjonator1> jesus how horrifying
<GutsehMan> it hasn't been 1:01 am throughout this whole interview
<GutsehMan> now it's 1:39 AM
<Chiaki_Nanami> yeah get a grip
<Chiaki_Nanami> and a watch
<Chiaki_Nanami> both
<banjonator1> Yes it has look who's breaking the illusion now
<Chiaki_Nanami> get a grip of a watch
<Chiaki_Nanami> this reminds me of a mario party 4 minigame
<Chiaki_Nanami> http://mariowiki.com/The_Long_Claw_of_the_Law
<banjonator1> oh wait i do have one more question
<banjonator1> why the fuck do you hate trivia on the wiki what is wrong with you
<Chiaki_Nanami> http://www.mariowiki.com/Long_Claw_of_the_Law
<Chiaki_Nanami> that's the correct one
<Chiaki_Nanami> um
<Chiaki_Nanami> It can very, very easily be embedded in the main body of the article, as to make them flow better when you actually read them. Having information scattered about in miscellaneous trivia sections breaks the flow a lot, and it's very difficult to get all information about a subject that way.
<banjonator1> Fair enough.