The 'Shroom
:
Issue 102/Palette Swap
From the Super Mario Wiki, the Mario encyclopedia
Jump to navigation
Jump to search

Director's Notes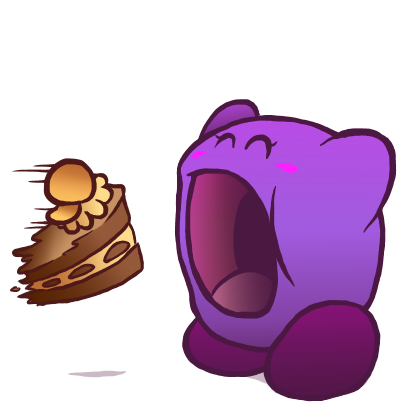 Hello, everyone! If you're settling back into school, or maybe a new job, or whatever, thank you for stopping by and giving us a read!
We have plenty of great sections for you this month, as usual, so do check everything out. I'd also like to say that we are accepting advertisements for community projects here in Palette Swap. So, if you have a website, a webcomic, a webseries, or maybe you'd just like to get more views for your art page, send me a PM and we can discuss your ad space!
With that said, let's check out this month's sections! ~FunkyK38
Flag Design Contest
Unfortunately, even with the extended deadline, we didn't get any flag submissions, which is a shame. The contest is now closed, and perhaps we'll try again in the future. Keep your eyes on this space for more information in the future!
Section of the Month
Once again, Walkazo takes the top spot with The Adventures of Little Mario! Congratulations! Thank you to everyone who voted, and please do vote again this month!
Music Sections
---
Stooben creates remixes of popular and video game music!
[read more]
---
What's on the Box?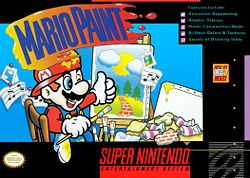 Hello readers, and welcome to What's on the Box? This month I'm feeling slightly artistic. Maybe it's because of the new level creator game Super Mario Maker. Now, as the boxart we have on the wiki for it doesn't resemble most other boxarts I decided to instead look at the Mario Paint boxart.
Now, unsurprisingly it features Mario painting, and what a painting he has done. Although it must've been easy, because if you look at the used up paint tubes they all contain what he was drawn onto his easel. Although, the paint splodges that are lying around don't resemble any of them, the yellow on both Mario and the spare paper doesn't seem to resemble the sun that would have come from the empty paint tube.
There are two other things to point out on the boxart. The first one is the music sheets that are pinned up, or curled around the easel. Mario Paint was not just a visual art game, players could also compose their own music in it. It's nice of the boxart to show this. The other thing to note, is how the title of the game is on a paint splodge, giving the impression that it was simply painted on.
The only other things really to point out on this boxart are the small "Features" box in the corner that shows what players are able to do with this game, and the box that mentions the SNES mouse. The SNES mouse? Yes, this game came packaged with an SNES mouse (which is like a computer mouse), presumably to make drawing much easier.
Sprite of the Month
For this month, since I'm writing this so close to the birthday of my closest Wiki friend, I have a gif for you! It's a Blooper from Mario & Luigi: Superstar Saga!

Honestly, I haven't had much experience with Bloopers in my limited exposure to the Mario platformers, but I've played with one in Super Sluggers, and it was certainly interesting. How it manages to swing a bat without opposable thumbs, however… I guess it's better than the Goomba, who doesn't have any hands at all.
Lily's Doodles
Here are a couple of quick coloured sketches of my favourite two pairings from Utapri, a drawing of Touka Kirishima from Tokyo Ghoul I did for a friend's birthday along with a traditionally drawn and coloured piece of Lockon Stratos from Gundam 00. This was quite an interesting piece for me as I draw traditionally so rarely since discovering the wonders of drawing digitally.
Ongoing Fan Projects
Heyo, 'Shroom folk! I've never actually written any form of introduction for this section, but I decided as I was going to add something a bit new I'd let you all know. Obviously, doing this section for so many months I have seen incredible artwork done by several members of the community; "Dragon Problem" and "Wikiball" immediately come to mind. So I have decided that I will honour the threads that I think are amazing pieces of art; however, I have decided to limit myself to one thread a month, so it's a bit like a mini-competition, just nothing is won bar my admiration of your work. So, if you see me "highly recommend" you check something out, it means that that thread won the Yoshi876 Really Digs Your Stuff Award.
8-Bit Amphitheater
Written by: Stooben Rooben (talk)
Greetings, listeners. Back for more chiptunes, I suppose? Well, it's a really busy month for me and I've got little to monologue about right now, so let's get right down to it, shall we?

First up, we have a song by Chicago from long before they became one of those squishy ballad bands of the '80s. While the song I chose may arguably be a bit "shiny", it's really a fantastic composition with a lot varied of melodies crammed into just over four minutes. Its introduction and middle portion are simply oozing jazz influence, while the verses and chorus are top-notch pop song material. While it's not necessarily among their most popular works (especially today), it was their first song to break the Top 10 on Billboard.
Next, we have a totally ~groovy~ disco track from much later in the 1970s. Disco's a genre with quite a negative stigma attached to it, but in my opinion, A Taste of Honey's "Boogie Oogie Oogie" is a track that stands out from the rest in the genre. It lacks the overproduced string sections that many disco songs of the era had, opting for a more straightforward funk sound that rewards the ears on every listen. The two women who fronted the band, Janice–Marie Johnson and Hazel Payne, are responsible for the song's distinctive bass and and guitar parts, respectively.
Last among our mainstream songs is a piece by Modest Mouse. The song's name is "Dashboard" and it's a very impractical but somehow manageably catchy song. The melody has a constant thump from start to finish that probably helps a great deal in that respect, but my personal favorite part is the impressive guitar riff full of awkward chords that was written by Johnny Marr (of The Smiths fame). There is a breakdown in the back half of the song that has some strange synthesizer and guitar work going on that I wasn't quite able to capture the feel of, but I think it still sounds good in the chiptune mix, if only for how fuzzy it is.

This month's video game track is one from a game called Castle Crashers. As far as I know, it's a somewhat popular game around here, and I always remember the boss fight this track is from, so I felt it was a good choice. "Simple Sight" is played during the Necromancer's battle, one of the final boss battles in the game. His battle is pretty hectic thanks to him reviving waves of basically every common enemy in the game; think Van Gore on amphetamines. "Simple Sight" is a jittery speed metal song with some spacey, melodic keyboards thrown in certain points to add to the tension of the song. It's a bit of a headbanger, and definitely an appropriate choice for the monster waves of monsters you must fight.
I guess that's it for this month. I'll be seeing you in October with some spoopy scary chiptunes, but for now, I hope you enjoy the four I've presented in this issue. Thanks for listening, and happy reading!
Mario's Boombox
Welcome again to Mario's Boombox! This month's issue is actually inspired by real life shenanigans; you see, I go to a local con at the end of every summer, and this year, I noticed quite a few vendors selling little models of the ship from the Mass Effect series, the Normandy (specifically, the Normandy SR-2 from Mass Effect 3). I love airplanes and spaceships and intricate models in general, and even though I don't play the games, I totally considered getting one just because the models were tiny and perfect and adorable - and because I'm just a big fan of the Normandy itself, thanks to a music video I was shown years ago: "Normandy", by Miracle of Sound. (But in the end, I spent my money on delicious Pocky instead.)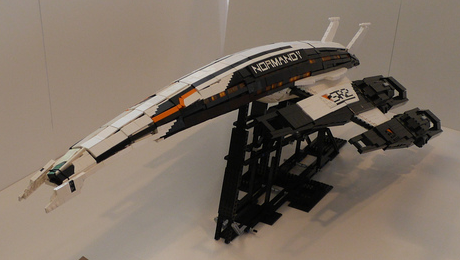 Miracle of Sound is a one-man band / internet music project by Gavin Dunne, best known for making fan-songs for video games, although he's also done tunes about films and television series, plus original stuff and one parody - "I Want My RPG", based on "Money for Nothing" by Dire Straits. His songs've been used in official promos and even featured in-game one time according to his official website, and he was also part of The Escapist magazine for years, contributing both music videos and articles. His tunes span a wide range of genres as well as subject matter, but to this day, my favourite song is still the first one I heard.
I dunno why exactly, but I just find "Normandy" pleasant to the ear (especially the verses), with interesting lyrics that made me wanna know what was actually going on in the game(s). Plus the accompanying music video had lots of clips of the pretty spaceship flying around - along with gameplay footage and cutscenes with people and whatnot, but really, I just watch it for the Normandy. It's one of Miracle of Sound's earlier songs, but it holds up well: three years later, and I can still listen to it on a loop for 50 minutes on end while I piddle around online, too enthralled by beautiful pictures of LEGO spaceships to do more than mindlessly hit "repeat" over and over and over...
Anyway, as well as "Normandy", other examples of A+ Miracle of Sound offerings are "The New Black Gold 2013"; based on Deus Ex; "Distant Honor", from Dishonored; "Little Sister", from the original BioShock (which sounds pretty similar to "Normandy" and was produced around the same time) and "Dream Of The Sky", which is based on BioShock Infinite and includes a musical callback to "Little Sister", but is much more musically diverse than its precursor. But keep in mind that I've only mentioned a tiny fraction of Miracle of Sound's songs, so if you have the time, definitely poke around more of his library. And with that vague advice, this issue of "Mario's Boombox" is at its end. Thanks for reading!
Composer Spotlight
Written by: Crocodile Dippy (talk)
Mike Morasky
Born
1964?? I don't know
Genre
Electronic, ambient, noise rock, experimental rock, orchestral
So, what have I covered so far? I've covered Jesper Kyd, a composer geared strongly towards atmospheric mood music; and Koji Kondo, a composer geared strongly towards catchy, interactive music. It's much too early to be retreading steps, so let's move on to someone a little more… experimental. It's no secret that I'm a complete nutter for Valve Corporation, even with their ludicrously hands-off method of parenting over the quality control of their own Steam Greenlight service and the hacks trying to take advantage of it, and thusly I've deigned to cover a prominent musician amongst their ranks; Mike Morasky!
In contrast to my earlier focuses, Mike Morasky's early life history is somewhat less explored. In fact, I've struggled even finding a reliable birthdate source for this guy, but I did manage to find some information on his inspirations and how he first got into music. He and his brother were into recording software in their youth, recording their voices and playing it back in mimicry of sports commentators, although he didn't truly apply himself to music until his early teens due to childhood apathy. I feel ya there, brother. His gaming fascination drove much of his passion during his childhood, and it was his love for early PC gaming which inspired him to practice programming languages, although he fell out with PC gaming for a while around the mid-80s when Nintendo and Sega consoles were creeping up in the industry.[1]
His love for music came to be in his teen years, where he became the guitarist and vocalist for a noise rock band by the name of Steel Pole Bath Tub, founded in 1986 in Bozeman, Montana.[2] This band was known for its fuzz-laden, droning tones and, inspired by his early interest in voice sampling, tendency to intersplice film and television samples into their work, a technique often seen in the musique concrète stylings of artists like Pierre Schaeffer and Karlheinz Stockhausen. Don't know what that style of, err… audio art is like? The Beatles' "Revolution 9" is about the most mainstream the genre has ever reached; you know, that weird-ass 8-minute sound collage that repeats "number 9" over and over. Indeed, many of Morasky's influences had a history of experimentalism in their music, such as Terry Riley, Steve Reich, and of course Philip Glass, all of whom would fuel Morasky's approach to the general sound and instrumentation structure of Portal 2.
Following a rather prolific union with punk rock immortal Jello Biafra in the band Tumor Circus, and a failed venture with major publisher Slash Records to cash-in on the alternative rock craze that Nirvana and other grunge bands started in the early 1990s, Steel Pole Bath Tub were forced to break up in 2002, although Morasky himself wasn't overly fussed by this as he has, in his own words, "multiple parallel creative lives going at all times".[3] You see, Mr. Morasky was not simply a musician; he was also an animator, programmer, and visual effects expert, and to this end he was able to secure a role on the production teams of several big name films such as Pirates of the Caribbean: Dead Man's Chest, the last two of The Matrix trilogies, and even the entirety of The Lord of the Rings trilogy, which as far as design cred goes, is fairly top order.[4]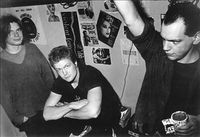 This mish-mash of multimedia capabilities is what landed him a comfortable job in Valve's loving bosom in 2007, although his first small project with the team was Day of Defeat: Source as a contractor before officially joining them, which evokes a strong militaristic feeling, but is honestly mostly just background noise. After a prolonged interview process, Mr. Morasky was hired just a few months before The Orange Box was planned to release, which would go on to become his first major project when the decision was made by the team working on Portal to extend the game beyond its original finale of Chell being forced into the pit of fire by GLaDOS. Prolific sound engineer and composer at Valve, Kelly Bailey, was the sound director for much of the music that was featured in Portal up to that point, but was reportedly too busy to work on anything in the extended segments of the game, so instead suggested Morasky's services. Morasky noted that Bailey's music had a very ominous, sweeping dark ambient tinge to it, reminiscent of Brian Eno's music. Morasky felt the music fit the sterilised test chambers of the early portion of the game, but he knew this wouldn't do for a desperate struggle to escape a crazed AI, so he took a much more driven, pounding approach to his tracks, inspired by the sounds of 1980s sci-fi films like Blade Runner. Most people know Portal's music for the credits theme composed by Jonathan Coulton, "Still Alive," but much credit to this game's sound direction has to be given to Bailey and Morasky for their keen understanding of the game's atmosphere.
His work for The Orange Box was not yet complete, however. Indeed, he was also tasked with working on the soundtrack for Team Fortress 2, a decidedly less brooding experience whose overall soundtrack, as a result of being recorded at different intervals in an always-evolving game across the span of almost ten years now, is all over the bloody place.[5] To fit with the game's campy 1960s spy film motif, the soundtrack was composed with a corny orchestral structure in mind in contrast to the more controlled, insular electronic sound of Portal, performed by the Valve Studio Orchestra. There were initially only three major tracks in the game due to the absence of music during the actual gameplay, but due to Valve's emphasis on multimedia marketing with the Meet the Team videos, new tracks were progressively added to the soundtrack. The initial three tracks were the bombastic "Main Theme", the percussive "Playing With Danger", and the dopey "Rocket Jump Waltz" (which Stooben Rooben (talk) did a remix of in his 8-Bit Amphitheater last month), but it soon expanded further into the rock and roll "Intruder Alert", the 2spooky "Right Behind You", the ludicrous pipe organs of "Haunted Fortress 2", the silly 60s sci-fi sounds of "ROBOTS!", and of course, the country-laden rhythm of "More Gun", which Morasky arranged from a Wilco song that, quite appropriately, is titled "Someone Else's Song".
The next games Mike Morasky would be involved in were Left 4 Dead in 2008 and its accompanying sequel, Left 4 Dead 2 in 2009, which provided a unique set of challenges for Morasky and his team. While it was decided early on to have a sort of 70s B-film aesthetic to the score, in opposed to the more static nature of his previous works, Left 4 Dead was designed from the ground up to be an unpredictable, randomised, and just generally chaotic gameplay experience, and thus the music had to reflect that. What this meant was that Morasky was challenged to create shorter, less complex snippets of music instead of the longer pieces he had been so used to up to that point, as each track had to be easily merged into each other to fluidly reflect sudden changes in gameplay, such as incoming zombie hordes, lurking special Infected, and triumphs over said zombies. Morasky also knew that due to the repetitive nature of the game, and the intention that it would be played several hours a week, said snippets had to have some element of randomisation to them to ensure they wouldn't become tedious and drawn out.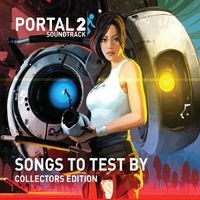 So applying Koji Kondo's philosophy of interactive music that we spoke about in last month's Composer Spotlight, Mr. Morasky recorded multiple versions of the glitched out, cacophonic electronic cues to intermix with the more structured acoustic music, and depending on the size of the hordes, their proximity to the players, and how successful the player is doing against said hordes, these cues and sound bites could potentially shuffle in and out of each other to overlay on top of the primary track, creating a considerably rich well of variant cues and rhythms across the span of even a single playthrough. These random fluctuations and alterations seem like mere labours of love at first, but Morasky and his team found players responded very well to these repeated cues as they became ingrained in their heads as a signifier for what is to come, and that feeling of "ooooohhhh, fuck" that comes with it, especially the Tank theme which sits uncomfortably in every player's minds... Even the short three-note cues that play just before a horde is spawned was designed with the intention of imprinting that emotional trigger in the players head. Just three notes, that's all it took to become an iconic, significant piece![6]
The interactive results of this technique proved so successful that Morasky would take it a step further with Portal 2, which expanded on the experimental, minimalist electronic sound of the first game by creating an even larger collage of cues to pull from. Morasky wanted to give players a sense of rhythm to solving the game's puzzles, as well as grant a sense of freedom to the otherwise linear experience in allowing players to effectively construct their own musical pieces simply by fiddling with the game's mechanics, so instruments and short melodies would play or accompany the base music as different accomplishments were made in the puzzle. The entirety of Portal 2's viciously dark soundtrack is made with synthesised or sampled sounds, including Ellen McClain's vocals in Jonathan Coulton's credits song "Want You Gone", with a focus on creating "artificial" music which sounded as if a robot, say... GLaDOS, would compose, all the while stepping up from the more toned down sound of Portal into a more urgent, dramatic feel, given the stakes have risen in the sequel.[7] Several of these cues have been pieced together into the base track in the official soundtrack for some sense of wholeness on the otherwise minimalist soundtrack, with one particular piece supposedly only playing once every 76,911 years, 125 days, 7 hours, 56 minutes and 30.3 seconds. Mark those calendars, mates.[8]
Morasky continues to be a prominent member of the Valve team, and is always willing to experiment with different techniques to create the most engaging, interactive experience possible. Much like Kondo-san, Mike Morasky does not consider the game's music to be mutually exclusive from the gameplay itself, and has sought to implement soundtracks that enhance and compliment, not simply back, the overall experience. Keep an eye out for his next game; with any luck, it'll be the glorious announcement of Half-Life 3... I can dream, dammit!
References