User
:
Walkazo
From the Super Mario Wiki, the Mario encyclopedia
Jump to navigation
Jump to search
Walkazo's Userbox Tower
| | |
| --- | --- |
| | This user is a Bureaucrat of the Super Mario Wiki. |
| | |
| --- | --- |
| SSS | This user is a Super Smash Sister |
| | |
| --- | --- |
| ... | This user can speak un peu de français et 日本語が少しわかります。 |
Greetings. The name's Walkazo (big surprise there). I'm a Bureaucrat here on the Super Mario Wiki, so feel free to ask me anything (within reason) and I'll do my best to help you out. I joined the wiki in 2007 along with my brother, who shared my account for a few months before I kicked him out. His name's Pantaro, but he left the wiki years ago, so don't bother trying to call him up.
Now about me... Well, I'm a 24-year-old girl from Toronto, Canada, and I'm currently studying at university to be an ornithologist - although I'm interested in many other branches of zoological science as well, like genetics and evolution. I also love Mario stuff (obviously), although I sympathize with Bowser much more than the titular plumber himself, and split my computer time between editing the wiki and writing Koopa-centric fanfiction. Around the wiki, I try my best to keep track of Proposals and other such policy debates, and while most of my edits are maintenance work, if I come across poorly written articles on my rounds, I usually sit down and try to fix it. One pet-project I have on the go is to mash as many of the games as I can into one comprehensive timeline that goes along with my fanfiction. I already made a (partial) world map, although I had to tweak or completely ignore quite a few in-game maps to make it work. Another thing I'm working on is an evolutionary chart for all the Koopas, including Bowser's species (which I call Dragon-Koopas, seeing as an official name hasn't actually been made yet).
Between my editing, writing, work and my education, I don't have as much time as I'd like to play the actual video games themselves, but I manage to squeeze a few in here and there, and I'm always on the lookout for new titles to add to my collection. My favourite games are Super Mario World, Super Mario Bros. Deluxe, Super Paper Mario and Mario Kart: Double Dash!!
Useful Things
Who's online: Byllant, Randomdude53, Mario's biggest fan, Somethingone, TheSuperZX, UcuYgkbbaD, Annalisa10, EvieMaybe, Memelord2020, LMLink, Topchef5050, Swallow, NINTENDOBRO 2007, UltraMario3000, DarkMatterMan4500, Koopa con Carne, PnnyCrygr, MiracleDinner, Pifouillou, AK World, RHG1951, Mariofan12ify, Ffffff, Chancey T. Imes, Richardgamerxx, Biddybud, Mario, PrincessLover7777, Blinker, BBQ Turtle, Sdman213, SUPEDUPEmario, Sully 23456, MegaX1001, SethAllen623, SuperML
Colour Codes
Navigation Templates (also works for brackets)
For cut-and-paste ease...

Instruction manual: 「

説明書

」[1]

Vowels with macrons: ā ī ū ē ō
  <- That space brought to you by &nbsp; - it is very handy[2].

x800px makes images the desired height (800 or otherwise)

Restricted Forum thread (skipped to a good bit) and a public board[1].
A blockquote is a block of quotes.
References
Fun Projects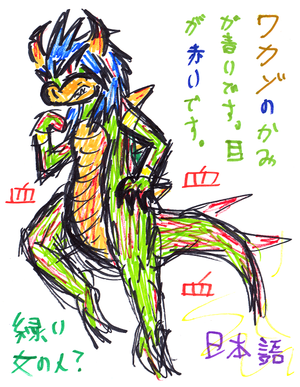 As well as my aforementioned fanfiction, I've also done some writing for The 'Shroom over the years. So far, I've written four special sections discussing the science of the Koopas (listed below), and hope to do a couple more someday. I also have an ongoing "Mario's Boombox" column, wherein I recommend videogame-inspired/derived music, and am doing a one-year run of a comic called The Adventures of Little Mario, about Mario and his friends running amok as kiddies. I've also done a few awards presentations and co-authored the comic "I heard you have a dragon problem?" - my one and only foray into user fiction.
Stupid Stuff
Some stuff that I found funny at the time. YMMV.
"Name in other languajes" -

Irony.

"In Mario Party 6, Wario and Toadette's team name is named Secret Friends. This may refer that Wario and Toadette were once friends, secretly." -

nowai

"In Super Mario 64 DS, the star is the same as if it was gotten in the original version of the game that can be gotten in the original way." -

It's not so much funny as it is painful.