The 'Shroom:Issue 102/Fun Stuff
From the Super Mario Wiki, the Mario encyclopedia
Jump to navigation
Jump to search
Director's Notes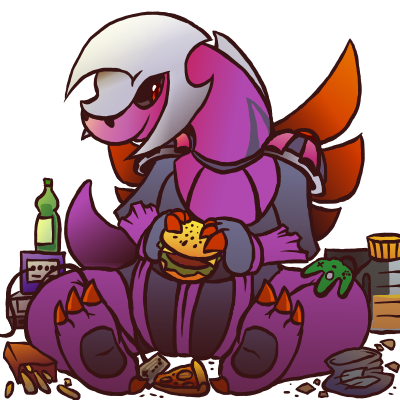 Hiya everyone! Welcome to September's issue of Fun Stuff! We are one month closer to basketball season starting, one month closer to my birthday, and one month closer to THE MOST WONDERFUL TIIIIIIIME OF THE YEAAAAAAAAAAAARRRRRRRR! Which may or may not be basketball season again. Just imagine whatever you want. :') It is also a few days away from the DVD release of Pitch Perfect 2, so this may very well be the last time any of you see me because I will most likely be hidden away in my room, face staring at my TV, watching it. Constantly. Every day. DO NOT JUDGE ME ;~;
I am very, very happy to announce that Pyro Guy (talk) has been hired as our new Picross guy! He has his first Picross section in this issue, so make sure you check it out! Like always, if you are interested in signing up for Fun Stuff, take a look at an open section over on the sign-up page, and if any of those sections sound good and you are deeply interested, shoot me an application over on the forums!
Also, I am very sorry for not including a Word Search this time around! School started and these past few days and weeks in general have been really hectic for me, but I will make sure that the Super Mario World word search is included in October's issue! I am sincerely sorry about that, everyone. But, without further ado, I hope you all enjoy this month's issue!
Section of the Month
Fun Stuff SECTION OF THE MONTH
Place
Section
Votes
%
Writer
First
Guess Who!
19
47.5%
Andymii
Second
Guess That Game!
12
30%
Super Mario Bros.
Third
Trivia
3
7.5%
Marshal Dan Troop
---
Graphic Activities
---
Pyro Guy offers some challenging Picross puzzles!
[read more]
Quiz
Hello everybody! Welcome to Quiz. This section is where I quiz you on various elements of the Mario series. Now let's begin.
Easy
What Paper Mario game do Catch Cards appear in?
What is the title of the microgame "Open-And-Shut Case" a pun on?
What games console is the DS Time Radar based on?
Medium
What is the name of the purple crystal enemy, that resembles a star, in Super Mario RPG: Legend of the Seven Stars?
What tourney comes after the Flower Tourney in Mario Hoops 3-on-3?
Which real-life Communist dictator appeared in The Super Mario Bros. Super Show?
Hard
What is the twentieth level in World-e of Super Mario Advance 4: Super Mario Bros. 3?
Which member of the Turtle Tribe in Super Mario Bros.: Peach-hime Kyūshutsu Dai Sakusen! is an elderly bearded turtle?
In the Japanese version of WarioWare: D.I.Y. what is the name of the microgame "Ketchup Down"?
Answers:
Easy
Super Paper Mario.
An open and shut case.
Nintendo DS.
Medium
Cluster.
Star Tourney.
Mikhail S. Gorbachev.
Hard
Tō no Ue kara Kakenukero!!.
Shisai.
Mochitsuki.
Guess Who!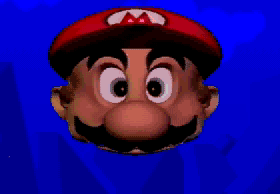 Heya, kids! School's started! There's no time for you to be browsing Super Mario Wiki! Okay, maybe there's always time to play Guess Who! But don't waste time reading Fake News useless facts okay? You've got more important stuff to do.
Okay, in all seriousness, welcome to Guess Who! I'm your host, Andymii. School has indeed started, and it's getting a little hard to keep up with these 'Shroom articles. And no, that doesn't mean I'm quitting. That would be ridiculous.
Today's theme is, well, um. It's, you know, those games we never talk about. You know what I'm talking about. You know, like *takes a deep breath*
MARIO TEACHES TYPING MARIO TEACHES TYPING 2 MARIO'S funDAMENTALS MARIO IS MISSING MARIO'S TIME MACHINE
Whew. Finally got that out. Yep, that's our theme: pretty much every bad Mario game, sans Hotel Mario. In other words, the theme is Educational Mario Games. I wonder why I picked that.
And seriously, don't worry. Even though you've probably never played these terrible games, you'll probably still be able to guess the characters, given you have a basic understanding of Mario.
Simply pick a level, and get ready to start thinking! Of course, feel free to suggest themes for issues November and onward on my talk page.

Level 1: Easy
This character got his first starring role here.
He has to save his brother after the brother falls into a hole. This character then proceeds to save him by… walking away from the hole. Huh.
He's been part of an Internet meme.
Level 2: Medium
It isn't its own character, but rather a body part of a character.
It likes to make random small talk.
It made a reappearance in Super Mario 64.
Level 3: Hard
He developed the laws of motion in the late 1600s.
He doesn't understand how Mario can possibly jump so impressively.
He passed away in 1726, so you'll have to get into a time machine just to visit him.
BONUS: Reverse Guess Who!
What was the first occasion that Charles Martinet (Mario's current voice actor) gave a voice to Mario?
CHOICES
A. The Super Mario Bros. Super Show! B. Mario's FUNdamentals C. Super Mario 64
D. Hotel Mario

Answers:
Well, how did you score? Regardless, thank you for playing Guess Who!, and I hope you learned some new trivia on the most useless Mario games. Join us October for Halloween-themed issue! But for now, get back to studying for that math quiz!

Guess That Game!
Written by: Super Mario Bros. (talk)
Think you can solve this month's Guess That Game! puzzle? There are three challenges to solve: the first one is a Mario series video game, the second is a non-Mario Nintendo franchise video game, and the third is a non-Nintendo video game. Give it a go!

Challenge 1: Mario Game
This 1983 game was the first entry in the series that allowed for two players to play simultaneously.
As with many games of its day, the player(s) play indefinitely on an infinite amount of relatively simple stages.
The heroes must clean the sewers and collect coins in the process!
Challenge 2: Non-Mario, Nintendo Game
This 2002 video game plays similarly to several prior entries in its series, but is graphically unique.
The game starts with the protagonist celebrating his tenth birthday, when his sister is kidnapped; he sets out to save her, but little does he know that his journey will lead him to fulfill the legend of a hero.
The game was initially for the Nintendo GameCube, but saw an HD remake on the Wii U.
Challenge 3: Non-Nintendo Game
This 2006 simulation video game was released for the Xbox 360.
The goal of the game is to beautify a plot of land to attract some bright, papier-mâché residents!
The game was well-received and led to several sequels, spin-offs, and even a television series.
Answers
Mario Game
...Mario Bros.!
Non-Mario, Nintendo Game
...The Legend of Zelda: Wind Waker!
Non-Nintendo Game
...Rare's Viva Piñata!
That's all for this month! Be sure to check your answers and check back next time!

Trivia
Written by: Marshal Dan Troop (talk)
Did you know:
…That the bushes and clouds in Super Mario Bros. share the same sprite?
…That attorney John Kirby holds the exclusive rights of naming sailboats after Donkey Kong?
…That Super Mario Land was originally supposed to be the pack in title with the game boy but was replaced by Tetris?
…That Super Mario Bros. 3 is actually a play?
…That Mario Bros. and Superstar Saga are the only Mario games where the Mario brothers actually do plumbing?
…That Shigeru Miyamoto is confirmed to be Bowser Jr.'s mother?
Picross
Hello, readers, and welcome to my first edition of Picross, the section in which I create picture puzzles for you to enjoy. I'm Pyro Guy, and here are this month's puzzles. For a full explanation, see here for more details on how to play.
Easy!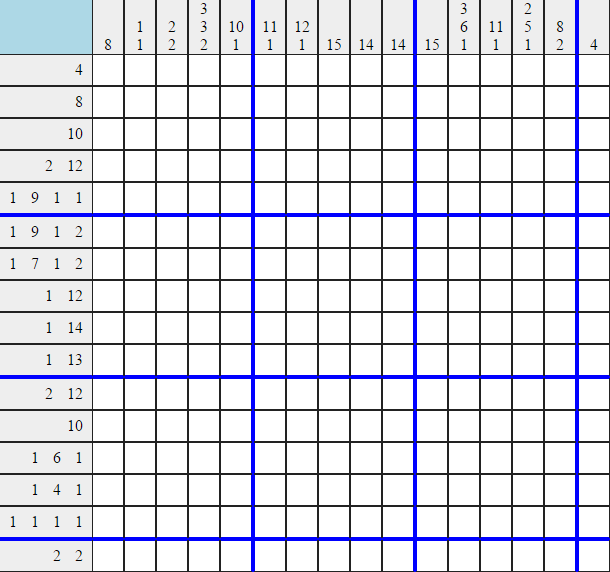 Hard!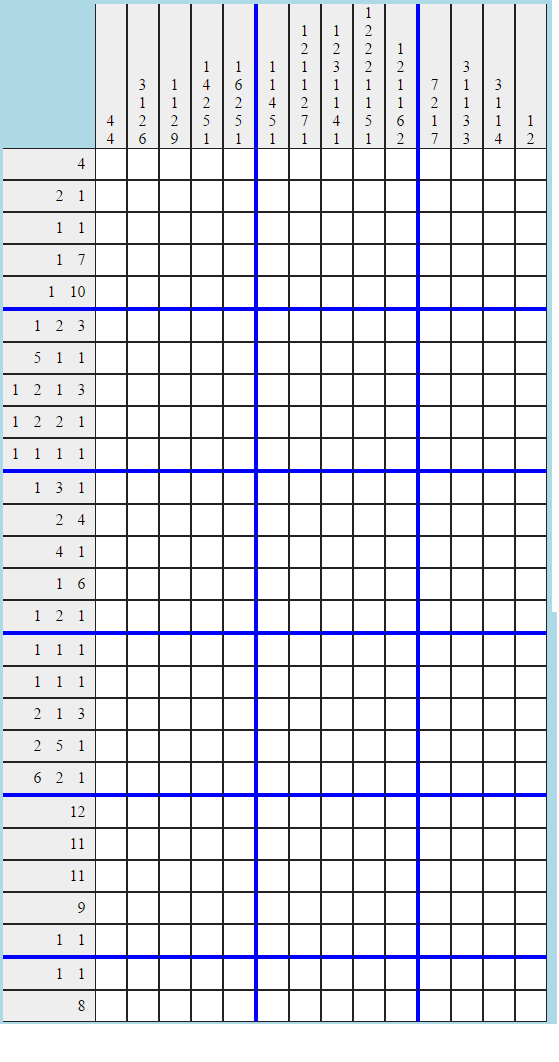 Did you have a go? Good! Lets see how you compare to the answers.
ANSWERS!
And that's all for today, folks! Stay tuned for more Picross next issue!