User talk:Puddin
From the Super Mario Wiki, the Mario encyclopedia
Jump to navigation
Jump to search
Welcome, Mas0n!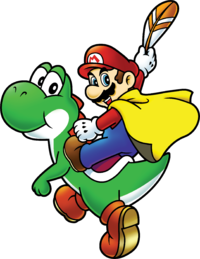 Hello and welcome to the Super Mario Wiki, a collaborative knowledge base dedicated to the Mario franchise. We're glad to have you as a member! If you have any questions, just post them on the FAQ talk page or ask an experienced member, patroller, or administrator.
The following pages contain guidance and information about reading, authoring, and participating in the Super Mario Wiki community. If this is your first time visiting, please read our introduction.
How do I do that?
Specific help
Categories
You are welcome to browse through the following categories:
External resources
Things you can do
Feel free to delete this message when you're done reading it. We hope that this information is helpful and that you have a great experience contributing to our encyclopedia and community. Remember to enjoy your time here and to also have fun!
Sincerely,
The MarioWiki Staff
You are invited...!
[
edit
]

Dear Puddin,
The 'Shroom is celebrating the release of its Fiftieth issue on May 21st, 2011. To celebrate this special occasion, the Core 'Shroom Staff has decided to host a number of events. One of these events involves inviting special guests to write a special section. We discussed a list of possible guest writers to invite, and you have been selected as one of them.
Since this is a very special event, the subject of these special sections does not particularly have to pertain to Mario or the wiki, although it can if desired. Should you accept our invitation, our only request will be that you make your section contain appropriate content and that it be well-written, of decent length, with acceptable grammar, spelling, and punctuation. Sections may be accepted by the Director and Sub-director until May 18th, 2011.
We would like to see you participate. If it is possible, please inform the Director as to whether you are interested or not. We will look forward to hearing from you soon.
Sincerely,