User:Bottle Wizzerd
From the Super Mario Wiki, the Mario encyclopedia
Jump to navigation
Jump to search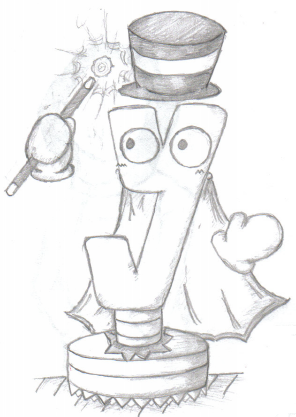 Well, hello there. :P The name's Bottle Wizzerd. Not much to say... <.<
Name Origin
I just thought it would be interesting to add this section. The name comes from one my favorite Paper Mario baddies, the Wizzerd, and the word "Bottle". Simply because I was working on an Arts picture which consisted of giving human characteristics to an object. I drew a bottle, and the outcome looked like a Wizzerd. Yeah. <__<
Current Projects
Centered around Mario Party 5. I wish to create all mini-game articles with detailed information. (Done)
Work on the Thwomp Article.
I also want to fix all already created MP5 articles, I find them rather poor at the moment.
Create articles for Yoshi's Islands' levels, and fix existing ones.
Some info
I was born in Chile in September 30th, 1991.
My devotion to videogames began with simple games such as Super Mario Bros., Duck Hunt and Panic Restaurant. The latter inspired me the most, though the first one I ever played was Duck Hunt.
Nintendo's being my fave ever since I got into videogames. While I respect other companies, I feel like Nintendo is the one that works and puts more effort into their creations, and therefore feel a certain connection between me and them. It's wacky, I know.
My favorite Mario Baddies are Mr. I, Mr. Blizzard, Wizzerd and Skeeter.
My favorite console ever is probably the Game Boy Advance. >:D Including all GB and GBC games, of course.
My favorite Mario Party game is Mario Party 3.
My favorite "main" Mario character is Princess Daisy, closely followed by Yoshi.
My favorite "classic" Mario enemy is the Blooper.
I have no life whatsoever.
Mario Games Played
Yep. If I listed all games ever, this would take forever, so let's just stick to Mario. There's probably more Mario Games I have played, but didn't list.
Well, I believe that's it. TO BE PLAYED GAMES:
Articles I have created
My first contribution ever was in the Goonie article. I added a picture of Goonie in Brawl. Not very special, but I have grown to love Goonies now. <3 This is a list of the articles I've created from scratch or have heavily edited. If you're bored, then check 'em out and drop a comment or two at the Talk Page. Critics, compliments and even death threats are always welcome.
COUNTER: 51
Reminder to Myself
Ignore this. It's for me.
-> Remember to check FAQ in GFAQs for Thwomp Appearances.