Palms Course
From the Super Mario Wiki, the Mario encyclopedia
Jump to navigation
Jump to search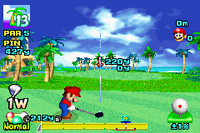 The Palms Course is a tropically influenced golf course in Mario Golf and Mario Golf: Advance Tour. It is the second course in the game that must be unlocked. Grace was once the reigning champ of this club until Sherry defeated her for it. They are now a doubles team for the Palms Club Doubles Cup Tourney. Its namesake is a pun of palm trees around the course.
The Palms Course Practice Center is a large, calm beach. The golfing activities in this Practice Center such as putting contests and approach-shots get a bit harder than the challenges at the Marion, and the driving is harder because of beach bunkers and the ocean providing to be a huge water hazard. Sherry can be found near the driving range.
In here is where players also have to seek out and take down a Blooper, who is terrorizing the beachside. Once taking two shots at it, the Blooper will dive back into the ocean and swim away. A reward is then given to the player.
Seaside Course from Mario Golf: World Tour and Crystal Beach from Mario Sports Superstars are based on this course.