Club Maker's Hut
From the Super Mario Wiki, the Mario encyclopedia
Jump to navigation
Jump to search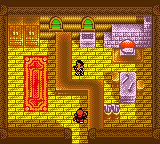 The Club Maker's Hut is a house in the Game Boy Color game Mario Golf. Here, the player can ask the Club Maker to make them a special club that either improves distance or control. The player can only choose one of these two options and cannot switch out the distance club for the control club or vice-versa. The player can, however, swap their special club with their regular club whenever they want.
Inside the hut are two cabinets, a large furnace for making clubs, a table for shaping clubs, two filled golf bags with finished clubs, and a trash can. The outside of the hut appears to look like a small log cabin in the middle of the woods. The sign outside reads "Club Maker's hut".
A 1-Up Mushroom can be found in one of the cabinets. This is one of the only three 1-Up Mushrooms in the game.