Dunes Course
From the Super Mario Wiki, the Mario encyclopedia
Jump to navigation
Jump to search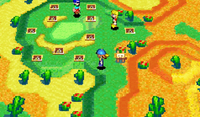 The Dunes Course is a desert-themed golf course in Mario Golf and Mario Golf: Advance Tour. It is the third course in the game to be unlocked, and is known for its sketchy areas. The singles tourney's champ of this course and club used to be Tiny, until Azalea beat him for the title. The two then partnered up for the Dunes Club Doubles Cup Tourney.
The Dunes Club Practice Center is a huge step from the Marion and the Palms. The area is covered in obstacles and non-fairway, such as rock, waste area, and sand bunkers. Long-range putting can be found here, as well as approach-shot contests and the driving range. (Azalea can also be found near one of the tee-offs.)
In Mario Golf: World Tour, Mountain Course is based on this course.