Aboard the Sweet Stuff
From the Super Mario Wiki, the Mario encyclopedia
Jump to navigation
Jump to search
Aboard the Sweet Stuff is the first and a tutorial level in the game Wario Land: Shake It!
As the name suggests, the level takes place aboard the Sweet Stuff. At the beginning of the game, the Sweet Stuff automatically starts. The first time the level is started, Wario meets Captain Syrup there and a discussion begins. After that, the level begins.
Everywhere, signs have been placed to show instructions, similar to the first level of Wario Land 4. The golden enemy here is a golden Bandinero. When the level is completed, he can enter a cabin on the Sweet Stuff also known as the Pirate Shop.
Missions
[
edit
]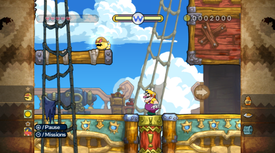 Jump off a Bandinero's head
Defeat the golden enemy
Collect 10,000 coins
Enemies
[
edit
]
Treasures
[
edit
]
Chest location
Treasure
Image
NTSC-U description
PAL description
Merfle Syrup
Thick, sweet syrup made by Merfles with love (and a zesty blend of eleven herbs).
Six-Week-Old Curry
The pirate galley cook recommends curry be aged properly before eating.
Any pirate chef will tell you that curry needs to be aged properly before eating.
Fickle Compass
This compass points north. Or whatever other direction takes its fancy.
Points north, except when it doesn't. But what else could it be pointing to?
Given time: 5:00:00
Sum of coins: 12,560
Names in other languages
[
edit
]
Language
Name
Meaning
Japanese
かいぞくせんのなか
Kaizoku sen no naka
Inside the Pirate Ship
German
Kapitän Kandis' Schiff
Captain Syrup's Ship
Italian
A bordo dell'Acquadolce
Aboard the Sweet Stuff
Spanish
A bordo del Aguadulce
Aboard the Sweet Stuff