RetroNintendo2008
From the Super Mario Wiki, the Mario encyclopedia
Jump to navigation
Jump to search
RetroNintendo2008's Userbox Tower
| | |
| --- | --- |
| en-n | This user is a native speaker of English. |
| | |
| --- | --- |
| | This user loves the console Wii U. |
| | |
| --- | --- |
| | This user used to love the Angry Birds videogame series. He still does, but not how it is nowadays. Eugh. |
| | |
| --- | --- |
| | This user is a big fan of the video game character Mario. |
| | |
| --- | --- |
| | This user cannot program at all, unless we're talking about Scratch. |
"According to all known laws of aviation, there is no way that Bee Mario should be able to fly. His wings are too small to get his fat little body off the ground. Bee Mario, of course, flies anyway. Because video game characters don't care what players think is impossible."
—

Me

, a Reddit comment I made a while ago
Hi, I'm RetroNintendo2008 (previously known as NintendoFan08)! I am an average autoconfirmed user who joined the Super Mario Wiki on October 5, 2022. I was born on February 27, 2008, aged 15, and became a fan of the Mario series in 2017, of which I have no plans to stop supporting!
On the Super Mario Wiki, I mostly edit or create articles on older or niche subjects, as to avoid those godforsaken edit conflicts. Although, I'm not afraid to add to newer articles that are under construction, or create new ones that most others wouldn't.
Articles I've created
(not including redirects and sections)
As you can see, I specialize in quotes articles and pages on minor topics that not many really care about.
Deleted articles
These are articles that I have made, but were deleted for various reasons:
Mario games I've played
This is a list of every Mario game that I've played or owned.

* = not owned physically
★ = favorite
Super Mario
Mario Kart
Mario Party
Paper Mario
WarioWare
Miscellaneous spin-offs
I may be missing a few, so this section will most definitely be updated frequently in the future.
Places you can find me
Other wikis
Trivia
Here's some cool little fun facts about me!
Thank-a you so much for reading my page!
Thank you for reading my user page, I hope you got to learn a lot about me and see me as a worthy member of the Super Mario Wiki! Happy editing!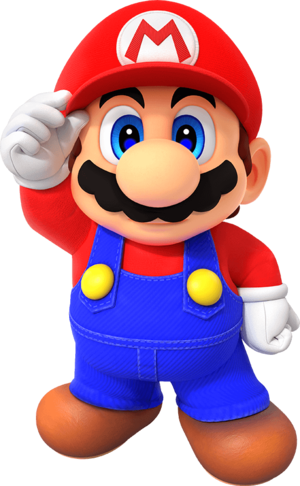 Yours truly, RetroNintendo2008.