User
:
Dark-Boy-1up
From the Super Mario Wiki, the Mario encyclopedia
Jump to navigation
Jump to search
Please give me feedback on how my page looks. Thanks!
My thoughts on Nintendo, and they're new and upcoming games
F-Zero 99: It's pretty fun. If you have NSO, definitely give it a shot. I am not a big F-Zero guy, but I think this is just a steppingstone to more F-Zero content.
Princess Peach: Showtime!: It looks good. I just hope it has some fun stuff for people who are not 5 year old girls.
Paper Mario: The Thousand-Year Door Remake: I have never played the original TYD, but I LOVE Paper Mario 64, So GIMME IT.
Mario vs Donkey Kong Remake: $50 feels like way too much for a remake. They could have put it on NSO GBA. I won't be buying this.
Super Mario Bros. Wonder: I played a demo of it at a vintage stock, it felt so good to control, and everything felt so alive. Can't wait to play it!
WarioWare: Move It!: I am not getting this game because it uses joy-cons, and I am not interested in purchasing new ones that don't drift.
List of (Most) Mario Games I have played
I'm only doing games I have played at least 10-30 min, and games that are truly in the Mario franchise. So no Smash bros. I have definitely played more Mario games than what is on this list, and most of the stuff I have on my GBA SP, DS Lite, and Wii are not Mario games. Also I'm not trash at old games. I just choose not to spend a lot of time on them.
Logo
Game / System
Comments
Progress
Donkey Kong
Nintendo Switch (NSO)
The controls are a bit weird, but its great level design makes up for it.
Donkey Kong Jr.
Nintendo Switch (NSO)
I enjoy this game a lot. I would like to see a remake which is more modern.
Donkey Kong 3
Nintendo Switch (NSO)
It has an interesting concept.
Mario Bros.
Nintendo Switch (NSO)
Multiplayer is a little fun.
Super Mario Bros.
Wii (Virtual Console)
Fun platforming, but Mario's movement has come a long way from this.
I have gotten to 8-4 using warp pipes but I have not beat the game.
Super Mario Bros. 2
Wii (Virtual Console)
The level variety is way better than the first game.
Incomplete
Super Mario Bros. 3
Wii (Virtual Console)
Finally, Mario had good movement. Best NES game by a lot.
Incomplete
Dr. Mario
Nintendo Switch (NSO)
This is a classic puzzle game with a lot of charm.
Yoshi
Nintendo Switch (NSO)
A unique puzzle game that is fun to master.
Wario's Woods
Nintendo Switch (NSO)
My personal favorite puzzle game EVER.
Super Mario Bros.: The Lost Levels
Wii (Virtual Console)
I despise this game and I feel bad for the people who played this instead of the other first 3 Mario games.
Incomplete
Super Mario World
Nintendo Switch (NSO)
I love this game because of the ghost houses, ! switch's, and cape feathers.
Incomplete
Super Mario Kart
Nintendo Switch (NSO)
To me it hasn't aged well, and it can get really frustrating.
Super Mario All-Stars
Nintendo Switch (NSO)
It is a great game to have in general.
Donkey Kong Country
Nintendo Switch (NSO)
I love the atmosphere but is SO HARD.
Incomplete
Super Mario Land 2: 6 Golden Coins
Nintendo Switch (NSO)
I love this game a lot, because it is so different. I feel like Mario Wonder Is going to do the same.
Incomplete
Super Mario 64
Nintendo Switch (NSO)
Though the textures are rough, I still really enjoy finding secrets and mastering Mario's moveset.
Complete
Mario Kart 64
Nintendo Switch (NSO)
It has nice courses but is a little annoying when you fall.
Yoshi's Story
Nintendo Switch (NSO)
This game can die and no one will be sad.
Incomplete and I never plan on completing it.
Mario Party
Nintendo Switch (NSO)
A good first Mario party game.
Mario Tennis
Nintendo Switch (NSO)
Very fun tennis physics.
Paper Mario
Nintendo Switch (NSO)
I love this game! It's my favorite Mario spinoff that I have played.
In Progress (Chapter 6)
Game & Watch Gallery 3
Nintendo Switch (NSO)
A solid collection of games. Also this wiki doesn't have the logo for some reason and I don't know how to add it.
Mario Kart: Super Circuit
Game Boy Advance
I am a little Bias but I really love this game and I call it the real Super Mario Kart 2.
Super Mario World: Super Mario Advance 2
Nintendo Switch (NSO)
Its fine but I prefer the original one.
Incomplete
Yoshi's Island: Super Mario Advance 3
Nintendo Switch (NSO)
I'm loving my time with this one. The only bad part is that some parts remind me of the dreaded Yoshi's Story.
In progress
Super Mario Galaxy
Wii
This is my favorite mainline Mario game that is not a re-release.
In progress
Mario Kart Wii
Wii
So many iconic courses make this one of the best Mario kart games.
Dr. Mario Online Rx
Wii
Virus buster ain't a bust. It's a blast!
Mario Kart 8 Deluxe
Nintendo Switch
I am constantly replaying tracks cause they are so fun to be in.
Super Mario Odyssey
Nintendo Switch
Mario's 3d movement is absolutely perfected.
Complete
Captain Toad: Treasure Tracker
Nintendo Switch
Pretty fun. It is a little easy though.
Super Mario Party
Nintendo Switch
The minigames in my opinion are fun. And I enjoyed the Rythm games.
100% (Technically)
Yoshi's Crafted World
Nintendo Switch
It's fun, but it isn't always easy.
Complete
Super Mario Maker 2
Nintendo Switch
This game is awesome! UNLIMITED CONTENT.
100% Story Mode
Luigi's Mansion 3
Nintendo Switch
I really looked forward to seeing what was in store for me in the next level.
100% (Except ScareScraper)
Super Mario 3D World + Bowser's Fury
Nintendo Switch
My favorite mainline Mario game that is not a port.
Complete
WarioWare: Get It Together!
Nintendo Switch
Eh.
Complete
Mario Party Superstars
Nintendo Switch
It is the best Mario party game on switch.
Yeah. I totally stole this idea from Mario JC.
Mario things I like
Characters
Games
Miscellaneous
Donkey Kong's face in Mario Party
Mario things I hate
This image: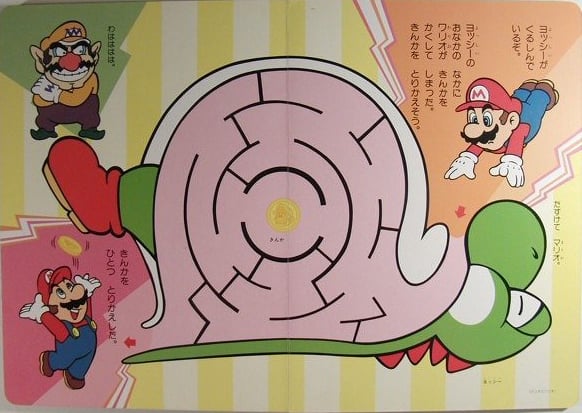 The longer you stare the weirder it gets.
A story about something interesting
I gave myself a challenge to make a short story in the Mario Universe putting in 5 randomly selected things. The things I had to put in were: Pom Pom, Tomb, Pecan, Lucky, and Goat. Also tell me if you think this is The 'Shroom Material. Here is the story:
Across the bridge near the village in Daisy hills, there were some goats. Then out of nowhere, CRASH! A goat got hit by a kart! 3 coins spewed from Metal Mario. "Sorry" He apologized in his metallic voice. But the goat, acting like a mindless hazard, kept smiling and moving along. But in truth, he was angry. He was furious. He wanted revenge! "I need to find my friends for help." He thought.
When the goat arrived at the Happy Lucky Lottery, He saw Pecan gambling as he usually does. "Come on! This is rigged!" The pelican with a bandanna groaned. "Sorry. You just got unlucky." Lucky, the big golden bob-omb responded. "Pecan! How's it going?" The goat yelled. "Why are you here?" Pecan responded. "I need your help for revenge." The goat said. Then they plotted a pretty precarious plan.
"There it is!" Pecan screeched. Him and the goat were in the old clockworks. The tomb they were in was covered in sand and darkness. "Quiet!" The goat whispered back. "We are going to be he-" But he was cut off by a loud yell. And Pom Pom appeared with a puff of pink smoke. "Good luck getting past me." She teased as she threw a shuriken at the goat. The shuriken bounced right off of him. "I am a stage hazard." He said. "I can't die. But you can." Then Pecan, who was flying right above Pom Pom, spit a mine out and it landed right on her head, and she was defeated. The goat then had access to the lever Pom Pom was guarding. It was the lever that turned the electricity, that was powering Mario kart, off.
Afterword
I hope you have enjoyed my page. Please feel free to talk to me and give me feedback about my Userpage on my talk page. Last updated 10/21/23.