The 'Shroom:Issue LVII/Pipe Plaza
From the Super Mario Wiki, the Mario encyclopedia
Jump to navigation
Jump to search

Merry Christmas everybody! Welcome to yet another issue of the Pipe Plaza! The last issue of the year, and maybe the last one with me as your director - if my director's election campaign works out. Remember to vote for me for free Christmas cookies!
I would like to take this opportunity to thank all the writers who have made the Pipe Plaza what it is over the months, or any 'shroom section for that matter. I know you hear this a lot, but it truly is the writers that make up this project and it really is you guys who are its lifeblood. I, and the rest of the Core 'Shroom Staff, express sincere gratitude to those who volunteer their time every month to write sections and entertain the rest of the community. It really is kindness. So whether you received any of the special awards this month or not, whether you are a long-standing writer or a new writer, thank you for your generosity and goodwill.
Also make sure to read this issue, it has had a lot of work put into it. And sign up for the Pipe Plaza, we need writers!
More info
Hey guys! Marioguy1 here, and I'm going to be showing off a section of the Pipe Plaza that has never had a writer before. Everybody seems to avoid this section, and I'm going to show just how easy and fun it is to write it! Welcome to the first ever issue of Community Report!
The wiki has been somewhat newsworthy this month. Here are a few news items:
The proposals page has had multiple revisions to it over the past few weeks. Make sure to reread all the rules there so that you are fully updated on the proposals process.
With the release of so many new games, we have to be sure that we don't add speculation the articles. Make sure everything you add to articles is confirmed by Nintendo so that you can be sure it's true - unconfirmed information will be removed!
The 'Shroom is (obviously) releasing its Special Holiday Issue for 2011! This issue was preceded by a chat party in the official 'shroom chat room and is kicking off the new Director's Election! Be sure to stay tuned to The 'Shroom over the month for news about the election, campaigns, debates and voting!
Merry Christmas to all!
Here is a list of all proposals that passed or failed in the last month!
Make sure to review all passed proposals so you are updated on the rules! And that's it for this month! If anyone wants to sign up for the Community Report section, I am only filling in for it this month - we still need a permanent writer. So feel free to send me an application on the forums (the application can be found on my description page) and you could be writing for The 'Shroom!
Hello 'Shroomers, and welcome to the Special Holiday Issue! Christmas and New Year might be very close, but us The 'Shroom writers still have work to do!
These are the games released in this cold month (however, it's not cold at all here in Brazil).
| Abb. | Region |
| --- | --- |
| NA | North America |
| JP | Japan |
| EU | Europe |
| AU | Australia/New Zealand |
| KO | Rep. of Korea |
| CN | People's Rep. of China |
December 1st
December 2nd
December 3rd
December 4th
December 5th
December 6th
December 7th
December 8th
December 9th (JP)
December 10th
December 11th
December 12th
December 14th
December 15th
December 16th
December 17th, 1992 (EU): Mario & Yoshi (GB)
December 18th, 1998 (JP): Mario Party (N64)
December 20th, 2010 (NA): Mario Party 2 (N64-VC)
December 21st
December 22nd, 2006 (EU): Donkey Kong Jr. (NES-VC)
December 24th
December 25th
December 29th, 2005 (JP): Mario & Luigi RPG 2x2 (NDS)
December 30th, 1992 (EU): Mario & Yoshi (NES)
December 1990 (NA): Dr. Mario (GB)
December 1993 (NA): Mario's Time Machine (SNES)
December 1994 (NA):
And that concludes the 2011 Mario Calendar. Remember, you can send suggestions and opinions to the paper-made Cyan Yoshi. Neither the cool Blue Yoshi nor the inactive Yoshi Kid. This Yoshi.
We shall meet again in Upcoming Games! See you there!
Hey, everyone, Merry Christmas, and welcome to Forum Update! The Super Mario Boards have not failed yet to provide us with interesting news and statistics. So, let's get started!
Top Stories: The honk. rank, which had been deemed useless, was removed from the Forum. The rank referred to the webcomic Homestuck, of which an amount of users on the forum are fans of. The rank was given to anyone who changed their avatar or name to a Homestuck character. There had also been a few users who created topics in HelpDesk on how to get this rank, which was the wrong thing to do, and another reason why it was removed.
Next, Noah (Noahp89 (talk)) and Uniju (Uniju :D (talk)) were unbanned from the MarioWiki Forum. Noah was once, a few years ago, a Forum Administrator, but got banned, and Uniju was banned after 2010's Mario Awards.
Statistics: In November, there were 833 users, which is a new record. There were 39649 posts, and 47 new members. The most online for this month was 147, and that was on November 12th.
TOP 10 POSTERS
Sharks Territory (Ralphfan (talk)) – 21646
Smasher (Smasher (talk)) – 18102
Pinkie Pie (UltraMario3000 (talk)) – 17824
Nega-Man (Mileycyrussoulja (talk)) – 17177
Solar Blaze (SolarBlaze (talk)) – 15570
Don Pianta (Superjeff64 (talk)) – 12351
Herr Shyguy (Shyguy27 (talk)) – 11637
Christian Brutal Sniper (Marcelagus (talk)) – 11594
Lario (Lario (talk)) – 10922
Baby Luigi (BabyLuigiOnFire (talk)) – 10729
Green signifies the user is at a higher position than last month.
Blue signifies the user is at the same position as last month.
Red signifies the user is at a lower position than last month
Mafia: Currently ongoing are Smasher (Smasher (talk)) and Fi's (Baby Mario Bloops (talk)) Awesome Mafia, Pyro's (PyroGuy6 (talk)) Pokémon Platinum Mafia and Rainbow Dash's (ectoBiologist (talk)) Kirby Super Star Mafia.
---
Thanks for reading again, and see you next month!
See? I told you we'd meet again!
Hello, and welcome to the December Issue of Upcoming Games! The Holiday Season is underway, and we all know what that means...
Mario Games!
That's right! The Nintendo 3DS got not only one, but two "mandatory" purchases (at the very least for Mario fans): Super Mario 3D Land and Mario Kart 7. And let's not forget Mario & Sonic at the London 2012 Olympic Games, which was released for the Wii in November for all main regions except Japan. This issue will feature the newest Mario blockbuster, Mario Kart 7, while SM3DL and M&S London 2012 will appear in future issues.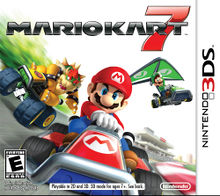 Mario Kart 7, first released in Japan on December 1st, has been on stores' shelves for just a few days, but it's already a huge success, managing to outsell the previous handheld installment of the series – Mario Kart DS – during its first week in the Land of the Rising Sun. As discussed in previous issues, MK7 brings a ton of new elements to the Mario Kart series, including, but not limited to, new characters and items.
Mario Kart 7 features 8 starting characters, consisting of the regular Mario Kart crew, plus nine unlockable characters. Four of those are completely new to the series; they are Metal Mario, Lakitu, Wiggler and a much smaller Honey Queen. The item roster has new additions as well. The three items which debuted in Mario Kart Wii – Mega Mushroom, POW Block and the nasty Thunder Cloud – were replaced by other three new items: Fire Flower, Super Leaf and the Lucky 7.
MK7, as usual, brings 16 all-new tracks and 16 "Retro" tracks. Battles may take place in one of six different courses. Three of those are new, while the remaining three come from earlier Mario Kart games. The Grand Prix cups carry over from Mario Kart Wii.
However, Nintendo discarded some features for this game. A move that has caused controversy is Nintendo's decision to scrap Single Player Versus, most likely to encourage the player to use Local or Wi-Fi Multiplayer, and Waluigi, a series' regular since Mario Kart: Double Dash!!.
Release Dates for Mario Kart 7
Japan: December 1st
Europe: December 2nd
Australia: December 3rd
North America: December 4th
---
And that's all for 2011, folks! I wish you all, readers and fellow The 'Shroom members, a Merry Christmas and a Happy New Year! See you in 2012!
Tip of the Month: Thousands of unused images wait to be deleted because they were marked "unused," which is not a good reason at all for them to be deleted! Try to put an image with the corresponding article. if the image is the only one for the article but it's of bad quality, put it on still, but if you can, replace it quickly or tag the article with a replacement image tag. Someone who has better resources can find a new image.