Treacherous Tightrope
From the Super Mario Wiki, the Mario encyclopedia
Jump to navigation
Jump to search
Treacherous Tightrope
Appears in
Mario Party 8
Type
4-Player minigame
Music track
An Unexpected Surprise
Treacherous Tightrope is a 4-Player minigame that appears in Mario Party 8.
Introduction
[
edit
]

The camera shows the tightropes and characters from below, moving upwards. The wind blows the tightropes and the players, causing them to almost lose their balance. The minigame starts when the camera is set behind the characters.
Gameplay
[
edit
]
The player uses

like a balancing pole as their character walks across a tightrope.

must be tilted forward so that the character walks. Tilting it to the sides can destabilize them and make them fall. The wind frequently blows left or right, requiring the players to stop moving and instead keep their balance by tilting the other way. The first player to make it to the other side wins the minigame. If all of the players lose their balance and fall off their tightropes, the minigame ends in a tie.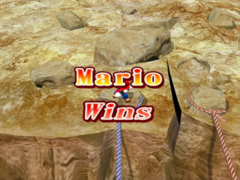 The winner jumps off their tightrope onto a rock and strikes a victory pose, while any remaining players instantly lose their balance and fall down into the canyon.
Controls
[
edit
]
Wii Remote

Move forward
Use balancing pole

Buttons: None
In-game text
[
edit
]
Rules – "Cross the tightrope! Use the balancing pole, especially when the wind blows."
Hint – "Move forward only when the wind dies down. When it blows, stop walking and focus on keeping your balance!"
Gallery
[
edit
]
Names in other languages
[
edit
]
Language
Name
Meaning
Japanese
ハラハラ!つなわたり
Harahara! Tsunawatari
Heart-Stopping Tightrope Walking
French
A l'Affût, Nambule
Pun on a l'affût (on the lookout) and funambule (tightrope walker)
German
Wackelpartie
Balance Act
Italian
Appesi a un Filo
Hanging to a Wire
Korean
아슬아슬 줄타기
Aseul-aseul Jultagi
Barely Tightrope Walker
Spanish
Funambulista
Tightrope Walker