Tidal Fools
From the Super Mario Wiki, the Mario encyclopedia
Jump to navigation
Jump to search
Tidal Fools

4-Player minigame version
Appears in
Mario Party DS
Type
4-Player coin minigame
Duel coin minigame
Time limit
30 seconds
Music track
Play Nicely, Everyone
Tidal Fools is a 4-Player and Duel coin-collecting minigame in Mario Party DS. The name is a pun on "tidal pools."
Introduction
[
edit
]
The minigame takes place on a beach with some seashells on the sand. The four players are standing near the watery waves. Suddenly, the waves come in towards the players as they avoid them by running back. The waves withdraw back into the oceans as the players go back to their positions. Shortly after that, the minigame begins.
Gameplay
[
edit
]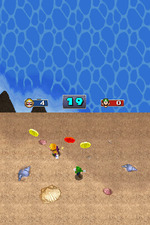 To gather coins, the players must first wait for the waves from the ocean to come by. When the waves come by, the players have to avoid them. Any player who is caught in the arriving waves is stunned for a few seconds as the player is dragged into the ocean. When the waves finally go back into the ocean, some coins are left for the players to collect. Occasionally, a Red Coin (worth five regular coins) is on the sand after the waves. The process repeats a few times until the time limit runs out.
Any player who got at least one coin does their victory animation. If a player did not get any coins, they will do their losing animation instead.
Controls
[
edit
]
– Move
In-game text
[
edit
]
Rules – "Grab as many coins as you can, but don't get hit by the waves. Red coins are worth five times as much as the normal ones."
Tips – "You'll be stunned for a while if you're hit by a wave. Time your runs carefully to avoid the waves."
Names in other languages
[
edit
]
Language
Name
Meaning
Japanese
なぎさでコインキャッチ
Nagisa de Koin Kyatchi
Coin Catch on the Shore
French
Les Sous du Ressac
The Backwash Coins
German
Strandgut-Schnapper
Jetsam Graber
Italian
Una Marea di Gettoni
A Tide of Money
Korean
해안에서 코인 캐치
Haean eseo Koin Kaechi
Coin Catch on the Shore
Spanish
Locos de la marea
Crazy over the Tide