Roller Coasters
From the Super Mario Wiki, the Mario encyclopedia
Jump to navigation
Jump to search
Roller Coasters

4-Player minigame version
Appears in
Mario Party DS
Type
4-Player minigame
Duel minigame
Music track
Play Nicely, Everyone
Roller Coasters is a 4-Player and Duel minigame from Mario Party DS. Its name references "roller coasters", a popular type of amusement park ride.
Gameplay
[
edit
]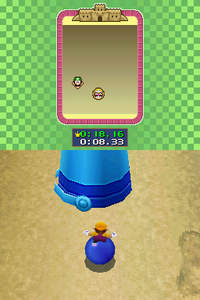 In this game, the players are in a sandbox, trying to reach the end, where there is a sand castle. To do this, they must roll on rubber balls. On the way, however, are buckets, houses made of blocks, and moving toy trucks to block the way. At the end of the game, if the record on completing the game is beaten, it will be shown. After this, the winning player will be seen on top of the sand castle, doing their victory dance, while the losing players will be seen in front of the castle. If the game is tied, all the players will be seen in front of the sand castle.
If both players break the current record in the Duel variant by tying, it counts as a new record even though neither player won, as the screen will say "Tie" after the "New Record" fanfare. This also applies to the other Duel minigames with a record system.
Controls
[
edit
]
– Roll your ball
In-game text
[
edit
]
Rules – "Race to the finish by pushing your ball with the stylus. Avoid the obstacles along the way."
Tips – "You'll rebound from any obstacle you hit, and it will take time to recover your momentum. Move carefully."
Names in other languages
[
edit
]
Language
Name
Meaning
Japanese
たまのりレース
Tamanori Rēsu
Ball Balancing Race
French
Rallye du Rivage
Coast Rally
German
Kugel-Karambolage
Ball Carom
Italian
Questione d'Equilibrio
Balancing Issue
Korean
공굴리기 레이스
Gong-gulligi Reiseu
Ball Rolling Race
Spanish
Carrera de obstáculos
Obstacle course