The 'Shroom:Issue 110/Strategy Wing
From the Super Mario Wiki, the Mario encyclopedia
Jump to navigation
Jump to search

Director's Notes
Written by: Stooben Rooben (talk)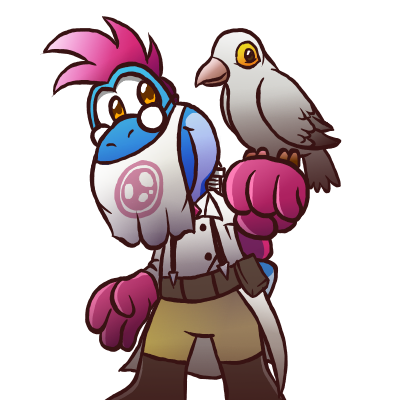 Hello, all, and welcome to the May edition of Strategy Wing. I will make no bones about it — this month is completely bare-bones. We have only two sections this month, courtesy of the hard-working Yoshi876 (talk) and Paper Yoshi (talk). This team is severely understaffed and in need of additional writers. If you are at all interested in sharing your gaming knowledge, tips, cheats, or would like to write a walkthrough series, please do not hesitate to send in applications. Gaming knowledge is valuable to everyone. It's what this team thrives on — forwarding knowledge to the community.
We're more than happy to accept content pertaining to more than just Mario and Donkey Kong here, too. Pokémon, Banjo-Kazooie, Minecraft, Team Fortress 2, Dota 2, Awesomenauts, Metroid, Pikmin, Sonic, Smash Bros., Left 4 Dead, Spyro, Final Fantasy, Terraria, even Mafia — all of these games (and more) would be highly welcomed topics in this team. Facts, history, insight — anything you can provide on any game or series you are familiar with, would be great to see here. Strategy Wing should be a melting pot of game knowledge.
Next month, Issue 111, will be dedicated to the late Walkazo (talk). It is going to be an intensive issue for all of us here at The 'Shroom, so we're encouraging all you readers to contribute in any respectful way you can. Pictures, videos, songs, person experiences, discussions about her favorite topics — please help us make this tribute the greatest it can be.
'Shroom Mafia III's results will be posted with Issue 111. I am working on a hand-drawn comic to close out the game, in honor of Walkazo's many cherished works (I heard you have a dragon problem with Gabumon (talk), and The Adventures of Little Mario). Ratings will also be posted next issue. Every player is graded on a 100-point scale that is divided between 10 vital aspects of 'Shroom Mafia III's gameplay — analyzation, communication, disposition, helpfulness, interpretation, originality, participation, responsiveness, sneakiness, and vigilance. If you don't know how some of those factor in to the game, don't worry, everything will be explained in detail in a very massive article that I'm putting together; it will discuss everything in the game.
I guess that's it for this month's notes. I hope you enjoy this month's Mario Kart: Wheel Tips Corner and Mario Calendar.
Section of the Month
---
History and Facts
---
Discover all of Mario's important dates for every May since 1987!
[read more]
Mario Kart: Wheel Tips Corner
Hello 'Shroom racers, and welcome to Mario Kart: Wheel Tips Corner! Here, I plan to give you just some extra tips to help you with your racing, or just some changes in a track that might catch you off guard if you aren't prepared for them. So the lights are out, let's start racing.
Kool Karts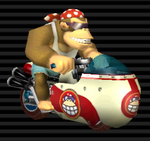 You can't race if you don't have a Kart to do it in, so in this section I'll give you some facts about a Kart, Bike, ATV or even tyres and gliders that you can use hopefully for racing success.
This month's Kool Kart is the Spear (Torpedo in PAL regions). This bike doesn't really need that much explanation, speed and weight are its strengths and everything else is a weakness, with Drift managing to be the third highest placed stat with 29/80. If you're using this bike it's because you want to be fast and bash everyone out of the way.
What's Changed?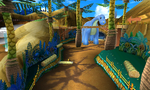 Retro tracks are now a huge portion of the Mario Kart games, typically amounting to half the courses in the game. But usually these courses change some things up, so in this section I'll help you find out "What's Changed" in the retro tracks.
This time we're journeying back in time way to 2011 to look at what changed in Dino Dino Jungle when it returned in Mario Kart 7. Graphics were improved and coins added to the track are the immediate ones to notice, as are the tricks that can now be performed off of the ramps and the geysers. The other changes include more item boxes being added, and the dinosaur no longer causing players to wipe out if they hit it. The shortcut that required a Mushroom still requires one, but it has been made narrower and also has a Glide Pad at the end of it. Also notable is the fact that in the background is now a generic volcano instead of DK Mountain and the course map has been rotated 90 degrees clockwise.
Ace Shortcut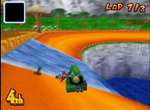 In this small section I give you a way to shave a few seconds off your time, whether you know about it or not. Be warned, most of these shortcuts will require a Mushroom.
This issue I bring you a shortcut from Yoshi Falls.
Whilst many may think that it's quicker to go the top route in the first little cabana in Yoshi Falls, it's actually quicker to go through the rapids at the bottom, provided you don't get dragged down. This can't be said for the second cabana because unless you have a Mushroom you will get dragged down.
Mario Calendar
Written by: Paper Yoshi (talk)
Hello, dear readers, and welcome to May's Mario Calendar! A tiny piece of news this month, as it's been 1 year since I returned to the paper, writing this section, which is by far the one I've written the most.
Anyway, let's see all the Mario-related games were released during the most wonderful month of the year, which are as follows:
| Abb. | Console/Store |
| --- | --- |
| NES | Nintendo Entertainment System |
| SNES | Super Nintendo Entertainment System |
| N64 | Nintendo 64 |
| GCN | Nintendo GameCube |
| Wii | Nintendo Wii |
| Wii U | Nintendo Wii U |
| GB | Game Boy |
| GBC | Game Boy Color |
| GBA | Game Boy Advance |
| NDS | Nintendo DS |
| 3DS | Nintendo 3DS |
| WiiVC | Wii Shop - Virtual Console |
| 3DSVC | Nintendo eShop (3DS) - Virtual Console |
| WiiUVC | Nintendo eShop (Wii U) - Virtual Console |
| Abb. | Region |
| --- | --- |
| NA | North America |
| JP | Japan |
| EU | Europe |
| AU | Australia/New Zealand |
| KO | Republic of Korea |
| BR | Brazil |
---
And that's it for now, everyone! See you in June!