Intro
From the Super Mario Wiki, the Mario encyclopedia
Jump to navigation
Jump to search
Intro (known as Easy in the British English version) is the first course in the demo version of Puzzle & Dragons: Super Mario Bros. Edition. It is a basic, grassland level. When the player selects this course from the menu, the game provides a tutorial of the battle mechanics.
In Intro, the player has two teams to select from, consisting of either Super Mario, a Goomba, a Red Koopa Troopa, a Piranha Plant, and a Spiny; or Super Luigi, a Yellow Koopa Troopa, a Hammer Bro, a Flame Chomp, and a Wiggler. The Mario brothers are level 3, while the other teammates are level 2. The helper is the other brother.
Clearing this course once unlocks the second demo course, Expert.
This level is straightforward, consisting of four battles: the first battle has two Goombas, the second has a Green Koopa Troopa and Red Koopa Troopa; the third battle has a single Hammer Bro.; the fourth battle has a Green Koopa Paratroopa, a Paragoomba and a Red Koopa Paratroopa; and a boss fight at the end with a Big Green Koopa Paratroopa.
The player has only Fire, Wood, Light, and Heart Orbs on the Orb field.
Team information
[
edit
]
| Formation | Total HP | ATK | ATK | ATK | ATK | ATK | RCV |
| --- | --- | --- | --- | --- | --- | --- | --- |
| | 2905 | 771 | 0 | 771 | 840 | 0 | 314 |
Teammate statistics
| Teammate | Level | HP | ATK | RCV | Skill Level |
| --- | --- | --- | --- | --- | --- |
| | 3 | 744 | 373 | 126 | 1 |
| | 2 | 412 | 282 | 33 | 1 |
| | 2 | 545 | 269 | 0 | 1 |
| | 2 | 339 | 333 | 24 | 1 |
| | 2 | 311 | 377 | 5 | 1 |
| | 3 | 554 | 467 | 126 | 1 |
| Formation | Total HP | ATK | ATK | ATK | ATK | ATK | RCV |
| --- | --- | --- | --- | --- | --- | --- | --- |
| | 3271 | 530 | 0 | 403 | 1565 | 0 | 542 |
Teammate statistics
| Teammate | Level | HP | ATK | RCV | Skill Level |
| --- | --- | --- | --- | --- | --- |
| | 3 | 554 | 467 | 126 | 1 |
| | 2 | 531 | 247 | 17 | 1 |
| | 2 | 539 | 478 | 20 | 1 |
| | 2 | 635 | 405 | 180 | 1 |
| | 2 | 268 | 247 | 73 | 1 |
| | 3 | 744 | 373 | 126 | 1 |
Course details
[
edit
]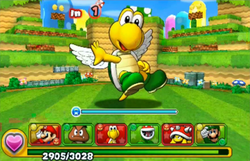 | Course type | Enemies found here | Boss(es) |
| --- | --- | --- |
| 3-Color Course | | |
Enemy statistics
[
edit
]
Enemy formations
[
edit
]
Enemy formations
Enemy 1
Enemy 2
Enemy 3
Total XP/Coins
XP
Coins
Battle 1
--
50
0
Battle 2
--
50
2
Battle 3
--
--
46
1
Battle 4
102
3
Boss battle
--
--
180
5
Enemies
[
edit
]