List of ? Block items in Puzzle & Dragons: Super Mario Bros. Edition
From the Super Mario Wiki, the Mario encyclopedia
Jump to navigation
Jump to search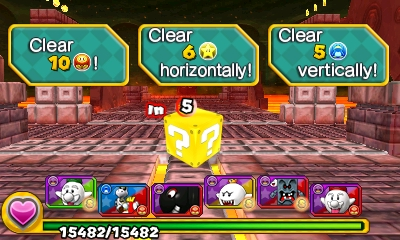 In Puzzle & Dragons: Super Mario Bros. Edition, there are ? Blocks in most courses that give out items to the player if they complete certain objectives by arranging Orbs on the Orb field (making a match in a line either vertically or horizontally, matching a certain number of Orbs (in a group) or making a certain number of combos) in the allotted number of turns.
Depending on the world, the amount of coins rewarded to the player varies. From Worlds 1 and 2, the player is rewarded 10 coins, 25 coins from Worlds 3 and 4, 50 coins from Worlds 5 to 8 (though the player may be rewarded 100 coins when cleared with two objectives into levels with only coins), 75 coins from ★Worlds 1 to ★World 4, and 100 coins ★Worlds 5 to ★World 8 (though the player may be rewarded 250 coins with 3 objectives in levels with only coins).
The only objects that do not appear inside ? Blocks are Boo Coins, Cheep Cheep Coins, Lakitu Coins, Flame Chomp Coins, Goomba Coins and Baddie Blocks.
Legend:
Item: The name of the item.
Block objectives: The number of objectives that will appear at the ? Block for the item in question to come out.
Courses: The courses in which the item can appear.
Item
Block objectives
Courses

1-Up Mushroom
1
Normal world courses:
World 1-3, World 1-5, World 1-, World 2-6, World 3-, World 3-5, World 3-6, World 3-, World 3-, World 4-2, World 4-6, World 4-, World 4-7, World 4-, World 5-1, World 5-, World 5-7, World 5-, World 6-3, World 6-, World 6-, World 7-, World 7-, World 7-, World 7-, World 7-, World 8-, World 8-7, World 8-
Special World courses:
★World 1-5

Coin
Varies
10 (1 objective):
World 1-3, World 1-5, World 1-6, World 1-, World 2-1, World 2-3, World 2-4, World 2-, World 2-5, World 2-6, World 2-, World 2-
25 (1 objective):
World 3-1, World 3-2, World 3-, World 3-3, World 3-, World 3-4, World 3-5, World 3-6, World 3-, World 3-, World 4-1, World 4-2, World 4-3, World 4-, World 4-4, World 4-5, World 4-7, World 4-8, World 4-, World 4-
50 (1 objective):
World 5-1, World 5-2, World 5-3, World 5-, World 5-5, World 5-6, World 5-7, World 5-8, World 5-, World 6-1, World 6-2, World 6-, World 6-4, World 6-5, World 6-6, World 6-, World 6-7, World 6-8, World 6-, World 7-1, World 7-2, World 7-3, World 7-, World 7-4, World 7-5, World 7-6 (can contain 100 (2 objectives)), World 7-, World 7-7, World 7-9, World 7-, World 7-11, World 7-, World 7-, World 8-1, World 8-, World 8-3 (can contain 100 (2 objectives)), World 8-4, World 8-5, World 8-, World 8-6, World 8-7, World 8-8, World 8-10, World 8-11, World 8-, World 8-12
75 (1 objective):
★World 1-3, ★World 1-5, ★World 1-6, ★World 1-, ★World 2-1, ★World 2-2, ★World 2-3, ★World 2-4, ★World 2-, ★World 2-5, ★World 2-6, ★World 2-, ★World 2-, ★World 3-1, ★World 3-2, ★World 3-, ★World 3-3, ★World 3-4, ★World 3-5, ★World 3-6, ★World 3-, ★World 3-, ★World 4-1, ★World 4-2, ★World 4-3, ★World 4-, ★World 4-4, ★World 4-5, ★World 4-6, ★World 4-, ★World 4-7, ★World 4-8, ★World 4-, ★World 4-
100 (2 objectives)
★World 5-1, ★World 5-2, ★World 5-3, ★World 5-, ★World 5-5, ★World 5-6, ★World 5-7, ★World 5-8, ★World 5-, ★World 6-1, ★World 6-2, ★World 6-3, ★World 6-, ★World 6-4, ★World 6-5, ★World 6-, ★World 6-, ★World 6-7, ★World 6-8, ★World 6-, ★World 7-1, ★World 7-2, ★World 7-3, ★World 7-, ★World 7-4, ★World 7-5, ★World 7-6 (can contain 250 (3 objectives)), ★World 7-, ★World 7-7, ★World 7-9, ★World 7-, ★World 7-11, ★World 7-, ★World 7-, ★World 8-1, ★World 8-, ★World 8-3 (can contain 250 (3 objectives)), ★World 8-4, ★World 8-5, ★World 8-, ★World 8-6, ★World 8-7, ★World 8-8, ★World 8-10, ★World 8-11, ★World 8-, ★World 8-12

Boo Mushroom
1
Normal world courses:
World 6-, World 7-, World 8-, World 8-
Special World courses:
★World 3-, ★World 4-, ★World 5-, ★World 6-, ★World 7-, ★World 8-, ★World 8-

Comet Medal
2
Normal world courses:
World 6-2, World 6-6, World 6-, World 6-, World 7-11, World 8-, World 8-6, World 8-11
Special World courses:
★World 2-2, ★World 3-5, ★World 4-2, ★World 4-, ★World 5-6, ★World 6-, ★World 6-8, ★World 7-, ★World 7-, ★World 8-5

Grand Comet Medal
2
Special World courses:
★World 6-, ★World 6-5, ★World 6-7, ★World 6-, ★World 7-4, ★World 8-6, ★World 8-11

Fruit
2
Normal world courses:
World 5-5, World 5-7, World 6-3, World 6-7, World 7-5, World 8-6
Special World courses:
★World 1-6, ★World 2-5, ★World 3-2, ★World 3-6, ★World 4-3, ★World 4-5, ★World 4-8, ★World 5-6, ★World 6-3, ★World 6-6, ★World 6-7, ★World 7-9, ★World 7-11, ★World 7-, ★World 8-6, ★World 8-8, ★World 8-11

Rare Fruit
2
Special World courses:
★World 5-, ★World 5-, ★World 6-, ★World 7-1, ★World 7-5, ★World 8-12

Fire Flower
1
Normal world courses:
World 5-3, World 5-8, World 6-4, World 7-3, World 7-9, World 7-
Special World courses:
★World 5-1, ★World 5-, ★World 6-1, ★World 7-4

Ice Flower
1
Normal world courses:
World 2- (not indicated, but can be obtained),World 3-, World 3-, World 3-4, World 4-3, World 4-4, World 4-6, World 5-2, World 5-8, World 6-5, World 7-3, World 7-9, World 7-, World 8-8
Special World courses:
★World 3-1, ★World 3-, ★World 3-, ★World 3-5, ★World 4-4, ★World 7-2

Poison Mushroom
1
Normal world courses:
World 5-, World 5-6, World 6-1, World 6-, World 6-8, World 7-1, World 7-, World 8-1, World 8-10
Special World courses:
★World 5-8, ★World 6-2, ★World 6-5, ★World 6-6, ★World 7-3, ★World 7-, ★World 7-, ★World 8-, ★World 8-

Gold Mushroom
2
Normal world courses:
World 3-2, World 3-6, World 4-7, World 4-8, World 4-, World 5-5, World 5-7, World 6-3, World 6-, World 6-7, World 7- (not indicated, but can drop), World 7-5, World 8-6
Special World courses:
★World 1-6, ★World 3-, ★World 3-6, ★World 3-, ★World 4-5, ★World 4-8, ★World 4-, ★World 5-5, ★World 5-, ★World 6-3, ★World 6-6, ★World 6-7, ★World 6-8, ★World 7-5, ★World 8-6, ★World 8-8, ★World 8-11

Grand Gold Mushroom
2
Special World courses:
★World 3-3, ★World 3-6, ★World 3-, ★World 7-, ★World 8-4

Green Star Coin
2
Normal world courses:
World 2-2, World 2-3, World 2-6, World 2-, World 3-2, World 3-3, World 3-, World 3-6, World 3-, World 4-2, World 4-, World 4-, World 4-8, World 6-3, World 7-4, World 7-7, World 7-11, World 8-4, World 8-12
Special World courses:
★World 1-3, ★World 2-3, ★World 2-, ★World 3-2, ★World 3-4, ★World 3-, ★World 4-2, ★World 4-3, ★World 4-, ★World 4-8, ★World 5-3, ★World 5-8, ★World 6-3, ★World 6-, ★World 7-3, ★World 7-7, ★World 7-11, ★World 8-4, ★World 8-10, ★World 8-12

Grand Green Star Coin
2
Special World courses:
★World 2-3, ★World 2-, ★World 2-, ★World 2-, ★World 3-, ★World 4-7, ★World 5-3, ★World 5-5, ★World 6-, ★World 7-1, ★World 7-3, ★World 7-, ★World 8-8

P-Wing
1
Normal world courses:
World 1-6, World 1-, World 2-1, World 2-2, World 2-3, World 2-4, World 2-, World 2-5, World 2-6, World 2-, World 3-1, World 3-, World 3-3, World 3-4, World 3-6, World 4-1, World 4-5, World 4-7, World 4-, World 5-6, World 6-1, World 6-8, World 7-1, World 7-2, World 7-, World 8-1, World 8-10

Spiky Shell
2
Special World courses:
★World 1-, ★World 2-1, ★World 2-6, ★World 4-5, ★World 5-, ★World 5-7, ★World 6-2, ★World 6-3, ★World 6-6, ★World 7-, ★World 7-11, ★World 8-1, ★World 8-, ★World 8-, ★World 8-10, ★World 8-

Grand Spiky Shell
3
Special World courses:
★World 8-, ★World 8-

Star Coin
1
Normal world courses:
World 2-2, World 2-4, World 2-6, World 2-, World 3-1, World 3-3, World 3-, World 3-5, World 3-, World 4-2, World 4-, World 4-, World 4-8, World 6-3, World 6-, World 7-4, World 7-7, World 7-11, World 8-4, World 8-12
Special World courses:
★World 1-3, ★World 2-3, ★World 2-6, ★World 3-2, ★World 3-3, ★World 3-4, ★World 3-, ★World 4-2, ★World 4-6, ★World 4-8, ★World 5-2, ★World 5-7, ★World 5-8, ★World 6-3, ★World 6-, ★World 7-2, ★World 7-7, ★World 8-1, ★World 8-12

Grand Star Coin
2
Special World courses:
★World 2-3, ★World 2-6, ★World 3-, ★World 4-6, ★World 5-2, ★World 6-, ★World 6-8, ★World 7-1, ★World 7-2, ★World 7-9, ★World 7-, ★World 8-1

Star Gem
3
Normal world courses:
World 7-, World 7-, World 7-, World 7-, World 8-
Special World courses:
★World 1-, ★World 2-, ★World 3-, ★World 4-, ★World 7-, ★World 8- (not indicated, but does appear), ★World 8-7

Super Mushroom
1
Normal world courses:
World 2-1, World 2-4, World 2-, World 2-5, World 2-, World 2-, World 3-, World 3-4, World 4-3, World 4-4, World 4-6, World 4-, World 5-3, World 5-, World 6-2, World 6-, World 6-4, World 6-, World 6-, World 8-5
Special World courses:
★World 2-1, ★World 2-4, ★World 2-5, ★World 2-6, ★World 2-, ★World 3-, ★World 3-, ★World 3-4, ★World 3-5, ★World 4-4, ★World 6-, ★World 7-, ★World 7-4, ★World 7-, ★World 8-

Super Leaf
1
Normal world courses:
World 4-3, World 4-4, World 4-5, World 4-6, World 4-, World 5-2, World 5-, World 6-5, World 7-2, World 8-, World 8-8
Special World courses:
★World 4-1, ★World 4-4, ★World 4-, ★World 6-6, ★World 7-5, ★World 7-

Super Star
2
Normal world courses:
World 4-2, World 4-6, World 4-, World 4-8, World 5-1, World 5-5, World 6-, World 6-6, World 6-7, World 6-, World 7-1, World 7-9, World 8-5, World 8-6, World 8-11
Special World courses:
★World 2-2, ★World 2-5, ★World 3-5, ★World 4-2, ★World 4-, ★World 5-6, ★World 6-4, ★World 6-

Grand Super Star
2
Special World courses:
★World 4-3, ★World 4-, ★World 6-4, ★World 6-, ★World 6-8, ★World 7-7, ★World 8-5, ★World 8-6, ★World 8-10
See also
[
edit
]