Escape Hatch
From the Super Mario Wiki, the Mario encyclopedia
Jump to navigation
Jump to search
Escape Hatch is one of Kat & Ana's animal-related microgames, featured in WarioWare: D.I.Y. Showcase. The title is a pun on "escape hatch".
Gameplay
[
edit
]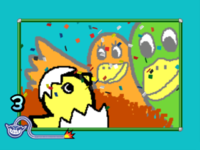 There is a black screen with a small crack in the middle. The player must simply press

on the crack several times, until it hatches, revealing two birds and a newborn baby bird.
Names in other languages
[
edit
]
Language
Name
Meaning
Japanese
たんじょう
Tanjō
Birth
Italian
Si nasce!
Time to be born!
Spanish
Cascarón
Shell
Kat & Ana's microgames
WarioWare, Inc.: Mega Microgame$!
Hare Scare • Munch a Bunch • Lickety-Split • Flower Shower • Go Fer the Tater • Picture Perfect • Leafy Greens • Crane Game • Veggie Might • Mouse Trap • Coconut Catapult • Bug Bite • Disc O'Dog • Fruit Fall • Penguin Shuffle • Two Birds, Big Rocks • Hoppin' Mad • Worm Squirm • Kitty Cover • The Claw • Spunky Monkey • Crack Down • Raaaarrrrggghh • Blow Hole Bridge • The Frog Flap
WarioWare: Twisted!
Bubblegum Blues • Big Drip • Rocky Reunion • Vicious Veggies • Nuts! • The Wave • Contact Lens Solution • Going Postal • Launchpad • Crazy Crush • Falling Asheep • Stalled Out • Thar He Blows • Mixed Grill • Survival of the Quickest • Weird Science • Slap Jack! • Crazy Straw • Beauty School • Track Star • Nose Dive
WarioWare: Touched!
Finger Painting • Long Division • Domestic Issue • Feeling Saucy • One-Liner • Finish Line • Hair Supply • Bright Idea • What's Your Sign? • Divide and Conquer • Write On, Dude • Hookin' Up • Corrections Officer • Midnight Weirdo • The Proud, the Fuse • Ring Master • Shoo! • In the Loop • Hi, Wire! • Ramp It Up • Galaxy Bounce
WarioWare: Smooth Moves
Cutting Edge • On the Edge • Serve Already! • Paper Trail • Object D'Art • Frequent Flyer • Extreme Patty-Cake • Writer's Block • BYOM • Teeth Polithe • Cookie Rookie • A Moment of Reflection • Saving Face • Stick It Through 'Em! • Shear Terror • Fitting In • S-T-R-E-T-C-H! • Budget Dentistry • A-maze-ing • Simon Says • Code Dependency • Mall Tour • Driver's Ed
WarioWare: D.I.Y. Showcase
Stripy Sea • Fish Which • Ball & Chain • Crypto Zoo • The Lily Cup • Officer K-9 • Bird-Watcher • Animal Xing • Critterific • Red-Handed • Pork Sort • Rabbit River • Cheese Run • Door Dash • Out of Water • Worm Food • Escape Hatch • Dog Catcher • Caterpillage
WarioWare Gold
Bug Eyed • Burning Sensation • Cheap Thrill • Clog It • Coin Count • Crowded Desktop • Going Up • Good Times • Impressionism • Off-line • Oh, the Irony • On the Mark • Oral Hijinks • Page Panic • Right in the Eye • Salad Daze • Secret Ingredient • Sleepy Head • Sticking Point • Tune Out • Up for Grabs • Very Attractive • Write On, Dude • XYZ! • Top Notch
WarioWare: Get It Together!
Stick to It • Shoo, Fly! • Egg It On • Crayfish Crash • Turtle Tipper • Roll Call • Cloudy with a Chance of Sun • Drop Zone • Look Both Ways • Family Reunion • Peekaboo • Doggone Thirsty • Monochrome Creatures • Wheel You or Won't You? • Kitty Business • Do Feed the Giraffe • Break the Ice • Chompy Chirpers • Web Surfer • Sayonara, Snakes • Ocean Hero • Fluff It Out • Safari Tour
WarioWare: Move It!
A Swing at Love • Bomb Disposal • Cake Flower • Cowboy Up • Curling Champ • Deep Focus • Feeling Crumby • Glove Bite • Great Cleave • Magical Form, Go! • Obedience School • Put a Lid on It • Rocky Road • Safe Snacker • Screwed Tight • Shell Shine • Snake Smack • Taxi! Taxi! • The Cat's Meow • Wriggle Out • Uniform Distribution