User talk:Supermariofan67
From the Super Mario Wiki, the Mario encyclopedia
Jump to navigation
Jump to search
Navigation: (User page • Talk page • Sandbox 1 • Sandbox 2 • File Maintenance Project Page • Status • Signature)
Status: Slightly active. I have more free time now so I'll probably spend more time here. (Updated 00:02, June 8, 2021 (EDT))
Current project: Replacing and uploading Mario Kart Wii and New Super Mario Bros. Wii screenshots, doing various file maintenance (mostly for those two games).
Welcome, Supermariofan67!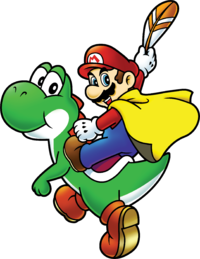 Hello and welcome to the Super Mario Wiki, a collaborative knowledge-base dedicated to the Mario franchise. We're glad to have you as a member. If you have any questions, just post them on the FAQ talk page or ask an experienced member, patroller, or administrator.
The following articles contain guidance and information about reading, authoring, and participating in the Super Mario Wiki community. If this is your first time visiting, please read our introduction.
How do I do that?
Specific help
Categories
You are welcome to browse through the following categories:
External resources
Things you can do
Feel free to delete this message when you're done reading it. We hope this information is helpful, and that you'll have a great experience contributing to our knowledge-base and our community. Remember to enjoy your experience here and to also have fun!
Signature
[
edit
]

Dear Supermariofan67,
Your current signature is in violation of one or more of the rules listed on MarioWiki:Signatures (too many images). Please change your signature and keep the regulations and requirements in mind when creating future designs. If you have not made the appropriate changes within one week of receiving this notice, your signature will be changed for you.
You can only have up to two static images on your signature. --

TheFlameChomp (talk) 12:00, 16 February 2017 (EST)
Ok. I fixed it. --

Super Mario

Fan

67 (T•C•S) 12:03, 16 February 2017 (EST)
Wii U Uploads
[
edit
]
Very good uploads. I don't think most people know that trick that you can play a Wii U game live, use the built-in web browser, and navigate to a website that has an upload dialog UI (MarioWiki in this case going to Special:Upload) to upload a screenshot 1280x720 in resolution. I have all sorts of tricks in a WIP guide all about uploading high quality images. --Wildgoosespeeder (talk) (Stats - Contribs) 17:35, 21 February 2017 (EST)
Thanks! I'm not sure how other people get such bad images. This is the only way I know to do it. --

Super Mario

Fan

67 (T•C•S) 17:38, 21 February 2017 (EST)

Many people take a lazier way of doing things, such as Google Image Search or YouTube snapshots. They had the power all along to upload high quality screenshots and never realized it. There is also the factor of not understanding how an image format works and what format is best for what situation. Recently, it became policy not to convert between formats. Don't confuse this with replacing because it is not against policy redoing a picture, which requires more effort than just converting an image to a different format. I replace images frequently. Here's my uploads, the delete log, and stuff to delete. From my experiences, just for screenshots and sprites, PNG for everything except for Wii U screenshots and Miiverse uploads because those cases are JPEG. --Wildgoosespeeder (talk) (Stats - Contribs) 17:51, 21 February 2017 (EST)
Optimizing PNGs
[
edit
]
If you are concerned about the color changes, likely the PNG contained metadata, which web browsers ignore, how to color correct the base image. An optimizer applies the changes permanently, as described in a FAQ here. --Wildgoosespeeder (talk) (Stats - Contribs) 15:14, 27 February 2017 (EST)
That's what I thought. I just got concerned that a few of them were very different.

Super Mario

Fan

67 (T•C•S) 15:25, 27 February 2017 (EST)
Saving JPEGs
[
edit
]
What are you using to save JPEGs? Microsoft Paint? If you are, use FastStone Image Viewer and set the JPEG settings to 100%. It won't completely make the images lossless, but lossy encoding will be minimal. --Wildgoosespeeder (talk) (Stats - Contribs) 23:36, 9 March 2017 (EST)
I crop images in MacOS's built-in Preview app, which might have the same effect that Paint does. I could try Gimp. I think it has the ability to set quality when saving.--

Super Mario

Fan

67 (T•C•S) 23:55, 9 March 2017 (EST)
Yeah, I don't think so, that kind of makes it sound like Color Splash was the only one with enemy boos.
The preceding unsigned comment was added by Pikmin theories (talk).
I changed it a little bit. I am not very familiar with the Paper Mario series, but I think it is correct now. --

Super Mario

Fan

67 (T•C•S) 14:19, 12 March 2017 (EDT)
Better, but then there aren't any in the original Paper Mario though, as those are friendly boos. that's what makes this one so hard.Pikmin theories (talk) 14:20, 12 March 2017 (EDT)
So, should it even mentioned at all? --

Super Mario

Fan

67 (T•C•S) 14:23, 12 March 2017 (EDT)
I believe so, as it is a difference from the other Paper Mario Games, It's just that it's hard to word it right as Paper Mario was the only one not to have Boos as enemies, but all the other ones that had boos as enemies also had a giant boo, but not Color Splash.Pikmin theories (talk) 14:25, 12 March 2017 (EDT)
Yeah I think so too.Pikmin theories (talk) 14:29, 12 March 2017 (EDT)
Hey There
[
edit
]
Hello, Supermariofan67. I was wondering if you or someone could upload a transparent version of Toadette's artwork from Mario Tennis: Ultra Smash for more general use. Thanks. --MarioKartDoubleDash (talk) 15:04, 21 March 2017 (EDT)
re:Featured article nomination
[
edit
]
Well the way we handled a similar situation for the Paper Mario nomination was to let 24 hours for the user to reconsider their vote, or let it stand and fail the nom, and then start a new nom right away if nothing happened. I'll chip in to remove that vote. --Glowsquid (talk) 22:01, 12 April 2017 (EDT)
Boom Boom
[
edit
]
Is it possible for you to upload a cropped version of this screenshot to replace this picture on the Super Mario 3D World page? It was discussed that cropping the screenshot is better than using a model render. --

TheFlameChomp (talk) 10:59, 22 April 2017 (EDT)
Done --

Super Mario

Fan

67 (T•C•S) 11:04, 22 April 2017 (EDT)
Proposal Concerns
[
edit
]
Over on MarioWiki talk:Proposals/Archive#Split Archive Page by Year, you voted against the proposal. Please consider retracting your vote. I made a tweak to the main proposal based on comments. --Wildgoosespeeder (talk) (Stats - Contribs) 15:34, 15 May 2017 (EDT)
Reply: protected templates
[
edit
]
Sorry for the late respond, but it's done.

L151

ImageOptim for PNG Images
[
edit
]
I was talking to Wildgoosespeeder on my talk page and he told me that you are more familiar with the PNG image optimizer ImageOptim for Mac. I was confused about what settings to use for optimizing images. I'm not sure if it's similar to the PNG monstrous thing that he uses. If you could help me with this, that would be great.

LuigiMaster123 11:28, 30 July 2017 (EDT)
Nevermind. I think I understand what to do.

LuigiMaster123

11:40, 30 July 2017 (EDT)
If it works on mobiles and displays them in a convenient and effective manner, then it will get the job done, and that's all I care about. Do what you think is best. Lcrossmk8 (talk) 23:12, 1 January 2018 (EST)
I elaborated on my oppose vote on this proposal, which I think you might want to comment on, especially regarding the last point.


(T|C) 16:08, 18 January 2018 (EST)
About those Captain Toad pages, a "stub" isn't just a short page. A stub is a 1-4 or so sentence long page without much helpful information. Really the only problem with those pages are that the "layout" sections are a little short, but the levels themselves aren't that big anyways. Doc von Schmeltwick (talk) 17:06, 19 November 2018 (EST)
How long can I wait until I can be able to create/edit my user/talk page? I'm here for anti-vandalism work, and to ensure that Super Mario Wiki is what it should be, a user-made encyclopedia, and not a playground for vandals. DRWindsor (talk) 10:53, July 2, 2019 (EDT)
Welcome! You will become autoconfirmed after at least seven days and ten edits. That will give you the ability to edit your user page and certain semiprotected pages on the wiki. However, you should already be able to create your user talk page. --

Super Mario

Fan

67 (T•C•S) 10:58, July 2, 2019 (EDT)
RE:Underground Coin Collecting
[
edit
]
Not quite. The big contradiction is the existence of the POW Block in the center, though the other weird thing is the Clear Pipes in the center. That being said, if you want to re-add it, try to do it in the body rather than the introduction.


(T|C) 13:25, July 2, 2019 (EDT)
From one file czar to another
[
edit
]
Hey, since you seem to like harvesting photos for pages, have you considered any other games besides the ones you're doing now? Some games I noticed that need help are Mario Party 8 and Super Mario Strikers (and Charged, probably). I don't have a clue as to how you do what you do, but I have come to understand that it is a Wii and Gamecube capturing device, so if you would want to do those, there is a lot for ya. Thanks for being great. Trig - 21:11, July 2, 2019 (EDT)
---
missed one for quality File:SDG1.png Trig - 20:42, July 7, 2019 (EDT)
Thanks! --

Super Mario

Fan

67 (T•C•S) 21:35, July 7, 2019 (EDT)

There's actually a few, so you may want to see the ones I recently tagged that are 16~18 bytes. Trig - 21:48, July 7, 2019 (EDT)
---
'Occasionally use terminology' has been moved to 'Terminology' on my main page, a link that is used frequently. Trig - 15:42, July 10, 2019 (EDT)
Got it, thanks! --

Super Mario

Fan

67 (T•C•S) 15:47, July 10, 2019 (EDT)
---
Heyyyy I thought I saw a thing about you starting SMG soon, and while you are ready, I'm definitely not. I still have a lot to riffle through, and it will take some time. If you start now, please don't pass the letter S alphabetically if you go through the Category. I can move only so fast, but I'll try to focus on getting it squared away before moving to SMO. Thaaanks. Trig - 19:19, July 14, 2019 (EDT)
Open the floodgates. My work on Galaxy (for now) is done. Have at it. Trig - 21:24, July 16, 2019 (EDT)
---
Now I have absolutely zero authority or confirmed knowledge on this matter, but personally if I'm changing file name links (one with :File: ) on talk pages such as Alex95's recent bullet bill, I think it may be preferred to alternatively name the file. For example, if the old file was named 'MK old logo.png' and is now Mkold.png, it should be formatted to look like this: [[:File:Mkold.png|:File:MK old logo.png]]. I think this preserves the text of the old image, especially since sometimes the discussion on said talk page is about the file name. Still prevents breaking, but also prevents confusion and changing archives. The only exception I really have for it is the rap test because that'd take too much time for a page maybe three people tops look at ever. Trig - 15:34, July 15, 2019 (EDT)
---
Hey, if you would like to help with this little project I'm trying here, to move some SPP files, let me know on my talk page. More simple information can be found here under 'Project'. Trig - 21:52, August 17, 2019 (EDT)
the sun is a mass of incandescent gas. Trig - 22:13, August 17, 2019 (EDT)
---
Example photo on a User talk page
[
edit
]
Renaming For Clarity
[
edit
]
Don't have a reason to move them back, but the files you "renamed for clarity" were already named well enough. Not a major problem now since you fixed all the links already, but if a name is already clear, it doesn't need to be moved.


00:32, July 6, 2019 (EDT)
Hm, alright, that's fine then ^^ 01:03, July 6, 2019 (EDT)

Yeah, I recently changed RFC to be consistency to further distinguish it from RFA (renamed for accuracy), as a majority of the ones I was doing was somewhat the same. I don't expect to change any more of my terms anytime soon though. Sorry bout that. Trig - 10:08, July 6, 2019 (EDT)
I hear you add images. You wouldn't mind helping me add images to merchandise galleries, would you? There's a lot of stuff to add and I don't have a computer, so I can't look at jpg names, png names or urls unless someone sends me the name of the link or file. Lots of stuff that I added got taken down because they didn't have images to backup their existence. But those images do exist. I just can't add them by myself. Revlon Mario shampoo was one of the items that got removed, but everything else was on the food gallery and I'm planning to look for clothes, backpacks, toys, alarm clocks and many more. Lord Falafel (talk) 20:29, July 7, 2019 (EDT)
About HEROWALUIGI
[
edit
]
I don't mean to cause trouble, but he broke the rules of this wiki. Stuff like that sets me off. And I mean no disrespect, but I want this site to be friendly and maintain balance. There's just so much going on in my life and I'm struggling to be a good editor for Steve. I want to be the best I can be. I'm trying my hardest to educate the Mario community and I can't do that if I make enemies on here. I want us all to get along. So, I'm sorry for being an awful person. I'm ashamed of myself. Lord Falafel (talk) 00:00, July 14, 2019 (EDT)
Re: SM3DW icon
[
edit
]
The png one has been said to be a converted version, which is against policy. --

FanOfYoshi 14:30, July 15, 2019 (EDT)
Re:Undergrunt
[
edit
]
The problem is that the entire point of the image in the first place was to show an angry Undergrunt as we didn't have a picture of that otherwise. Anyways, I'm happy to hear that there was no malicious intent behind the "oops," but I have seen that happen before, with people saying "oops" alongside actively-malicious edits. Doc von Schmeltwick (talk) 22:05, September 3, 2019 (EDT)
I can't edit certain pages
[
edit
]
Hello Supermariofan67! Recently while playing Super Mario Galaxy, I discovered a glitch that had not been documented on this site or any other I've looked at. I wanted to add it to the page with a list of glitches in Super Mario Galaxy but the page was protected. Is there a way to edit this page or not? Mewpowa (talk) 20:32, October 22, 2019 (EDT)
Continued discussion on gamma-image/color corrected
[
edit
]
As last discussed here
@Trig Jegman, @Mister Wu, I made a quick (still incomplete) draft of a page that could describe the technical parts of color-correction metadata and how to safely optimize these images in my sandbox. There are still a few missing details I haven't figured out yet, and anyone is encouraged to add to it or take details from it to make something else (we don't have to use it of course, I don't know if all of the information is relevant/important to include). Additionally, while it might be nitpicky, I think it might be a good idea to refer to the metadata as "color-correction metadata" rather than "gamma brightening," since technically gamma is only one type of color-correction metadata and iCCP seems to be the most common from the images I've tested. --Super Mario Fan 67 (T•C•S) 18:24, February 19, 2020 (EST)
Perhaps it would be more appropriate then to use {{color-corrected}}, with the following? The link would be a new page that explains color correction in a much more broad sense with a section on how to properly optimize the images. Trig - 19:00, February 19, 2020 (EST)
Yes, I like that idea. --

Super Mario

Fan

67 (T•C•S) 19:10, February 19, 2020 (EST)

Would you like me to gather other people to view what's written so far or will you pursue that yourself? - Trig - 09:43, February 25, 2020 (EST)