The 'Shroom
:
Issue LXI/Pipe Plaza
From the Super Mario Wiki, the Mario encyclopedia
Jump to navigation
Jump to search

Hello readers, and welcome to the April '12 Issue of Pipe Plaza!!
First of all, I'd like to thank the former Pipe Plaza Director, Marioguy1 (talk), and the rest of the Core Staff for this oportunity. As I probably said in previous issues, I simply love writing for the paper, and actually directing the team you have been contributing to for over a year is a pleasing reward, albeit not an easy one, for sure.
As always, I'll try to do my very best like no one ever was as the new Pipe Plaza Director, and I will keep doing so as a regular writer.
Now, don't waste your time with me! Go read this month's issue!
More Info
When checking edits that seem wrong on a page, use the "History" button, next to the "Edit" tab at the top. You can compare previous edits to the current edit, and it will also tell you who made that particular edit. This feature is also helpful with talkpages. If you find that someone has deleted a comment that someone else left for whatever reason, you can undo the edit easily by hitting the "undo" button next to the most recent edit.
Hey, everyone, it's MrConcreteDonkey, and welcome again to Forum Update. First, I'd like to congratulate Paper Yoshi for becoming the new director of Pipe Plaza. Now, let's take a look at what's happened recently on the forum:
Top Stories: apocalypseArisen (Master Crash (talk)) was promoted to Forum Administrator in early April. Crash has been around on the forum since 2007, so he's a very experienced member of the community. Congratulations!
PipeProjects have been moved from the Wiki to the Forum, taking the form of a new board called Wiki Collaborations. The one who brought up the overhaul was Forum Administrator and Wiki bureaucrat Glowsquid (Glowsquid (talk)), who helped a lot with the move. The types of thread that can be made there are:
Collaborations, which involve multiple users, and are usually things like removing defunct templates, or improving on a set of articles.
Requests, where a user can request for coverage to be added on something.
Wiki Discussions, which are general discussions about things on the Wiki and its policies.
UltraMario (UltraMario3000 (talk)) was banned for two weeks, for posting inappropriate images and videos.
Stats: As I'm writing this, 2012 topics have been made in 2012. That's pretty nice.
In March, 511 new topics were made, and 24992 posts. 38 members joined, which is the same as January's amount, and 151 was the most people online at once (I'd like to specify that this includes registered members and guests). This was the highest so far in 2012, and was on the 10th.
TOP 10 POSTERS
Smasher (Smasher (talk)) – 28472
Sharks Territory (Ralphfan (talk)) – 24213
UltraMario (UltraMario3000 (talk))– 22031
Nega-Man (Mileycyrussoulja (talk)) – 21422
Solar Blaze (SolarBlaze (talk)) – 15743
Buster Baxter (Superjeff64 (talk)) – 13987
Lily (Legend of Lily (talk)) – 12516
Herr Shyguy (Shyguy27 (talk)) – 12131
Baby Luigi (BabyLuigiOnFire (talk)) – 12001
Christian Brutal Sniper (Marcelagus (talk)) – 11707




Green signifies the user is at a higher position than last month.
Blue signifies the user is at the same position as last month.
Red signifies the user is at a lower position than last month.
Bold signifies the user is a new entry to the top 10.
Mafia: Currently ongoing are QuizmoManiac's (QuizmoManiac (talk)) Mafia, Yoshiwalker's (Yoshiwaker (talk)) Insane Mafia and Fi's (Baby Mario Bloops (talk)) The Legend of Zelda: Skyward Sword Mafia.
---
Thanks for reading. See you next month, when, hopefully, I'll think of a better outro!
Hello, welcome to April's version of the Community Report.
Policy Changes and Updates
MarioWiki:Navigation templates was overhauled and passed through a Writing Guideline proposal. The changes made created clear, concise standards for colors in navigation templates and provided a consistent order for placing nav templates on articles.
The little used PipeProject system was removed via proposal and a forum board was created instead.
Proposals from the Past Month
Currently Running Proposals and TPPs
Sitenotices from the Past Month
Please ensure that all comments made on talk pages are related to improving the article; anything else (i.e. "this character is cool" or "I can't beat this level") should be saved for the forum.
A forum board for wiki discussion and project coordination has been created to replace the little-used PipeProjects system.
Promotions and Demotions
Welcome to April's Mario Calendar, everyone!! We're now here to see all the Mario, Yoshi, DK and Wario games released in the first (full) month of spring (or autumn/fall for those from the Southern Hemisphere, just like me).
| Abb. | Region |
| --- | --- |
| NA | North America |
| JP | Japan |
| EU | Europe |
| AU | Australia/New Zealand |
| KO | Rep. of Korea |
| CN | People's Rep. of China |
April 2nd
April 3rd, 2009 (EU):
April 4th
April 5th (NA)
April 6th, 2006 (AU): Mario Smash Football (GCN)
April 7th, 2008 (NA): Yoshi's Cookie (NES-VC)
April 8th, 2010 (CN): Dr. Mario Express (iQue DSiWare)
April 9th (NA)
April 10th, 2008 (JP): Mario Kart Wii (Wii)
April 11th (EU)
April 12th
April 14th, 2000 (EU): Wario Land 3 (GBC)
April 15th, 2010 (KO):
April 19th, 2007 (JP): Super Paper Mario (Wii)
April 20th
April 21st, 1989 (JP):
April 22nd, 2004 (JP): Mario Golf: Advance Tour (GBA)
April 24th, 2008 (AU): Mario Kart Wii (Wii)
April 26th, 1999 (NA): Super Smash Bros. (N64)
April 27th (NA)
April 28th, 1989 (EU): Super Mario Bros. 2 (NES)
April 29th, 2009 (JP):
April 30th
April 1993 (NA): Yoshi's Cookie (NES/GB)
And that's all for this month!! I'll see you in Upcoming Games!
Hello there, and welcome to the April Issue of Upcoming Games! This month's Upcoming Game will be released for the Nintendo 3DS in late May, and many of its features have already been unveiled. The game (haha you lost the game) is a Mario spin-off, and the first of its series in nearly seven years.
So warm up and get your gear all set up, because April's Upcoming Game is...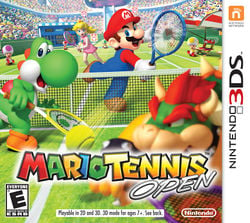 Mario Tennis Open!
Mario Tennis Open marks the return of the Mario Tennis series after the release of Mario Power Tennis (Mario Tennis: Power Tour in North America) for the Game Boy Advance in 2005. It's the sixth game of the series, the third in a handheld console. However, MTO is more closely related to the console Mario Tennis games, being the first handheld installment in the series without a Story Mode or RPG elements.
Mario Tennis Open is set to add new features to the Mario Tennis series, such as touch screen control to execute moves and online multiplayer, while keeping game modes and gameplay mechanics from previous games.
Game modes include Exhibition Mode, with Singles and Doubles matches, and Special Games, aside from the new-to-the-series Online Multiplayer, which connects to players around the world using the Nintendo Network.
So far, 12 characters from the Mario series have been confirmed to appear in the game. Additionally, players will be able to choose their Mii instead of regulars such as Mario or Yoshi. Miis will also be customizable with tennis gear, allowing players to alter their Miis' stats.
Release Dates
North America: May 20th
Japan: May 24th
Europe: May 25th
---
And that concludes this issue! I hope you have enjoyed it! See you next month!
"Stay tuned to Upcoming Games for news on the games you'll be playing soon!"
Hey guys! Marioguy1 here, with some more News from NIWA/NIWA News/Not another Notable Number of Nifty NIWA Narrations. Last month I promised I would tell you who the other two new members are, and this month I'll make good on that promise. If you haven't already seen via the front page of the wiki, the two new NIWA members are:
Icaruspedia - your one-stop shop for all things Kid Icarus! That's this guy. With over 300 articles on the three games of the series, Icaruspedia is an excellent place to learn more about Kid Icarus. If you already know a lot, you can help out there too - with the recent release of Kid Icarus: Uprising, they need some help adding content!
The Dragon Quest Wiki is another excellent wiki, this time all about the Dragon Quest series (the other half of this game). With nearly 3,000 articles, the wiki is very well-off and a great place to visit.
Combine that with last month's F-Zero Wiki and you have a triumvirate of top-tier talent! Bravo to all three and be sure to check them out!