The 'Shroom
:
Issue 161/Pipe Plaza
From the Super Mario Wiki, the Mario encyclopedia
Jump to navigation
Jump to search

Director's Notes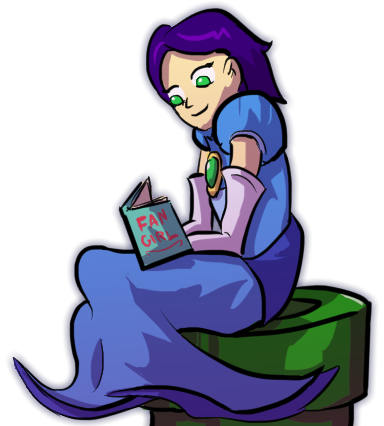 Happy August everyone! If you're someone who's going back to school in the coming weeks (or if you've already gone back), please stay safe! I start college in about two weeks so things are crazy for me right now. In unrelated news, one of my favorite music groups is releasing new music on Monday and I cannot WAIT.
I hope everyone enjoyed awards yesterday! I certainly did, it's always one of my favorite times of the year. I'm already excited for next year~ :3c
Don't forget if you're interested in writing a section for Pipe Plaza, you can check out the sign up page to see what catches your interest! Enjoy the month, and Pipe Plaza as well!
Section of the Month
Pipe Plaza SECTION OF THE MONTH
Place
Section
Votes
%
Writer
1st
Mario Calendar
7
38.89%
GPM1000
2nd
NIWA News
5
27.78%
Alex95
3rd
Interview
4
22.22%
Ninja Squid
---
MarioWiki Sections
---
Stay up-to-date with the latest happenings from the NIWA wiki network!
[read more]
---
Find out all about this month's Super Mario releases.
[read more]
NIWA News
Hello, everyone! Welcome to NIWA News, a section where I, Alex95, show the going ons with the wikis in our NIWA group within the last month!
Promotions
Demotions
Other
Mario Calendar
It's GPM1000 here once again for another month of Mario Calendar! I'm sure you've caught on to what this is all about, but if you're new here, here's the deal: there are a lot of games that Mario is featured in, right? Wouldn't it be interesting to see the history of those Mario games? Well here is where that happens! Here I list all of the Mario games that have come out in any one month, this month being August! Well, I'm sure you know what's up now, and want me to stop rambling, so let's-a-go!
Region Abbreviations
| Abb. | Region |
| --- | --- |
| ALL | All Regions (JP/NA/EU/AU) |
| JP | Japan |
| NA | North America |
| EU | Europe |
| AU | Oceania/Australia |
| SK | South Korea |
| CHN | China |
Console Abbreviations
| Abb. | Console |
| --- | --- |
| NES | Nintendo Entertainment System |
| Famicom | Family Computer Disk System |
| SNES | Super Nintendo Entertainment System |
| N64 | Nintendo 64 |
| GC | Nintendo GameCube |
| Wii | Nintendo Wii |
| Wii U | Nintendo Wii U |
| GB | Game Boy |
| GBC | Game Boy Color |
| GBA | Game Boy Advance |
| DS | Nintendo DS |
| 3DS | Nintendo 3DS |
| Switch | Nintendo Switch |
| Wii VC | Nintendo Wii Virtual Console |
| 3DS VC | Nintendo 3DS Virtual Console |
| 3DS eShop | Nintendo 3DS eShop |
| Wii U VC | Nintendo Wii U Virtual Console |
| Wii U eShop | Nintendo Wii U eShop |
| Switch eShop | Nintendo Switch eShop |
| DSiWare | Nintendo DSiWare |
| WiiWare | Nintendo WiiWare |
| VB | Virtual Boy |
| G&W | Game and Watch |
| 64DD | Nintendo 64 Disk Drive |
| MS-DOS | Microsoft Disk Operating System |
| Satellaview | Satellaview |
| CD-i | Philips CD-i |
| e-Reader | e-Reader |
| Arcade | Arcade |
| IQ | iQue Player |
| NVS | Nvidia Shield |
| ACPC | Amstrad CPC |
| Atari | Atari |
Overall, I must say, this month was very light! There were some good things such as Super Mario World 2: Yoshi's Island, but there were many days where nothing was released overall! Oh well, not every month can be an incredible one! Although, let's be honest, any month is a win if a Mario game is released. Hope you guys enjoyed this month's Mario Calendar, and I'll see you next month :)
Anniversary Announcements
Written by: Lakituthequick (talk)
"Surprisingly it wasn't Ernest Fine! He was, well, Ernest Fine, but he may have done the Ernest Crime, like the murderous Ernest Slime he is. Hopefully we can solve this before we run out of Ernest Time!"
Hello again, it's me again with Anniversary Announcements!
The Pyro Guys
Happy anniversary Super Mario Wiki! The wiki blew out 15 candles on 12 August! The ceremony was the 14th! If you somehow haven't watched it yet, do so now! There was all sorts of quality presentations, you're missing out man! Check them out here!
Tournaments
We're nearing the end of the Awards season, so tournaments are also starting to wrap up. Let's see those scoreboards.
Mario Awards Killing Game 4: Despair Incorporated
The merge map of Neo Hope Foundation has been one of the most chaotic Killing Game maps we have ever seen on the Super Mario Boards! Insofar, we have had events such as Ernest Cline night, in which everyone dressed up as an Ernest that rhymes with Cline. In addition, we have had a murderous clown night, with the clown successfully hitting a murder and escaping from the game, besides the regular kill of the night. And then later, the main… antagonist? …Big Changes has been revealed! The game is soon coming to an end…
The 12th round has been extended to allow for people to complete their presentations, and is going on in parallel to the 13th round.
After six rounds, Yoshiwaker has won the single battles, congratulations! Only a couple matches remain to be played for doubles.
The ninth and final round has been played. The sixth course has been Wario's Gold Mine, the seventh was Mushroom Gorge, the eight Moo Moo Meadows and the final one was, per tradition, Rainbow Road. The final race was the face-off between fantanoice, who had the fastest lap in all previous rounds, and Lakituthequick, who also consistently placed high. In the end, the winner of Rainbow Road was… fantanoice! Congratulations!
Last minute sign-ups ensured that two rounds could be played instead of one! After two rounds of both versus and battles, Crackin355 has taken the win in both of them, congratulations!
Anniversary Scavenger Mini
Because of planning issues creating a full-blown Anniversary Scavenger, a small one was instead hosted within just the ceremony instead of community-wide. While the ceremony is over, it is still possible to sign up and play along while reading through the presentations again.
Committee Interviews
Welcome to Committee Interviews! In this part of Anniversary Announcements, I will do short interviews with the members of the Awards Committee, so you can get to know them a bit better!
This month, a returning member: Zange!
Zange
| | |
| --- | --- |
| | You first joined the Committee in 2016 and this year was your second time. What made you decide to join, then and now? |
| | I'm not even sure why I decided to join AC the first time - I think just taking part in that big process seemed really cool to younger me. This time around, there were a few people who convinced me to go for it, and I decided to take another whirl at it. |
| | You weren't entirely convinced yourself yet? |
| | There was a little inkling of "wanting to try again", they just gave me the last nudge I needed to go for it. |
| | Nice, glad you joined us! |
| | Does your position as Pipe Plaza director affect joining and/or being in the AC in any way? |
| | Not particularly? Though I will say getting to see Anniversary Announcements a few days in advance is a nice little bonus, hehe. |
| | Aw, thank you. |
| | What did you consider the most fun part of being in the Committee, or otherwise in the Awards? |
| | For Committee, I really enjoyed some of the conversation about what nominees to add or take out. I don't play a whole lot of Mario, especially not the new games, but it's nice seeing people talk about them in this kind of sense. For Awards in general, making presentations have always been my favorite part. (i ended up late to work one day because of one of mine this year but that's a story for later!) |
| | I'll be sure to ask about that later then! |
| | Did you set any goals for yourself for the awards, or did you just want to have fun? |
| | I guess I just wanted to have fun! Awards season is always an awesome time, it's nice seeing the things that come out of it. |
| | I can't agree more with that! Presentations, games, it's all a good time. |
| | Alright, and is there anything you want to add yourself before we wrap things up? |
| | Not off the top of my head, nope |
| | Okay! Then I'll thank you for your moment of time, and have fun at the ceremony! |
| | Thank you, you as well! |
| | Pleasure's all mine. |
And that's it for this month! Next month I'll be back one last time with the last updates on tournaments that are rounding up, and with two more Committee Interviews. Until then, have a good month!
All information above was correct as of 13 August 2020.
Sprite credits: A.J. Nitro, Atz Chan (tSR)