The 'Shroom:Issue 161/Fun Stuff
From the Super Mario Wiki, the Mario encyclopedia
Jump to navigation
Jump to search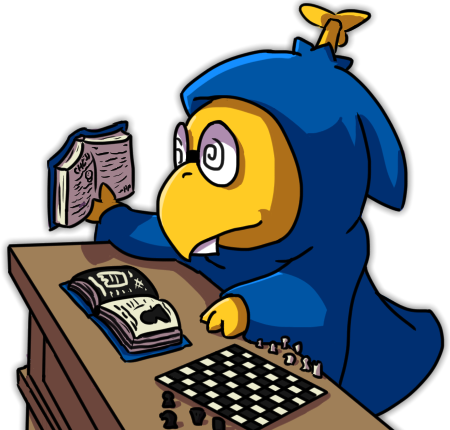 Staff Notes
Written by: Hooded Pitohui (talk)

Hello, all you readers of The 'Shroom! I suppose you didn't expect to see me here this month... unless you read the Staff Notes first, which I'm sure all of you do. Regardless of whether or not you do, I'm keeping this place warm until Roserade (talk) returns from his vacation. Thankfully, I haven't had that much to do around here. It turns out the Fun Stuff team is professional and punctual!
I've mostly been poking around on the computer in here to occupy my time. I hear there was some kind of virus in it last month, but it must have been taken care of, because all I'm finding are folders dedicated to poetry images of Monika. Strange... Well, there's no time to dwell on that mystery. You're here for fun and games, and your usual assortment of Fun Stuff writers are all present and accounted for and ready to provide what you want! Go forth, and enjoy their work!
Section of the Month
It seems that those colored Dr. Mario picross puzzles impressed last month! Goombuigi (talk) takes first place in the Section of the Month voting. I'd like to offer my congratulations to him and all of the Fun Stuff writers you voted for. Please continue to recognize their hard work by voting after you play their games!
FUN STUFF SECTION OF THE MONTH
Place
Section
Votes
%
Writer
1st
Picross
11
40.47%
Goombuigi
2nd
Where in the Marioverse is Carmen Sandiego?
9
33.33%
FunkyK38
3rd
Hiding Koopa
4
14.81%
Ninja Squid
---
Word Activities
---
These Mario Sports Mix words are awfully mixed up.
[read more]
Graphic Activities
---
It's Awards season, so have a maze suited for a party!
[read more]
---
The PS5 may be on the horizon, but a Koopa is hiding somewhere in the horizon of this PS4 title...
[read more]
---
A mystery theme? You'll just have to solve the puzzles to ace what Goombiuigi is serving!
[read more]
Anagrams
Written by: BBQ Turtle (talk)
Hello everybody, I hope you all enjoyed the awards, and congratulations to everyone who won in the community awards! This month, I've put together a set of anagrams based on Mario Sports Mix for you to solve, I hope you'll all enjoy them. If you ever have any suggestions for themes that I could do, or perhaps have come across a funny Mario-related anagram that I could potentially work into an issue, be sure to let me know on my talk page or by sending me a PM on the forums, I'd love to hear from you. And with all that out of the way, I'll let you enjoy the anagrams!
How it works... Basically, this puzzle consists of solving the anagrams. Each month has a specific theme, which will give you a clue about what sort of words or phrases the anagrams will be. I've also included the boxes that the anagrams will fit into, so you'll be able to tell how many words it will solve to be and how many letters will be in each word, which should give you a hand too. You'll also notice that within each set of boxes, one of the squares are yellow. As you solve each anagram, note down the letter which appears in the yellow squares, and if you can solve all of the anagrams, you'll also get a bonus anagram to solve from completing all of the others. I've included the letter configuration for this one at the bottom too, just to give you an extra helping hand. Best of luck!
1. BOOM EXITED IN HI
2. WEIGH MEAT
3. WALLING UP ALIBI
4. HUMANELY SHORT
5. PARTOOK A BOA EPOCH
6. MILLET MESA
7. HOSTILE CAPS
8. GO MOD BOBBED
9. HER LENS GEL
10. SO LAUGHING HELLO
11. CRYPTS OR SALTS
12. GO MOLE
Bonus anagram:
Answers
Exhibition Mode
White Mage
Waluigi Pinball
Harmony Hustle
Koopa Troopa Beach
Metal Slime
Special Shot
Bob-omb Dodge
Green Shell
Ghoulish Galleon
Sports Crystal
Moogle
Bonus anagram: Behemoth King
It's aMAZEing
Written by: Lakituthequick (talk)
Good day and welcome back to It's aMAZEing!
Yesterday was the Awards Ceremony, and since we're still in a festive mood, let's pick an object from Super Mario Party, the Party Pad! Nothing too fancy for today's maze itself, but don't let that contain you!
Do you have an idea for a maze you'd like to see? Leave a message on my talkpage or find me on the forums and send me a personal message, and your idea and name may be featured in a future episode!
How to play:
Copy the image into your favourite art program (like Paint, Photoshop, GIMP, etc.)
Click the line, pencil or brush tool and adjust the size as needed
Draw your line through the maze from start to finish
Zoom in and out as needed
Alternatively, print it out and use a pencil!
To view the answer, click here!
Hiding Koopa
Written by: Ninja Squid (talk)

Greetings, 'Shroom readers! Welcome to yet another round of Hiding Koopa.
I have some news regarding my fabulous Koopa Troopas who like playing hide and seek. This month, they voluntarily choose to boycott Nintendo, and instead have chosen to hide in a Playstation 4 game called Horizon: Zero Dawn. I have never played this game, but I have heard good reviews about it. Perhaps, I would be tempted to play it soon.
Well, in any case, I'm not here to comment on the game in question (that would be better suited for Critic Corner anyway), but rather to tell you to find the usual five Koopa Troopas, which are currently hidden in an artwork of Horizon: Zero Dawn. Have fun!

Answer:
Did you find them? No matter the outcome, thank you for playing, and see you next month!
Picross
Welcome to another issue of Picross, 'Shroom readers! Yet another month has passed, and so, here I am, with more picross puzzles for you to solve. And to make things extra interesting, I won't tell you the theme this time! You'll have to solve the puzzles to figure it out. Good luck!

To readers that are unfamiliar with this section: every month, I will choose a game, character, or item from the Mario series to make a series of picrosses from, ranging from two to four picrosses per issue. If you have any ideas for themes (such as games or characters), feel free to suggest them here. If you're new to picross, or you are unfamiliar to the rules, here is an in-depth, step-by-step tutorial, or you can find rules online. Have fun!

Level 1: Easy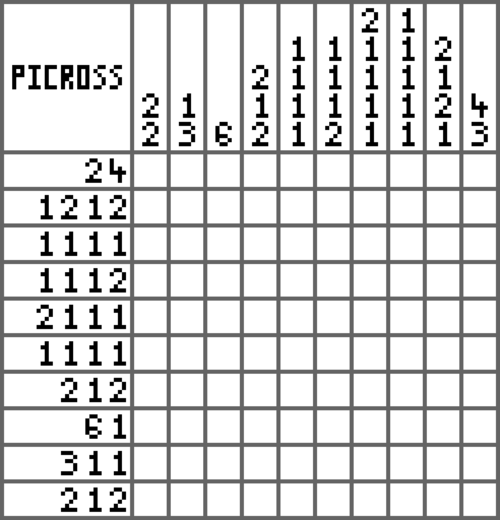 Level 2: Hard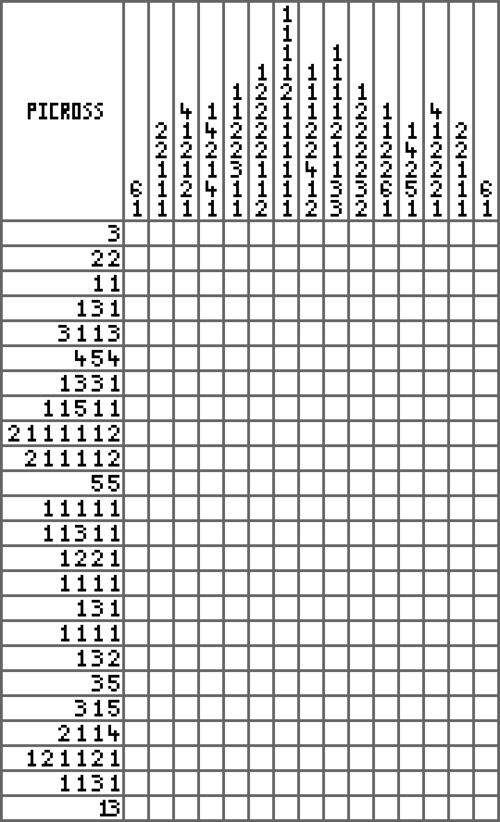 Solutions:

Level 1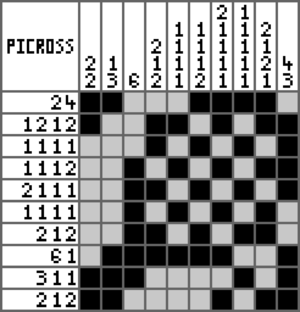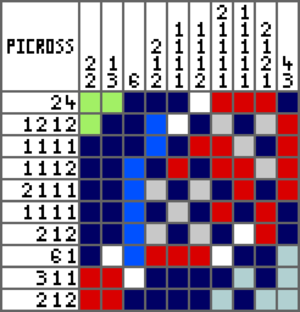 Tennis Racket
Level 2
How did you do? If you enjoyed, be sure to come back next month for more picross goodness!
Where in the Marioverse is Carmen Sandiego?
HOW TO PLAY
Each issue, you will be given a case to solve and clues to use to help you find the solution! Use your Mario knowledge to crack the case!
You will begin each case at the scene of the crime, and you will be given three clues from passerby as to where the next hot spot is and what game it's from. Using your knowledge of Mario games and the Super Mario Wiki, figure out where the crook is and go track them down! There are four locations each round: the crime scene (1) at the start, two locations (2 and 3) with clues, and the hideout for the crook of the month (4). Answers for locations will be given with the corresponding round, for example, the clues from the crime scene will lead you to location 2, and once you open the spoiler bubbles for location 2, you will be given the correct answer. You can open the clues for each location in any order you'd like, but be careful! You may encounter an incorrect clue that could throw you off the case!
Clues offered will give you a hint either about the next location or the game it's in. Unlike a regular Carmen Sandiego game, you do not have to collect information about the crook you are tracking down.
Challenge round (optional):
-Find all locations and games correctly in two minutes or less
-Find all locations and games correctly without using the rest of the Wiki for help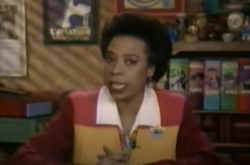 "Gumshoe, there's a case of kidnapping on our hands! Carmen has managed to convert a small squad of paper soldiers to her side, and they've kidnapped Olivia! As Mario's guide partner in
Paper Mario and the Origami King
, Olivia works as both a guide for Mario while he is on his journey and his only way to use the Thousand-Fold Arms, a unique power that gives Mario the ability to interact with the environment by reaching, grabbing, pulling and shaking the layers of the world around him. Without her, Mario can't complete his journey to stop the Origami King from turning the whole kingdom into origami! You have to find her, gumshoe!"
Crime Scene

The Crime

Save Olivia from Carmen's clutches!

CLUE 1

The air smells of flowers

CLUE 2

"Life around here has been much more peaceful ever since the beast was felled!"

CLUE 3

"This game had an evil queen in it, but her character was honestly pretty flat."
Location 2

CORRECT ANSWER

Petalburg from Paper Mario: The Thousand Year Door

CLUE 1

"I heard the raven keeps his home here…"

CLUE 2

"This place is full of gorgeous green plants!"

CLUE 3
Location 3

CORRECT ANSWER

Jade Jungle from Paper Mario

CLUE 1

"The plants here will try to eat you, or poison you. Try not to get too close!"

CLUE 2

"A purple poison place. Perfect!"

CLUE 3

"It seems like this game didn't really make a splash."
CASE CLOSED
HIDEOUT ANSWER: Plum Park from Paper Mario: Color Splash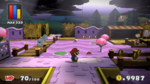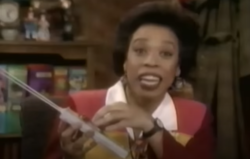 "Gumshoe, you did it! We found Olivia and the soldiers deep in the park, covered in the purple poison. After a good cleaning, Olivia is good as new and happy to be back with Mario. They sent you a beautiful bouquet of origami flowers, which we've put on your desk. The paper soldiers have admitted to working with Carmen, but they haven't given us any new information on her whereabouts. We'll continue to track her down in the meantime. Keep your mind sharp, gumshoe, for the next case!"