The 'Shroom:Issue 161/The 'Shroom Spotlight
From the Super Mario Wiki, the Mario encyclopedia
Jump to navigation
Jump to search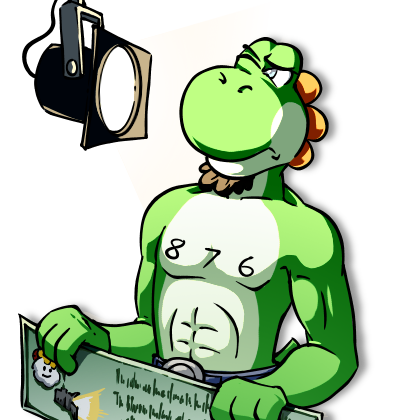 Hello readers of The 'Shroom, and welcome to Spotlight. Spotlight is a community project which aims to fix up the articles on the wiki which have issues. These issues can range from poor writing to a lack of images, to even just needing a credible source.
Welcome to August's edition of Spotlight, which is our first with our brand-new Spotlight co-manager, Alex95:
Hello, great to be here! I remember wanting to help with this project when Shokora stepped down back in 2017, so that long-time goal has finally been met. I ran a similar project called NIWA Spotlight up to Issue 149 that I canned because it was way too large to manage properly, but I'm using that experience to help out Yoshi876. Looking forward to working with him and seeing the work of our editors!
Welcome to the Spotlight Alex95, I'm sure we'll go from strength to strength with you on-board. Our themed-months don't usually net us the best of success, but this time we did pretty good, I have to say Alex95 (talk) deleted the low-quality File:DWM - Dr. Wario Art.jpg as there was a better existing image already in use, ChompworksEngineer (talk) also found a source for the review claim on Dr. Mario, Winstein (talk) created World 4 (Dr. Mario World) and Scrooge200 (talk) wrote a much better article for Lose the Lunge Fish, including where the Smiley Flowers are in the level. Although not fully finished, several users contributed to Gallery:Dr. Mario World, including MaxJack200 (talk), DarkNight (talk), SonicSpeed48 (talk), Blhte (talk), TheRaoul1992 (talk) and Baby Luigi (talk) is planning to add further images. All in all, it was only Dr. Mario (series) that was untouched.
And now onto this month's focuses:
| Article | Category | Focuses |
| --- | --- | --- |
| Legendary Hammer | Wanted article | The Legendary Hammer is legendary across the Mushroom Kingdom following its appearance in Paper Mario: The Origami King, but it'd be even more legendary if an article on it was created on the wiki. |
| Flavio | Rewrite required | Flavio tries to make a name for himself in Rogueport by claiming to be famous and rich. Unfortunately, his page doesn't do those titles justice, as it goes back and forth between order of events, giving repeated and irrelevant information. The page could do with a proper History section, and a source would be good for him being 25. |
| Small Mario | Rewrite and expansion required | This article looks pretty complete, but it's missing just the smallest detail, that being its appearance in Puzzle & Dragons: Super Mario Edition. We're sure he doesn't have a large role to play in this game, but the information is required. |
| e-Reader | Citation needed | There are a few sources for the e-Reader peripheral for the Game Boy Advance that need found. Apparently, it was never released in Europe, e-Reader compatible games had that functionality removed, its actual release and discontinuation dates are up in the air, and an old Mario Kart: Super Circuit website suggested it was compatible with the e-Reader at some point. |
| Pepper | Articles that need more images | We should all be promoting healthy eating, and during Super Mario Sunshine, Yoshi did just that by eating a lot of fruit. Sadly, he appears to have eaten the images from Sunshine for this article, so we could do with someone uploading what a Pepper in this game looks like. |
| File:DKCR King of Cling Letter K.png | Image quality requested | Most of the images for the K-O-N-G Letters and Puzzle Pieces in Donkey Kong Country Returns either need a quality boost or uploaded outright. Here is one such example that needs a bit of help, though there are many level articles for the game that need their images improved or added. |
Now just before I leave you, I'd like to tell you about unimplemented proposals. There are currently seventeen that need to be implemented, one of which dating back to 2015, so think of this as a continuous Spotlight goal until they're all completed.
Thanks for tuning in to the newest edition of The 'Shroom Spotlight! Be sure to turn up next month, where we'll be reviewing the progress on the above focuses. If you have any questions or suggestions about this month's set of the article focuses, then please get in touch through the dedicated topic if you have a forum account. If not, then please contact myself or Alex95 on our respective wiki talk pages, but you are far more likely to get a quick response if you go through the forums. You are also welcome to make suggestions on what you think we could focus on in our next edition! Thank you, and good luck!