Peteyking64!The ruler of Piranha's & Boo's everywhere!Except in Toad Town.This page is...OLD!!!
From the Super Mario Wiki, the Mario encyclopedia
Jump to navigation
Jump to search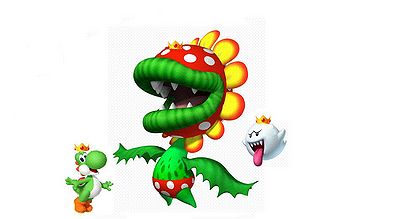 Peteyking64 with a Yoshi & Boo
Gender:Male
Real Name:ΓΓΓΓΓΓΓΓ...
Age:What's the question again?
Favorite Character's:Petey Piranha,King Boo,Yoshi,Birdo,Koopa
Least Favorite Character's:Wario,Waluigi,Geno,Mallow
Favorite Mario Series:Mario Kart
Least Favorite Series:Wario (series)
Location:Mushroom Kingdom
Friend's:User:Marioluigi9,User:Dry Bowser rules!,User:EthanFerris,User:MegaMushroom82,User:NinjaYoshi;User:Keefeinator12
Favorite Mario Game:So hard to choose!
Worse Mario Game:MKSC
Welcome
Welcome peep's!Here is my friend code on MKW 3525-2658-6164.Please enjoy!
Latest on this page:Nothing becuz I have been busy any lazy
In all honesty, I have been contributing to this site here and there, but its time I grow out of this page. The plan for this page's future is that it's going to be updated and I might add moar opinions of mine.
---
Signature
---
Games I Own (Plus Status)
There will be a # next to each game for rating and you can see where it say's status. I will also list character's that I use in certain games.
---
Mario Games I Own
Physical Games
Virtual Console
MG64.PNG

6.5,Hardly Did Anything in it
Mario Game's I Want
YoshisWoollyWorld NABoxart.jpg

Yoshi Story's Spiritual Sequel.

MarioTennisUltraSmashPre-Box.jpg

Mario Sports Game for Wii U? Must be dreaming.
---
Mario Merch.
Note: I will show Amiibo names and their level in Smash
Amiibo
AMIIBODEBOWSERJR..png

Koopa Jr. LVL 0 (Pre-Ordered)
Plush
Club Nintendo
Thing's That I Bought From User's Shop's
---
Character's Used In Games
DK64 Diddy Kong,Tiny Kong,Lanky Kong
PM64 Partners: Kooper,Bombette,Parakarry,Lady Bow,Lakilester
MT64 Yoshi,Shy Guy
MK64 Yoshi, Toad
MKSC Yoshi
SMS Yoshi w/Toads,Super Team
PMTTYD Partners: Koops, Yoshi Kid,Admiral Bobbery,Vivian,Ms. Mowz
MGTT Yoshi,Koopa,Petey,Shadow Mario, Bowser Jr.
MKDD Petey Piranha,King Boo,Koopa,Bowser Jr.
NSMB Luigi, Mario
MKDS Yoshi,Dry Bones,R.O.B.
MSS Team Birdo Bows Yoshi,Petey,King Boo,Koopa,Jr.,Blooper,Wiggler,Shy Guy,Tiny Kong(If Needed)
MSC Yoshi, Petey, Bowser Jr.
MPTW(R) Yoshi,Petey,Wiggler
MKW Yoshi,Koopa,King Boo,Rosalina,Bowser Jr.,Dry Bowser,Birdo
MSM Yoshi,Bowser,Bowser Jr.,Slime,Cactaur
NSMBW Mario,Yellow Toad(Multiplayer)
M&SW Yoshi,Bowser,Bowser Jr.,Metal Sonic
M&SL Yoshi,Bowser,Bowser Jr.,Metal Sonic
MK7 Yoshi,Shy Guy,Wiggler,Koopa,Rosalina
SM3DL Mario, Luigi
MTO The Colored Yoshi's,Bowser Jr.,Boo,Mii,Dry Bowser,Metal Mario
MGWT Yoshi,Mii,Birdo,Kamek,Bowser,Bowser Jr.,Toad,Rosalina*,Nabbit*,Toadette*
SM3DW Toad, Rosalina
MK8 Colored Yoshi's and Shy Guy's*,Bowser,Ludwig,Iggy,Roaslina,Koopa,Tanooki Mario,Villager,Isabelle,Dry Bowser
---
Top 10 Favorite Super Smash Bros. Stages (Update Coming Soon)
---
Top 5 Favorite Mario Kart Tracks (Update Coming Soon)
---
Favorite Character's (Going thru major updates!)
---
BrawlSheik.jpg

Is it a boy or a girl (I know!)

He can kill with his beam!

Just bee-cuz he is a Cartoon,he can still tame a lion!(huh?)

Da need for seed!I meant...Speed!

For some reason,I always win with him
---
couple of word's:Down+B won me Falco!

Sorry!I don't have a prescription for pain!

The fiery arrow's are now launched!
---
Pet Shop (CLOSED FOREVER :( Unless Changed By Our Fellow Wikian's)
Kept for Sentimental Use.
UserBox
Peteyking64's Userbox Tower
| | |
| --- | --- |
| | This user want's Snivy to be in the next Super Smash Bros.! |
| | |
| --- | --- |
| | This user think's Wobbuffet is the worst Pokemon to come out of a Pokeball in SSB series and... |
| | |
| --- | --- |
| | ...Think's Mew is the best! |
| | |
| --- | --- |
| 80px | This user is not a big fan of the Brawl stage,75m |
| | |
| --- | --- |
| 80px | This user's favorite virus is Chill |
| | |
| --- | --- |
| | This user's favorite Mr.Game & Watch move is Vermin |
| | |
| --- | --- |
| | This user is concerned why Mewtwo always levitates item's in Melee |
| | |
| --- | --- |
| 70px | This user love's the bee mushroom |
| | |
| --- | --- |
| 50px | Mario just entered the room of pain,suffering & muffin's! |
| | |
| --- | --- |
| 70px | This user want's to see Master Hand in the real world |
| | |
| --- | --- |
| | This user think's Mario is the worst rickshaw driver in the universe |
| | |
| --- | --- |
| 70px | This user is wondering how mario got out of the room of pain,suffering & muffin's!! |
(More To Come!)