User:ItsameMario
From the Super Mario Wiki, the Mario encyclopedia
Jump to navigation
Jump to search
I am retired. I like the way my page is setup so I will leave it that way.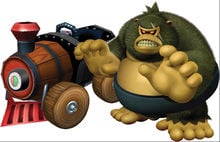 Sumo Kong!!!
Age: 17
Name: Andrew
Gender: Male
Favorite Game: Many! most of em!
Favorite Character(s): Mario, Wario, Boo, Big Boo, Koopa Kid, Sumo Kong, Dry Bowser, Ludwig von Koopa, Reznor
Least Favorite Character: Queen Bee: 1 word. ANNOYING.JUST PLAIN ANNOYING
Least Favorite Game: Donkey Konga: Meh.
Least Favorite Series: Wario Ware: Pretty useless
Date Joined: April 10, 2011
Date Ended: May 4, 2015
Game Currently Trying to Beat: N/A
I wish Nintendo made better Mario games again...


- It's a me, Mario! -
ItsameMario's Userbox Tower
| | |
| --- | --- |
| | This user is freindz with CatJedi and is strong in the force! |
| | |
| --- | --- |
| | This user is a buddy of the amazing, stupendous, awesome, great LuigiBlubber (talk)!. |
| | |
| --- | --- |
| | Enter the tenth world! This user is friends with World10. |
Top 5 Mario Games EVER
Top 5 Mario Gamecube games
Top 5 Mario Wii games
Mario games i have PLAYED
My favorite non-Mario games
Tony Hawks Underground
Spongebob Battle for Bikini Bottom
Commander Keen
Wii Sports
Upcoming Mario Games!!
Mario games I wished existed
A Futuristic Mario game
A Waluigi themed game
Friend
Of course you can be my friend!! just ask me on my talk.
Box
If i accepted Your Friend request, then take this, please!