Hen
From the Super Mario Wiki, the Mario encyclopedia
Jump to navigation
Jump to search
"My beloved pet! She wouldn't harm a flea so be nice to her!"

—Wario, Wario Land II instruction booklet, page 17
The hen is Wario's pet chicken seen in Wario Land II. She is notable for being one of the few things that Wario expresses love for other than money.
History
[
edit
]
Wario Land II

[

edit

]
The hen appears in the first story of Chapter 2 (the SS Tea Cup): Return the hen to her nest. The cutscene before this stage depicts the three Pirate Goom soldiers of the Black Sugar Gang dashing away with Wario's treasures and startling the hen. Wario follows closely behind in pursuit of his loot. However, when he sees his pet fly away, he temporarily stops his quest, as he loves his hen even more than he does money. He soon finds the hen in the outskirts of his lawn, and he manages to fight his way through the Roosters and other foes to return the hen to her nest. It is there that she lays an egg. The Roosters are also notorious for being very protective of the hen, as they charge at Wario when he is holding her, but they otherwise attack only when attacked.
Game & Watch Gallery 4

[

edit

]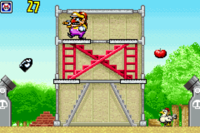 The hen reappears in the Modern version of the Game & Watch game Fire Attack in Game & Watch Gallery 4. In the game, the hen climbs up the stairs into Wario's fort. If Wario stands behind the hen, she lays an egg worth five points. If he attacks her as he does to the Bob-ombs that also climb up the stairs, she does not give him any points. She also appears in a sequence that appears if the player leaves the cursor inactive over Fire Attack on the Game Select screen: She is strutting around a tomato field as Wario is tilling the land, but then she flies away after seeing a Bob-omb roll towards Wario from behind, while he fails to notice and is sent flying by the explosion.
Names in other languages
[
edit
]
Language
Name
Meaning
Japanese
メンドリ
Mendori
Hen
Dutch
Hendrika
A female name, pun on hen
French
Poule
Hen
German
Henne
Hen
Italian
Hen
-
Spanish
Gallina
Hen