World 3 (Dance Dance Revolution: Mario Mix)
From the Super Mario Wiki, the Mario encyclopedia
Jump to navigation
Jump to search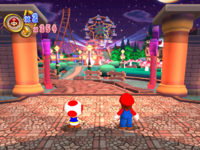 World 3 is the third area visited in the Story Mode of Dance Dance Revolution: Mario Mix. It is a carnival owned by Wario. Mario (or Luigi) and Toad must go there to get the third Music Key. The entrance is blocked by two Hammer Bros.
After Mario defeats the Hammer Bros., he is able to get into the park, where he finds Wario running with the Music Key. Wario rides on a roller coaster, and Mario follows him. Wario then retreats into a Ghost House filled with Boos. After Mario and Toad escape the Ghost House, they continue following Wario. Then, a Chain-Chomp chases Mario.
After Mario and Toad escape the Chain-Chomp, they finally catch Wario. Wario then attempts a dance-off against Mario and loses.