User talk:SmokedChili
From the Super Mario Wiki, the Mario encyclopedia
Jump to navigation
Jump to search
Welcome, SmokedChili!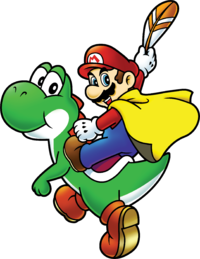 Hello and welcome to the Super Mario Wiki, a collaborative knowledge base dedicated to the Super Mario franchise. We're glad to have you as a member! If you have any questions, just post them on the FAQ talk page or ask an experienced member, patroller, or administrator.
The following pages contain guidance and information about reading, authoring, and participating in the Super Mario Wiki community. If this is your first time visiting, please read our introduction.
How do I do that?
Specific help
Categories
You are welcome to browse through the following categories:
External resources
Things you can do
Feel free to delete this message when you're done reading it. We hope that this information is helpful and that you have a great experience contributing to our encyclopedia and community. Remember to enjoy your time here and to also have fun!
Sincerely,
The MarioWiki Staff
Re:Quick question about the new picture on "Airship" page
[
edit
]
The artwork was available for a limited time on one of Nintendo's Press sites, but it was taken down a few days ago. Lucky I saved it beforehand :P

Shokora (talk · edits) 16:02, 19 November 2013 (EST)
Re: That SMB3 reference in Super Mario 3D World

[

edit

]
It appears that in some European versions (such as the UK) it says "Pick a box." and in others (such as the Netherlands) it says "Choose a box to open." I updated the article accordingly. YoshiCookie (talk) 10:15, 10 December 2015 (EST)
Talk Page Proposal
[
edit
]
My work was in vain. D:

It's me, Mario! (Talk / Stalk) 12:48, 20 January 2014 (EST)
Mario Kart 8 Glider tricks

[

edit

]
Blue Lava Bubble proposal
[
edit
]
I add a new option to my proposal. You can change your vote if you want. --

(TALK) 15:41, 12 June 2015 (EDT)
Re:Toad Town
[
edit
]
In the Super Mario Galaxy 1 and 2 guides (written by Fletcher Black and Catherine Browne respectively) they refer to them as Toad Town at least SMG1's does but SMG2's from what I can remember does but I don't know about MKWii and MPDS but SMG1 and 2 yes they are Toad Town if the Prima guides say so.

The RPG Gamer (talk) (edits) 18:51, 24 October 2016 (EDT)
Roshambo Temple tokens
[
edit
]
"After collecting the nth Roshambo token, it is unlocked by collecting the (Color) Mini Paint Star in (Place)." The way you worded the unlock requirement for each temple is very easily misunderstood as the token being linked to that mini paint star. I myself was about to clear the unlock req from the article before I finally understood what you were trying to say. Perhaps it should be rewritten to be better understood?--


09:48, 4 November 2016 (EDT)
A few questions about what the Perfect Edition of the Great Mario Character Encyclopedia says about the Koopalings

[

edit

]
As you might have noticed, I recently discovered scans of the Perfect Edition of the Great Mario Character Encyclopedia(「マリオキャラクター大事典 パーフェクト版」), a book published in 1994 by Shogakukan and having the copyright of Nintendo as well in the cover, and I could determine the book they were coming from. As expected, they indeed say that the Koopalings are Bowser's children, but there is something which might be more intriguing: on page 193, Roy is shown as an example of Bowser's lineage (「クッパ系」), does this mean that they are biological children? So far, the term offspring was found on Yoshi's Safari's box (both NA and PA versions) and in four different European sites of Super Mario Bros. 3, strongly suggesting in the latter case that this term originated from Nintendo of Europe rather than from the localization teams, but as far as I know in Japanese material this specific term or equivalent formulations are yet to be found. I preferred being cautious and not adding what is stated in the Encyclopedia as an example that the Koopalings were stated to be Bowser's offspring in Japan until I was sure of the actual meaning of these words, so now I would like to know your opinion on the matter. Also, if you don't mind, I would like some help on two matters:
the description of the Royal Family (「王 族 クッパをはじめとするカメ族の王たち。コワツバなどがいる。」) on page 35 is a bit difficult to translate for me, does it state The kings of the Turble Tribe originated from Bowser. The Koopalings are part of them?
on page 232 Ludwig is stated pretty much to be the one who has white hair in the family of the Great King Bowser, does this mean that he's the oldest? So far, the Encyclopedia confirmed that Larry is the youngest of the Koopalings, it would be intriguing if it also confirmed that Ludwig is the oldest.
Hoping to hear from you soon, I also wish you an happy new year!--Mister Wu (talk) 22:13, 30 December 2016 (EST)
Thanks for the answers! Unfortunately, the one before the two numbered questions was worded very poorly so I'll word it better now: based on what is written in the Encyclopedia, can we say that it states that the Koopalings are Bowser's offspring? Since this has become a "delicate" topic, I don't want to add to the words meanings they don't unambiguously convey and since I never studied the Japanese language, I wanted to know from you. Thank you again, I renew my wishes for the new year!--Mister Wu (talk) 09:25, 31 December 2016 (EST)
Thoughts Page
[
edit
]
According to Mariowiki:Userspace, you can't have user subpages that 'don't serve the wiki'. So it would be best to put the things on User:SmokedChili/Thoughts Page onto your userpage instead of having it on another page.

Mr squid Talk Edits 10:42, 5 January 2017 (EST)
The subpage is perfectly fine to have: it's article-oriented and actually a really informative read. And the userspace policy only disallows "opinion pieces or lengthy discussions not related to the Super Mario Wiki".
Just to inform you on the Koopalings' "case"
[
edit
]
As a small detail that is probably excessive to add to the wiki right now, the newly opened Japanese Mario Portal has also a section about the games in which the story is reported, with that famous sentence that the story is taken from the manual. This time the Super Mario Bros. 3 story is reported in its entirety, including that 「自分の」 term that was missing from the Encyclopedia. This of course doesn't mean anything relevant, but it's nice to see that apparently at NCL they stopped trying to change the story of the old games as well to match the current depiction of the Koopalings as much as possible.--Mister Wu (talk) 17:55, 5 March 2017 (EST)
Scans of the manual from the Famicom version of Super Mario Bros.: The Lost Levels

[

edit

]
When we talked about Blue Bowser, you stated that you found the scans of the manual from the Famicom version of Super Mario Bros.: The Lost Levels. Are they uploaded online? If so, could you tell me where to find them? At this point, the so called game book mentioned by the Japanese Wikipedia is nowhere to be found, as the last guide I found seems official (it has Nintendo's copyright) but doesn't state that Blue Bowser is Bowser's older brother, it just states that the two are brothers, from what I've seen.--Mister Wu (talk) 18:33, 21 March 2017 (EDT)
A candidate for the Koopalings' current story?

[

edit

]
The German translation of the Encyclopedia Super Mario Bros. was finally released and of course I was curious to see what the German story of Super Mario Bros. 3 would have been. To say that I've been impressed by the translation is an understatement. The section that still stated that they are Bowser's children, but with less force, was now completely changed into something else! But let's see what is written in the German translationMedia:ESMB German SMB3 Story.png:
Allerdings macht er sieben Koopalinge zu seinen Untertanen
it pretty much means
Indeed he turned seven Koopalings into his subjects.
First of all, this is nothing like what is written in the EncyclopediaMedia:ESMB page 33.png, what surpises me, though, is that this story is very similar to the current Japanese depiction of the Koopalings:
they are stated to be seven Koopalings, not the seven Koopalings, this could stem from the current Japanese name, 「クッパ7人衆」, that might indicate that they are seven among the Bowsers
there is no implied relationship with Bowser before, and then they are his subjects, consistent with the 「クッパの手下」 used to describe them and sometimes even refer to them
they are not stated to be siblings at all, consistent with the 「仲間」 term used nowadays in Japan when they talk about each other
Could therefore this be the famous current story Miyamoto talked about in 2012? The translator is Hirofumi YamadaMedia:ESMB German page 256.png, who has translated many Japanese manga in German before, so I doubt he would make such a big mistake while translating from Japanese to German, even missing the 「兄弟」 term which stated that they are siblings.--Mister Wu (talk) 19:04, 17 October 2017 (EDT)
Question about Wiggler quote in Paper Mario Sticker Star's Japanese version
[
edit
]
So it turns out that Wiggler and Flutter have the same Japanese name. The english quote is "Wiggler ate till Wiggler's tummy was full, and now Wiggler grew up into Flutter!". I'm interested what does it says in the Japanese version of the game. --

FanOfYoshi 04:20, March 25, 2019 (EDT)
RE: GameRankings
[
edit
]
That was actually brought up on the MarioWiki Discord, and a number of users agreed on marking them with an asterisk saying something like "Prior to website's shutdown" and a Wayback Machine link if available, which I think is a good idea. It's old but still important info so it shouldn't be removed.

Mario JC 07:36, December 25, 2019 (EST)
Re:Big Buzzy Beetle internal name in Color Splash
[
edit
]
The content/Graphics/Character/Enemy filenames are B_BBL for Big Lava Bubble, B_TGZ for Big Spiny, B_KUR for Mega Goomba, and MET_HD for the Big Buzzy Beetle of Buzzy Beetle Tower. It looks like Kamek also has a "high-definition" version called KMK_HD, separate from KMK (normal) and KMK_Recollect (flying into random battles), but I'm not familiar enough with the game to know when/if it is used. Same with giant Bob-omb, which appears to be B_BOM_Crowd. The content/script/btl/enemy filenames are zako_boss/as_btl_zako_boss_bubble for Big Lava Bubble, zako_boss/as_btl_zako_boss_togezo for Big Spiny, as_btl_big_kuribo for Mega Goomba, and zako_boss/as_btl_zako_boss_met_tower for Buzzy Beetle Tower. Within the scripts, BigBubble, BigTogezo, BigKuribo, and TowerMet are the names in English. The decompression I used for the script files seems to corrupt the Japanese characters, so if you also want to know that then Mister Wu or Scrooge200 would be the one to ask, but I'm fairly certain they all just use the final Japanese names. LinkTheLefty (talk) 14:50, July 21, 2020 (EDT)
Giant Bob-ombs appear in Black Bowser's Castle. Kamek never grows in-game, but he does shrink Mario in the Sacred Forest, so that might be where those big Kamek sprites are used. I don't have the Japanese translated text (only US English, Spanish, and French). In Enemy.msbt, Buzzy Beetle Tower is TWR_MET, Big Lava Bubble is BBBL, Mega Goomba is BKUR, and Spiny is B_TGZ.

Scrooge200

(

talk

) 15:06, July 21, 2020 (EDT)

Checking Youtube, I actually found a video with the three Beetles all named Metto. It appears that MET_HD is for the big Buzzy while Tower and TWR specifically are for the tower formation. As for the actual big enemies, it indeed shows deka and kyodai are supposed to be synonymous, but kyodai has also consistently been called "Mega" in English, likely due to Mega Mushroom. SmokedChili (talk) 03:48, July 22, 2020 (EDT)

I found the internal data for the Buzzy Beetle boss. Its internal name is HL_MET, abbreviation for met_hell (as seen from the btl/enemy/zako_boss/as_btl_zako_boss_met_hell path name), whereas its "proper" internal Japanese name is メットぐんだん.--Mister Wu (talk) 08:13, July 22, 2020 (EDT)

That should actually be Buzzy Beetle Gang, according to the script files. as_btl_zako_boss_met_tower references MET_HD and has strings like "3f_damage_top_hei" and "6_damage_guragura_heiho_trip" for the Shy Guy. as_btl_zako_boss_met_hell (HellMet) has strings with "corps" or in other words, the gang enemy. At a glance, attack and final names in Japanese are in content/data/btl/data_btl.elf it seems, but I was looking in the wrong place earlier before Mister Wu corrected me. Though if I'm reading data_btl.elf right, it looks like there were originally other Magikoopas in the game? I see the strings B_KMK ボスカメック (possibly Kamella or coincidental) and N_KMK_INTRUDER 乱入カメック (no idea). That could explain those Kamek graphics. LinkTheLefty (talk) 11:25, July 22, 2020 (EDT)

You're right, the gang is treated as small boss as well, so that one is for the Buzzy Beetle Gang. Regarding the Kameks, it's likely that one is for Kamek when you fight him (he's referred to as Boss Kamek), the other for Kamek when he appears at the beginning of the battle to mess with the Battle Cards.--Mister Wu (talk) 13:54, July 22, 2020 (EDT)

That's probably it, though there does seem to be other unused things in data_btl.elf - namely, several "DUMMY" strings like PD_GBN_DUMMY, PD_TRP_HEI_TRANPPOLINE_DUMMY, N_HEI_DUMMY クリボー(かかし) (yes, it indicates Shy Guy but the Japanese next to it apparently calls it a Goomba scarecrow), DUMMY_TUTORIAL_ATTACK, and reference to btl/enemy/as_btl_hei_duumy script that still exists using the name HeihoDummy. Seems like an early version of Trampoline Shy Guy. LinkTheLefty (talk) 12:06, July 23, 2020 (EDT)
This is going long enough. The previous wording was perfectly fine since sources are precisely one-to-one; it wasn't openly saying it must be Deep Cheep, but rather, that one source (which happens to be within every single copy of Nintendo's game) identifies it as a Deep Cheep while another one (Shogakukan's book) does not. Like Slave Basa, Raphael and the white Pokey, it's entirely feasible that Shogakukan simply didn't have Deep Cheep referenced in their documentation and thus referred to them by color despite regular Cheep Cheeps (not Deep Cheeps or Eep Cheeps) otherwise not having any color behavior differences whatsoever since Super Mario Bros. 3 - after all, Yoshi's New Island wasn't exactly A-team material - so why would you remove neutral presentation? Unless your change was made for the Big Cheep Cheep proposal (which, by the way, you haven't responded to - I'm very curious as to why you refrained from touching the Blurp angle, which I imagined would've been a shoe-in for you). At the very least, if you're adamant on edit warring, open a discussion about it. LinkTheLefty (talk) 23:59, August 14, 2020 (EDT)
"While you're going on about how to cover both sources neutrally, I'm going on about how to cover the internal data neutrally." That doesn't really make sense; either the presentation is neutral or not. I admit both of us have a bias, but the way it was written before did not show any bias. It also did not contradict the game's "own coverage" like you claim (I'll overlook the "unofficial" part because that isn't the word you want to use) - like I've tried to elaborate in an edit summary, the behavior difference from usual can easily be explained if you think about it a little bit. Firstly, Cheep Cheeps have not had a behavioral difference between what are considered to be red and green types since Super Mario Bros. 3, so given the clear New Super Mario Bros. design influences most players would naturally assume that green Cheep Cheeps represent Deep Cheeps in Yoshi's New Island, which the data shows. Second, the entire reason for altering the behavior in the first place is due to being placed in an auto-scrolling segment with limited maneuverability using the gyroscope (Submarine Yoshi), so the homing behavior would never have worked and more than likely wasn't even considered as-is. Third, the Yoshi's Island series is technically not part of the Super Mario Bros. series, so recurring enemies are not necessarily bound to the same general rules (like Goomba not being instantly defeated when traditionally flattened or Piranha Plants blooming when you get near them). And again, there is only one source each that identifies the green Cheep Cheep, neither of which is within the game's representation. To your last point, size is relative - in comparison to regular-sized enemies, it isn't wrong to think of them as the "mini" variety of big-sized enemies. All in all, I think your argument about developer data revolves entirely too much on the few exceptions where they sometimes represent an earlier period of development, not the general rule that they adequately represent the final game. LinkTheLefty (talk) 08:30, August 15, 2020 (EDT)

You're not listening to what I'm saying, so I'll have to reiterate: I'm not saying that the filename must make it Deep Cheep (although I would have preferred if you left a {{talk}} or made a proposal here), but what I am saying is that the way it was worded before was presented impartially, because there's only one official source considering it a green Cheep Cheep (which, technically speaking, still describes Deep Cheep) and one official source, whether you like it or not, identifying it as a Deep Cheep. I find your interpretation that it was merely "based on the files of Deep Cheep" to be incredibly unlikely, because Yoshi's New Island has an entirely different engine and models not compatible with New Super Mario Bros. or its sequels - just one look at the staff pages will clue you that it's a separate development. I've laid out my case as to how one publisher could have made an oversight (and no, this is not something that is impossible - for example, this lists Paragoomba in "SNM" and Swoop absent in "NSMU" and that lists Crowber in "NSMU", and some obvious instances of logic-defying literalness with name changes), so the least you could do is consider it. Just because they happen to be Japanese does not make them any less prone to human error than, say, Nintendo Power or Prima. LinkTheLefty (talk) 14:08, August 15, 2020 (EDT)

"If I must consider being critical of cited sources, what's stopping me from doing the same with internal data?" Because there is a considerable difference between what you know the developers worked with versus what a publisher might say once the game is out of their hands. There is inherently less room for error, with the main exception being placeholder names, which I don't believe the green Cheep Cheep really falls under because it simply hasn't appeared as such in an original game since 1988, and once again this is a game rife with modern influences. There is enough difference in gameplay (particularly Submarine Yoshi segments) to make the changes to Deep Cheep reasonable, like what has happened to other enemies that appear in different series, genres or gimmicks in the past. Let me make it clear that I would be with you if there were multiple official sources that call it a green Cheep Cheep - but there aren't, and I don't think there ever will be because Yoshi's New Island, to be frank, was more of a side project. LinkTheLefty (talk) 11:10, August 16, 2020 (EDT)

Again, you're arguing on exceptions (and can Fang not be said to be derivative of Swoop, thus fulfilling the necessary description?), and you're still ignoring that the current statement about the filename is nonsensical; anyway, I really can't be spending my time with these arguments if they're going to be circular, so all I'll say is that if you don't meet me halfway to presenting the information neutrally as it was previously then I will have to make the proposal that should've been made in the first place, which won't be. LinkTheLefty (talk) 17:53, August 17, 2020 (EDT)

If you were truly acknowledging "the pros and cons of both sources" then I don't think you would be completely against rephrasing these awkward "Deep Cheep's files are used for green Cheep Cheeps" statements when the character modeling is demonstrably new and not rooted in whataboutism. That we both have our biases is one of the very first facts I've admitted, but still all I've requested for you to do is to allow a few misleading sentences to be reverted. If you still can't do that then so be it, it'll come to a proposal you skipped. I have nothing more to say. LinkTheLefty (talk) 15:52, August 18, 2020 (EDT)