The 'Shroom:Issue LIX/Pipe Plaza
From the Super Mario Wiki, the Mario encyclopedia
Jump to navigation
Jump to search

Hello everyone! Marioguy1 here for another year as Pipe Plaza director! The Pipe Plaza this year is not much different from last year, and I don't have much news to update you on. We still have a few positions open that you could sign up for, if you want to make me happy. Other than that, enjoy!
More info
Hello, everyone, and welcome again to Forum Update, your monthly update on the Super Mario Boards!
Top Stories: Post counts were hidden on profiles, due to some people boasting about them and fussing too much over them. This was met with mostly positive opinions from the community.
The Awards Committee for the 6th Mario Awards has been created.
Statistics: In January, 694 new topics were made. 32391 posts were made, and 38 new users registered. 142 was the most online.
TOP 10 POSTERS
Smasher (Smasher (talk)) – 22906
Sharks Territory (Ralphfan (talk)) – 22753
Tomba (UltraMario3000 (talk))– 21197
Nega-Man (Mileycyrussoulja (talk)) – 19258
Solar Blaze (SolarBlaze (talk)) – 15693
Buster Baxter (Superjeff64 (talk)) – 13646
Herr Shyguy (Shyguy27 (talk)) – 11932
Christian Brutal Sniper (Marcelagus (talk)) – 11669
Baby Luigi (BabyLuigiOnFire (talk)) – 11418
Lario (Lario (talk)) – 11235




Green signifies the user is at a higher position than last month.
Blue signifies the user is at the same position as last month.
Red signifies the user is at a lower position than last month
Mafia: Currently ongoing are Villain11's (Villain (talk)(?)) Villain11's Mafia 2.0, Damon Gant's (MrConcreteDonkey (talk), aka me) My Little Pony: Friendship is Mafia and Lily's (Legend of Lily (talk)) The Legend of Zelda: Spirit Tracks Mafia. And Xzealia Exdementia's (Xzealio (talk)) XzMafia 3.
Other News: Cell (GalacticPetey (talk)) was banned for a month from the forum. Baby Time (Mario Super Sluggers (talk)) sockpuppeted while he was banned, so his ban was extended.
This doesn't affect many of you, but a new board was made for all the staff of all areas of the MarioWiki.
---
Thanks for reading, and see you next month!
Hello, readers, and welcome to the second The 'Shroom issue of 2012! You might be wondering, why were my sections absent from the January issue? Well, you no longer have to wait for an answer! I have it right here!
I was in Canada from January 7th to February 3rd, which harshly lowered my activity here and in the Super Mario Boards. At first, I wanted to try and see if I could write at least one section, but with school (yeah, I actually studied English there!) and leisure filling up my agenda quickly, I couldn't even start writing for the first issue of the year.
Furthermore, my future in The 'Shroom depends on my personal future, now that I may go to university in March. Your patience and comprehension are highly appreciated.
Anyway, enough of all this fancy business talk! These are the Mario, Yoshi, Donkey Kong and Wario games released in the shortest month of the calendar.
| Abb. | Region |
| --- | --- |
| NA | North America |
| JP | Japan |
| EU | Europe |
| AU | Australia/New Zealand |
| UK | United Kingdom |
And that's all for this issue! I'll see you in Upcoming Games!
Tip of the Month: Even though the MarioWiki's rules for userspace editing aren't as strict as other wikis, you should still keep your wikispace edit count high. Editing your userspace too often clogs up the server, and it doesn't add anything to the information on the wiki. If you like editing your userspace to talk to people, try the forums or chat.
Hello once again, 'Shroomers, and welcome to the February Issue of Upcoming Games!
The Holidays may be over, but there's still one Mario game – not 100% Mario, however – awaiting full release. It's none other than the third installment in the Mario & Sonic series, Mario & Sonic at the London 2012 Olympic Games, which is set to be released for the Nintendo 3DS in all regions this month.
The Plumber & The Hedgehog, Take Three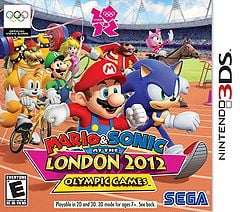 Mario & Sonic at the London 2012 Olympic Games, released for the Nintendo Wii during the Holiday Season of 2011, borrows various elements from the previous games in the series, especially Mario & Sonic at the Olympic Games.
The twenty characters from Mario & Sonic at the Winter Olympic Games return to both the Wii and the 3DS versions, while most events from the original Mario & Sonic made their way to the newest game of the series, also true for both versions of Mario & Sonic London 2012. However, those are the only similarities between Wii and 3DS; all game modes, aside from the classic Olympic sports, are exclusive to one of the versions. However, each one has a different assortment of real-life Olympic events.
If you're playing the Wii version, you'll find Dream Events, present in all previous games, and a new game mode called "London Party". This mode pits four players against each other in a Mario Party-like map of London, featuring collectible items and mini-games, rather than sport events. On the other hand, if you have the 3DS version, you'll once again be able to play through the Story Mode, which returns from the DS version of Mario & Sonic at the Winter Olympic Games. As for the actual Olympic sports, the 3DS version is set to feature over 50 unique events, while the Wii version only has around 20 events, adding to the differences between those two versions.
Release Dates (3DS version)
Australia: February 9th
Europe: February 10th
North America: February 14th
Japan: March 1st
---
And with that, we have (hopefully) covered all new Mario games unveiled and/or released during the Holiday Season!
I hope you all have enjoyed this issue! See you in March!
"Stay tuned to Upcoming Games for news on the games you'll be playing soon!"
Anniversary Announcements (Ralphfan (talk))
Yep, it's that time of year again. We are in the early planning stages for the Super Mario Wiki's seventh anniversary, and Mario Awards VI! We hope that our sixth show will be our best one yet!
The Awards Committee will begin meetings sometime in March. At this point, we are deliberating on the forums over which categories to include in the ceremony this year. We've seen lots of good discussion so far, and will hopefully come to a verdict within the next four weeks or so.
We already have a whopping 26 members signed up for the committee this year, but there's always room for more! If you are interested, please PM me on the forums. More information about the committee and the rest of the Anniversary can be found here.
Hello, and welcome to another month's version of the Community Report.
Policy changes and updates:
MarioWiki:Userspace was revamped. This new version states that archiving must be done in large chunks and not added section-by-section and that archives cannot be edited to add more discussion once created. It also clearly states that archives of deleted articles, subpages just for transclusion onto your userpage, and works of fiction are not allowed.
Proposals that ran last month:
Proposals and Talk Page Proposals that are currently running:
Promotions and demotions last month:
There were no promotions or demotions last month.