Super Mario no Kōtsū Anzen
From the Super Mario Wiki, the Mario encyclopedia
Jump to navigation
Jump to search
The title of this article is official, but it comes from a non-English source. If an acceptable English source is found, then the article should be moved to its appropriate title.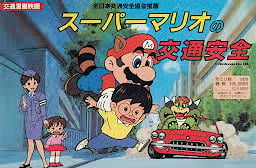 Super Mario no Kōtsū Anzen (Japanese: スーパー マリオの交通安全), or Super Mario Traffic Safety, is a Toei-produced public service announcement based on Super Mario Bros. 3, released in 1989 for use in schools across Japan. The video was released on two formats; both VHS and 16mm film. Super Mario no Kōtsū Anzen is still used across Japanese schools today. Very little is known about the video, and its release status is a mystery. To date, the entire film has never surfaced online. The film can still be rented from select Japanese libraries in 16mm format; one VHS copy can be found in Ehime.[1] They were sold only to Japanese schools, and were otherwise not made available to the public. On May 27, 2017, a screening of a 16mm copy of the film was shown at the Sonic City film and animation center in Omiya, Japan.[2][1] Children who watched the entire video would be rewarded with badges and name tags.[3]
In a small Japanese apartment, a young boy and his sister are playing Super Mario Bros. 3 on their Famicom, when their mother calls, and tells them to come to her shop by the time she is finished at work. Some time goes by, and the boy is still playing Super Mario Bros. 3. The girl gets impatient, and leaves without him. She is too young to know where the shop is, and she gets lost; her mother notices the children have not arrived, and begins looking for them in a panic. As the young boy runs off to look for his lost sister, he almost gets hit by a driver, who turns out to be Mario. He gets out and gives him a small lecture on being safe when crossing the road. Meanwhile, the young girl encounters Bowser, who gives her a scare; she is eventually reunited with the rest of her family. As soon as she sees Bowser again, the young girl tells the police officer, and Bowser then runs off into the road as Mario kicks him away. After this, there is a transition to safety tips, such as "Don't talk to strangers" and "Always look both ways before crossing". After the lessons are taught, Mario says goodbye and flies away with a Tanooki Leaf.
Gallery
[
edit
]
On the cover, Bowser sports his modern design, but with his King Koopa color scheme. This appearance also resembles one of his alternate costumes in Super Smash Bros. Ultimate.
External links
[
edit
]
References
[
edit
]