The Super Mario Challenge
From the Super Mario Wiki, the Mario encyclopedia
Jump to navigation
Jump to search
It has been requested that this article be rewritten and expanded to include more information.
It has been requested that more images be uploaded for this article. Remove this notice only after the additional image(s) have been added.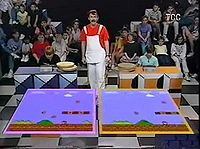 The Super Mario Challenge was a game show which aired on The Children's Channel from 1990-1991. The show was only aired in the United Kingdom and not in the United States as The Super Mario Bros. Super Show! was airing around that time in the US. It was hosted by Mario himself, played by John Lenahan. Each night, the show had two guest players, who would have to play various Mario games, such as Super Mario Bros. or Super Mario Bros. 3. The two players would compete to see who could get the most Coins on a level, or who could finish the level in the fastest time.
External links
[
edit
]