Slime Time (minigame)
From the Super Mario Wiki, the Mario encyclopedia
Jump to navigation
Jump to search
Slime Time
Appears in
Mario Party 4
Type
4-Player mini-game
Time limit
30 seconds
Music track
Hurry! Hurry!
Slime Time is a 4-Player minigame in Mario Party 4.
Introduction
[
edit
]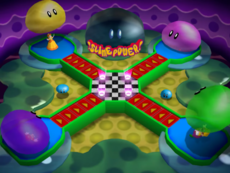 The four players, one in each corner, look up to see something falling. They each get covered in a Big Slime, but they manage to get out. They try to make it to the center, but they simply take three steps and get pulled back to the Big Slimes.
Gameplay
[
edit
]
The object of the game is to run to the center platform and break free from the Big Slimes. If players fail to reach the center platform, the Big Slimes pull them in. The first player to reach the center wins. If no one does so before 30 seconds are up, the game ends in a tie.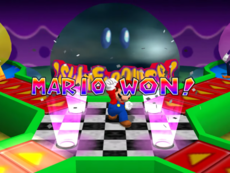 When one player reaches the center, the losers are pulled back by their Big Slimes. The winner does a victory pose.
Controls
[
edit
]
– Press quickly to escape
In-game text
[
edit
]
Game Rules – "Escape from the slime! Be the first person to reach the middle platform to win!"
Advice – "If you don't go fast enough, you'll be pulled back into the Big Slime, so don't give up until you're done."
See also
[
edit
]
Names in other languages
[
edit
]
Language
Name
Meaning
Japanese
ぬけだせ!ビッグスライム
Nukedase! Biggu Suraimu
Escape! Big Slime
French
Machâlow-Glouton
Gluttonous Slime
German
Schleimzeit
Slime Time
Italian
Molliccione-Party
Slime Party
Spanish
Las babosas
The Slimes