Right Oar Left?
From the Super Mario Wiki, the Mario encyclopedia
Jump to navigation
Jump to search
Right Oar Left?
Appears in
Mario Party 4
Type
2-vs-2 mini-game
Initial record
1'00"00
Music track
Heart-Pumping
Right Oar Left? is a 2-vs-2 minigame in Mario Party 4. Its name is a pun on the common query "Right or left?" If this minigame is beaten in 45 seconds, the Present Room will get a Koopa plate added to it.
Introduction
[
edit
]
The screen is split into two for each team. On each side, both teams paddle a Dorrie Boat through the tunnel. The camera focuses behind them, and the game begins.
Gameplay
[
edit
]
Teams are divided into two boats that resemble Dorrie. The object of the minigame is to reach the end of a long tunnel by using the paddles. Along the way, players must avoid obstacles such as stalagmites and fire-breathing Bowser Statues. The first team to reach the end wins. If neither team does so in five minutes, the minigame ends in a draw.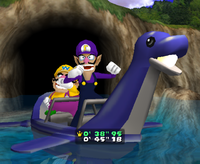 The scene switches to the outside of the cave; the winning team rows toward the camera and celebrates. The other team is not seen. If the minigame ends in a draw, the boats stop.
Controls
[
edit
]
+ – Forward
– Row right oar
– Row left oar
In-game text
[
edit
]
Game Rules – "Be the first to pilot the Dorrie Boat out of the cave!"
Advice – "The right oar turns you left. The left oar turns you right. Avoid the flames, and get out of there!"
Names in other languages
[
edit
]
Language
Name
Meaning
Japanese
いそげ!ドッシーボート
Isoge! Dosshī bōto
Hurry! Dorrie Boat
French
Bâbord-Tribord?
Portside-Starboard?
German
Rechts oder Links?
Right or Left?
Italian
Segui la rotta
Follow the course
Spanish
La gruta maldita
The Cursed Cave