Level 5-1 (Mario vs. Donkey Kong)
From the Super Mario Wiki, the Mario encyclopedia
Jump to navigation
Jump to search
Level 5-1 is the first level of Mystic Forest in Mario vs. Donkey Kong. The high score for this level is 28500.
Overview
[
edit
]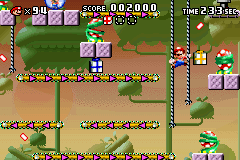 The level opens with a cinematic showing Mario trying to run against a conveyor belt, then turning back and pressing a Direction Switch to make the conveyor move in the other direction, followed by crouching under a wall to get to the other side.
In the first area, the player needs to jump onto the Direction Switch behind them to change the direction of the conveyor belts. After crouching under a wall and climbing up a ladder, the player has pick up the Key. The player then needs to toss the Key onto the above conveyor and continue pressing the Direction Switch that was next to the Key to lead the Key to near the first Direction Switch, avoiding any spikes. Once the Key lands on solid ground, the player has to press the Direction Switch once more and go collect the Key before its timer runs out. Pressing the Direction Switch once more, the player needs to throw the Key on the conveyor belt that goes under the wall and meet it on the other side, allowing the player to unlock the door.
In the second area, there are several conveyors and ropes, along with four Tane Pakkuns placed at certain points. The player needs to use the Springboard next to them to reach the first conveyor above while avoiding the Tane Pakkun's attack. By using a Handstand Jump to get to the next conveyor and then climbing the ropes to the right, the player can reach the Mini-Mario to the left.
Enemies
[
edit
]
Present locations
[
edit
]
Red: In the first area, above the second Direction Switch.
Yellow: In the second area, between the rope and the Tane Pakkun on the right.
Blue: In the second area, under a Tane Pakkun. The player needs to crouch and ride the conveyor to collect it.