World 4-1 (Super Mario 3D Land)
From the Super Mario Wiki, the Mario encyclopedia
Jump to navigation
Jump to search
World 4-1 is the first course of World 4 in Super Mario 3D Land.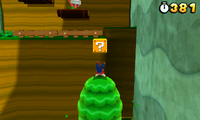 Mario starts in an open area with Piranha Plants, Koopa Troopas, a tree, and a pair of binoculars to find a Yellow Toad, that is on a tall stone pillar and rewards Mario with a 1-Up Mushroom. In an elevated area Mario will find a small pool with Goomba Towers and another Koopa. To the right side, the plumber will face Piranha Plants in rotating platforms, that are used to reach in a trampoline to get to the top of the mountain. There are Mushroom Trampolines and a Super Note Block above a gap. In the other side, Mario will find a Koopa Troopa and a bridge with Biddybuds that lead to a big tree. In this tree, he will find a Chain Chomp, a red ring and another orange platform, used to reach on the next story of the tree. In the next story, Mario will face two Piranha Plants, a thistle and two jump platforms, one leads to a small groove with a green + Clock and the other to the next area. This area is a spiral path with many Para-Biddybuds, thistles and another groove, now with three blue Clocks. At the end, Mario can jump to the treetop area, that contains a way conducting to the right. There, the plumber will find a Mushroom Trampoline and Para-Biddybuds surrounding the Goal Pole. At the first part of the level, on the right, at the bottom of the ridge, a lone Propeller Box can be found above a tree, which Mario can use to fly around.
Star Medal 1: At the beginning of the level, the player should travel northwest up the stairs. Near the small pool with the Goombas, the player should break the Brick Block to reveal a small hole that must be crouched through to obtain the Star Medal.
Star Medal 2: Near the Mushroom Trampolines is a Super Note Block leading to a Coin Heaven in isometric view (requiring 3D for proper depth perception), where the Star Medal is found at the end.
Star Medal 3: To the left of the checkpoint is a cannon. After entering, the player should aim up and launch themselves towards the Star Medal.
Enemies
[
edit
]