Koopas Rock!
From the Super Mario Wiki, the Mario encyclopedia
Jump to navigation
Jump to search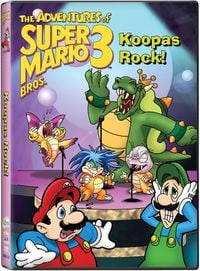 Koopas Rock! is the fourth (fifth, if considering the full box set released in 2007) and final (semi-final, if considering the full box set rerelease released in 2014) American DVD of The Adventures of Super Mario Bros. 3, and the third that was published by NCircle Entertainment, released on June 1, 2010. Koopas Rock! is themeless, probably because it contains the episodes that do not appear in the previous DVDs (King Koopa Katastrophe, The Trouble With Koopas, and What a Wonderful Warp).
This DVD contains the following episodes:
The episodes in this DVD are ordered properly, and this DVD is bugless.